I admit it. I am a light sleeper and I hate when people are snoring or otherwise making noises during the night. I enjoy the soft sounds of the outdoors, but I hate synthetic man-made noises and especially when caused by my own gear!
Therefore I set out on a journey to find the absolute best sleeping pads when it comes to being quiet in use, while remaining lightweight and comfortable, and this is why I wrote this article!
If you are in a hurry I do not want to hold you any longer, so here is my list of the top 10 quietest sleeping pads available in 2023:
Image
Product
Features
Price

Double-insulation film removes rubbing noise. 
Wide and comfortable but only 1.2 lbs.

Check Price

Extra-thick  3-season pad at only 1.1lbs. 
Single-layer air sprung cells minimize noise. 

Check Price

Tough, light, 3-Season pad.
The long cells and soft material makes it almost noise-free! 

Check Price

30D fabrics provide silent yet luxury feel
3.5 inches thickness makes it super comfortable.

Check Price

One of the thickest self-inflating backpacking pads.
4.4 r-value for year-round camping and backpacking.
Stratacore construction for a super silent, lighter and warmer pad.

Check Price

Classic folding pad for COMPLETE silence. 
Cheap price point and no puncturing!
Trusted by mountaineers and backpackers for generations.

Check Price

Extra insulation makes this a super silent 4 season pad!
Weighs only 1 pound.

Check Price

Microfiber insulation for a super quiet and warm pad.
Integrated pump.
High-quality build & 5-year warranty.

Check Price

Super light self-inflating pad.
The thick insulation material makes it practically noise-free.

Check Price

Cheap, self-inflating, noise-free pad.  
1.5 inches thick (4.3 R) for four Season use. 

Check Price
The first moments of silence when lying in a tent out in nowhere are just magical right? The wind is blowing softly, the last birds chipping happily before bedtime and the distant river flowing.
A few weeks ago, I was hiking in the woods with a friend. We were in one of the most remote places where no man-made noise could reach us.
When the time came to go to sleep, and we settled into the tent inflated our new sleeping pads that we wanted to test out, rolled out our sleeping bags and went to sleep.
But…
As soon as I lay down on my pad, the squeaky, crunchy and plasticky sounds began! Every time I moved just a little bit, turned or adjusted something, these noises, like opening a bag of potato chips, would wreck the wonderful natural silence (and my sleep…).
But not only did it disturb me but also my fellow hiker and it was almost as though the birds around us would stop singing as a result of the noise from my pad!
What Makes Sleeping Pads Noisy?
There are many reasons why a sleeping pad makes noise when you sleep on it. Some of the most common causes of sleeping pad noise are:
Rubbing of the insulating film lining the inside of the pad.
The outer material of the pad rubbing against you.
The outer material of the pad rubbing against the ground sheet.
So basically it comes down to the insulation method, material use and construction.
Let me explain these a bit further.
Insulating film
The most common reason a sleeping pad is noisy is that the insulation chambers that are found in lightweight inflatable pads are lined by a thin crispy film. When the film bends or rubs against the surface material it makes noise like a piece of tin foil that is crumbled.

This film is very similar to that is used for food packaging and is great for keeping air and out. It often contains a reflective metal component that reflects the heat of your body back onto your body, which prevents it from being lost into the ground you are laying on.
Old-fashioned insulation materials are often based on fluffy polyester wool ("PrimaLoft") or down materials that allows expansion of the pad and the trapping of still air to insulate you from the ground.
This is how most insulation materials work – by trapping air so that heat cannot be transferred with the circulating air.
However, these classical insulation materials are often too heavy for the ultralight pads made today and therefore they have been removed to leave empty air chambers as insulation instead.
Because empty chambers are more prone air circulation and heat transfer, so therefore a thin heat (infra-red) reflective film is applied to the inside of the pad.
So the reason these kinds of thin films are used for insulation is that proper filling is too heavy for ultralight pads but the problem is that it makes them noisy to sleep on!
But luckily innovations are slowly happening at this front.
Some sleeping pad manufacturers, like NEMO, have found ways to make a two-layer thermal mirror film that instead of bending and crackling are rubbing against itself, which leads to less noise.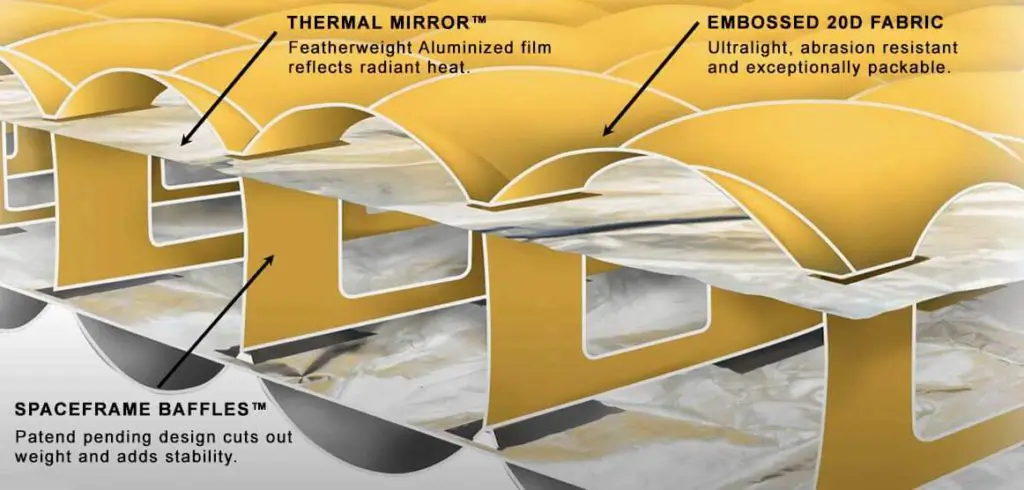 This is the technology used in the NEMO Tensor Insulated Sleeping Pad that is one of the top contestants I have selected for this comparison.
The Outer Material Matters!
So, we talked about how the film of the sleeping pad can make it noisy, but old air mattresses can certainly also make a good deal of sound!
So why is that?
Well, the outer material of a sleeping pad can be made out of different materials, some more "plastic like" than others. The most popular materials are the ones I have described previously on this blog like polyester of different thicknesses or even nylon if low weight is primary.
Depending on the type, thickness and surface treatment of these materials, the contact with you or other materials might make noise.
For example, dry nylon materials are often a bit crunchy in feel and will make noise when bending or stretching unless they are of the really thick types (that are more often used for backpacks).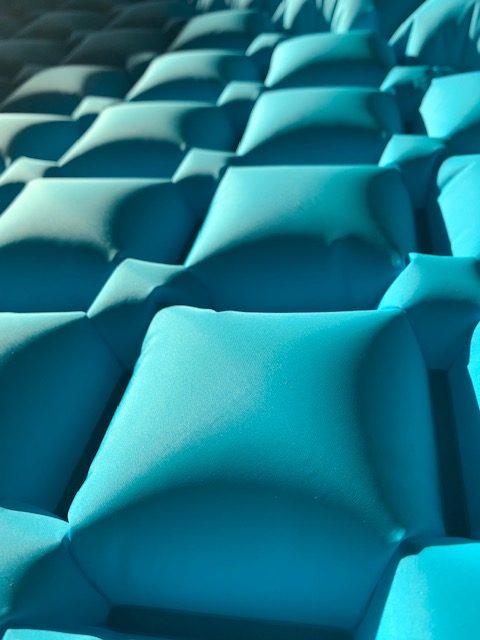 They will also make noise when rubbed against other materials like that of your sleeping bag (also often nylon or polyester) or that of your groundsheet in your tent which is also most often a thick nylon variant.
The ground sheet of the most lightweight tents may also be made from Dyneema or Cuben fiber which is even more brittle and noisy than that of nylon.
This will, combined with certain sleeping pad materials lead to a noisy experience!
Here, Dyneema is likely the noisiest of them all, and then comes nylon, with polyester being the least noisy of them all.
However, there are many surface treatment options that will make these materials less noisy.
I have taken this aspect into account when selecting my top choices for this post. I have gone for the thicker more rough and soft materials as a rough or softer feeling surface will be less noisy and less slippery (so less movement to make noise).  
Top 10 lightweight super silent sleeping pads:
In the following I will go a bit more into detail about the least noisy sleeping pads out there, their main features and why I would choose each one of them.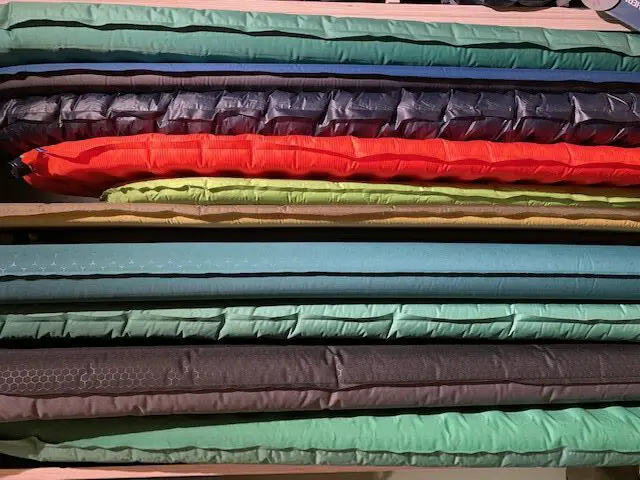 While many of the heavier (self-inflating) pads are quiet in use, they are often bulky and heavy to carry around. Therefore I have mainly focused on the ultralight sleeping pads that are also quet in use.
NEMO Tensor Insulated Sleeping Pad – Out Top Choice!
If you're looking for an ultralight sleeping pad that's super warm and quiet, look no further than the Nemo Tensor Insulated Sleeping Pad.
The NEMO Tensor Insulated Sleeping Pad is an inflatable sleeping pad with no filling material inside its air pockets, but despite being metal-film based it is really super quiet in use!
This updated insulated model features two layers of suspended Thermal Mirror metalized film for a whopping 20°F increase in temperature rating as compared to previous models, while also minimizing the noise!
The added weight savings comes from the new 20D ripstop polyester fabric that also has a more sound friendly surface that does not slide as easily as the older models.
At only 12 oz (340 grams) the pad is also very light and on par with many pads of the MUCH more noisy kind! And when considering the wide and thick comfortable form factor of the Nemo Tensor, the weight is incredibly low!
Featuring spaceframe baffles with low stretch die-cut trusses to eliminate springiness and keep your elbows and hips from poking through, plus a rugged ripstop shell for durability, this is one ultralight sleeping pad that won't disappoint whether you're hiking or camping deep in the backcountry…or even if you just want to spend a night out under the stars!
Sea to Summit Ether Light XT – Best For Cold Weather
The Sea to Summit Ether Light sleeping pad is a new addition to the Sea to Summit line of sleeping pads. The Ether Light is one of the lightest sleeping pads Sea to Summit makes that is designed to be used in colder temperatures.
At 4 inches thickness, the Ether Light XT gives you the extra comfort and cold performance for even the coldest winters while still being lightweight and packable and the added benefits of being super silent in use!
It does come in many shapes and sizes with weights ranging from just around 1 pound all the way up to 2 pounds for the largests size of the rectangular version.
It's a great choice for backpacking trips where a good compromise between comfort, weight and warmth is key such as longer more challenging through hikes where a good night's sleep is essential!
Its Air Sprung Cell construction features large, flexible loops that move freely like a spring, providing optimal support for your hips, shoulders and knees so you can sleep on your side or stomach without pressure points.
The comfortable 4″ thickness and Thermolite Core Insulation provide optimal warmth and less noise, while Exkin Platinum reflective fabric keeps you warm in even the coldest of temperatures.
In fact, the "Extreme" insulated version have an R-value of a whooping 6.3!
With a 40D nylon non-slip surface it is also rugged enough for even the stony grounds thanks to its reinforced base and double layer that is also optimized for silence!
I would choose this pad over the Nemo Tensor for the more challenging longer hikes or the colder winter hikes where the Nemo Tensor would be too cold or too thin to support a proper comfortable warm sleep.
Big Agnes Insulated Q – Most Comfortable
Waking up refreshed on a chilly morning is the best way to start a hike. The Q-Core SLX has everything you need in a foam sleeping pad and more!
Featuring 3.2 R-Value rated insulation and a quilted top, it traps body heat and reflects it back, so you stay comfortable as the temperatures drop.
The fabric of this pad is incredible and when you touch it you will know why it is so silent in use! And along with the insulated filling rather than metallic film, it is a super solid choice for a quiet sleeping pad!
These pads are built with superlight double rip-stop nylon fabric that won't let you down; it has impressive weld strength so you can depend on it from adventure to adventure.
No need to sacrifice comfort with these lightweight pads – the Petite 20" x 66" weighs just 17 oz. and packs to 4" x 7".
I would choose this pad it you need some extra surface area and a luxury feel to the material – it really does make sleeping, not just more quiet, but also much more comfortable that you do not sleep on a balloon!
Nemo Equipment Quasar 3D
Nemo's Quasar 3D sleeping pad features our body-mapped 3D baffling that cradles you in support where you need it, and soft cushioning where you don't.
Its unique, slightly elevated head baffle serves as a headboard so your tent pillow stays put all night long.
The PrimaLoft insulation fill and the surface treatment of the 30D fabric make the Quasar pad much less noisy and more comfortable than most other inflatable pads.
However, at 1lb and 14 oz it is not much heavier than the other pads tested here.
The quick pull valve allows for fast inflation and deflation, while the included Vortex pump sack makes inflating this pad effortless. Easy to pack into its own stuff sack, it comes in handy when weight is critical.
Compared to the Nemo Tensor, the Quasar 3D is quite a lot cheaper and just has a different feel to it with the horizontal baffles. It's a matter of taste and budget to choose between the two I would say.
Therm-a-rest Trail Pro – Good warmth for the price!
 A lightweight self inflating backpacking pad sized for even the coldest weather and longer trips.
Really impressive in-between the more old-fashioned filler insulations style pads and the newer purely air containing pads.
The Therm-a-Rest Trail Pro features diagonal-cut foam that provides more warmth than vertical-cut foam and creates no need for the reflective film that leads to a noisy pad.
With 4.0 R-value and an expanding self-inflating foam design, this pad is ready for year-round adventures.
Coming in at just 29 ounces, it packs down small but still offers self inflation and enough padding to keep you comfortable all night long.
So if you do not want to spend too much energy blowing up your pad or just need extra comfort and silence at night, this one is for you!
Therm-a-Rest Z Lite Sol – Best Budget Option
As a real classic, the Z Lite Mattress is a durable, dependable, and economical option for sleeping on the ground.
Personally, I have used this pad for many years now and, while still young, I have had no problems sleeping several nights in a row on it even though it is not as comfortable as some of the other pads mentioned here.
And best of all, it is absolutely silent as there are no moving or balloon-like cracking parts involved!
Built to last with trusted ThermaCapture Coating that reflects your body heat back to you, this mattress is sure to keep you warm all night long.
There is also no chance of puncturing which is a huge worry-busted when being far from civilization!
Designed for use on any ground material, it's great for camping, hiking, and traveling. The mattress features an R-value of 2.0 and weighs only 14 ounces when packed up.
With a convenient folding accordion design measuring 20 x 5 x 5 ½ inches, the mattress easily compacts down so it fits into your backpack or travel bag.
When unfolded (which only takes seconds!), it is 72 X 20 inches in size – plenty of room to lie flat on top of this comfortable mattress.
If you want to save a bit of money, these pads can also be found quite a bit cheaper from other brands like this one from Wolf Walker or even cheaper if you know where to look!
Klymit Insulated Static V – A Classic!
The Klymit Insulated Static V Sleeping Pad is one of the warmest lightweight sleeping pads for camping and backpacking you can get for less than 100$.
Its patented V-chamber design provides excellent thermal insulation and comfort, while its airframe design offers high quality cushioning that lasts over time.
And with the added fibrous insulation material inside, you will be saved from much of the noise of purely film-insulated pads.
The sleeping pad inflates in as little as four breaths (but I recommend using the supplied stuff sack to avoid mold in the pad!), packs down to a small size, and weighs 2.5 pounds.
With an R-value of 4.4, it is ideal for backpacking in fall as well as spring and milder winter trips when temperatures might drop below freezing at night, but it also works well in warmer climates where comfort is key.
The Klymit Insulated Static V is available in multiple sizes and colors to fit different weights and user body types.
There is even a lightweight fitted sheet available for all Klymit pads that will decrease noises from preasure and rubbing even more leading to an almost completely quite pad!
At less than a hundred bucks, the Klymit Insulated Static V is a great choice for backpackers on a budget. This pad is warm and comfortable, and at 2 pounds it's light enough to carry on long trips. It stuffs down easily for storage, and inflates quickly.
Along with comfort and convenience, this pad delivers exceptional warmth to weight ratio that most of the much more expensive pads don't always offer.
Exped SynMat 7 Insulated – Best Budget Winter Option
The Exped Synmat 7 is the ideal mat for year-round camping comfort. Its unique polyester and TPU laminate construction offers the best of both worlds – durability with insulation.
This mat reaches an impressive R-value of 4.9 that allows for very cold ground temperatures (1.4 degrees F).
This is made possible partly by using Bluesign Certified, Texped microfiber insulation to ensure it's warm enough for winter nights while still able to pack down small enough to fit inside your backpack. The fiber material makes it much more silent compared to film pads.
 A durable polyester top and bottom resist water damage and mold, while feeling like a plush pillow when inflated.
These surface materials and the fiber insulation of the SunMat pads are the features that make them significantly more silent than most other inflatable pads out there.
This mat includes an integrated pump system that inflates quicker than blowing into a tube, saving precious breaths, and is also much more hygienic, after a long day of trekking.
In addition to being Oeko-Tex 100 certified as free from harmful chemicals, this mat is made from high-quality materials and backed by a 5-year warranty if you ever need it replaced under the manufacturer's defect guarantee.
Therm-a-rest ProLite – Best Self-inflating option
Whether you're spending the night in a hammock or a tent, Therm-a-Rest ProLite Self-Inflating Backpacking Pads are just what you need for cushiony support that keeps you warm even in chilly conditions.
Due to the dense filling of this pad, there is no material rubbing together or air-pockets getting bent during sleep, which makes it one of the most silent pads around.
Made from durable 1″ thick foam that offers a place to rest your head and hips all night long, the diagonal cut foam design makes the ProLite even lighter than its rectangular predecessors.
And at only 0.7 lbs (320 grams!) it is actually on par with most hollow inflatable pads!
Its self-inflating design relies on the insulation material's ability to expand which also gives you a pad with a great R- value of 3.2.
Since it's made from 75D polyester fabric it is tough enough (and pretty much waterproof!) to withstand use off the beaten path but still lightweight enough to carry on every hike.
The mattress only needs to be topped off with a few breaths thanks to its self inflating design which expands on its own but you are best off with a few added breaths of air, which will not ruin your pad.
Gear Doctors Self Inflating Sleeping Pad – Cheapest Comfort Option
This sleeping pad is the cheapest of the ones mentioned here at just shy of 40$ it offers good value for money. And while not the lightest mat around, it is dead silent and super warm to sleep on!
Similar to the Therm-a-Rest ProLite, it is a polyester filling based insulation, which means not cnispering air pockets or metallic films rubbing against each other!
At only 2 pounds, it packs down small and will easily fit into your backpack or camping gear bag. The air valve is leak-proof and connects to any inflatable mattress via an attached hose.
The outside is a 75D micro coated green polyester that is water and puncture resistant and will last for years.
They also claim that the sleeping pad is hypoallergenic so it won't cause red bumps when you sleep on it if you have sensitive skin.
Compared to the Thermarest prolite, this pad is half an inch thicker and therefore also warmer with an impressive R-valure of 4.3!
This extra thickness also means that it is more comfortable to lay on especially for side sleepers.
How Can I Make My Sleeping Pad Quieter?
If you already have a sleeping pad but you're not ready to upgrade just yet, there are some strategies you can apply to make your sleeping pad less noisy.
As you cannot easily change the interior of your pad (but see further down for advice on reducing internal pad noise!), you will primarily have to focus on the things coming in contact with the exterior of your sleeping pad.
This includes your sleeping bag and the floor material of your tent.
It may also include yourself and your clothing if you are sleeping directly on the mat without a cover or if you are using a quilt!
If you are having trouble with a rubbing type of noise when sleeping on your pad with or without a sleeping bag, it may help to get a soft sheet to put on or around your pad.
For example, Klymit have a custom made sheet for their pads, which is going to reduce the noise arising from you or your sleeping bag rubbing against the pad.
A similar type of sleeping pad sheet is available for many of Therm-a-rest's pads, which can really help quiet some of the noisiest pads out there (like the Neo Air!).
If the sheet (like the one for the Klymit pads) goes all around to the back of the pad, it will also reduce noise coming from the material of the pad rubbing against the tent floor, which is quite a common type of sleeping pad noise.
If rubbing against the ground sheet of your tent is the problem, you may want to buy a thin (e.g. yoga) mat to put underneath you sleeping pad. This will also prevent it from gliding around in the tent.
Another option is to put the pad inside you sleeping bag. This will shield the pad from the ground sheet and keep it more in place, which prevents rubbing noises.
Finally, there is also a way to remedy the noise arising from the metallic film covering the interior of a sleeping pad.
The best thing you can do to make notoriously loud sleeping pads like the Therm-a-Rest NeoAir Xlite more quiet, is simply to inflate it as hard as you can!
In this way, you make sure that the metallic film causing the noise is held out as tight as possible inside the mat, which results in the least amount of bending and therefore keeps down the noise resulting from that.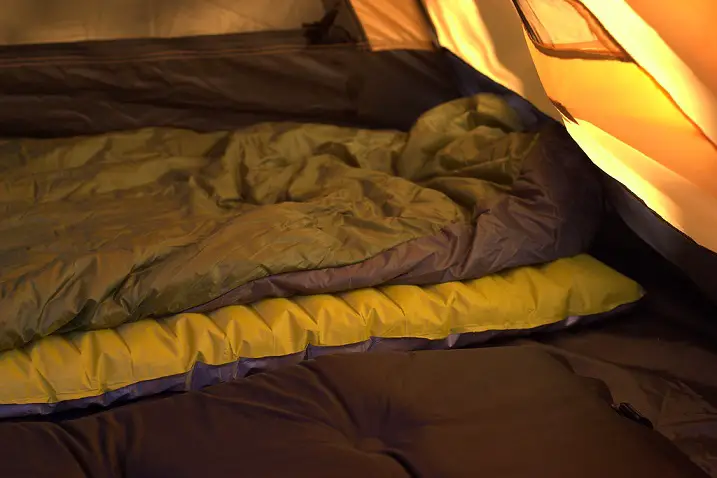 Another good way to avoid the crunchy noises caused by bending of an inflatable sleeping mat fabric is to make sure that the ground on which it is places is as hard and stable as possible.
A soft or unstable ground under a sleeping pad will also cause more bends and therefore increase the noise from the pad material crumbling.
You may also consider how you position yourself on the pad to reduce the noise coming from it when you turn.
You can do this by laying in a less "noisy" position and by making sure that you are not laying on an incline so that you will have to reposition yourself during the night and thereby induce noise from the pad.
For example, laying on your back or belly will induce less bending of the potentially noisy material of your pad compared to laying on your side (yeah I know, its not so easy – I'm a side sleeper myself!).
If none of these tricks works for you to make you sleeping pad more quiet, I would strongly suggest exchanging you old pad for one of the silent ones mentioned earlier in this article.
Best Quiet Budget Sleeping Pads
Just before you leave, I want to mention that there are also some very budget friendly options for good quiet sleeping mats out there.
Just like I wrote about in my elaborate post on super cheap quality lightweight tents, there are many unknown brands out there that make great gear at a fraction of the price of the well known hiking brands!
These mats are silent in use not because they intended to be, but simply because the technologies used by the more expensive brands are also what makes them noisy in use!
I have picked out a few that are made from the same high-quality outer materials as the high-end pads but do not contain the metal film that makes them noisy (and expensive!).
These pads are mostly good for summer, spring and fall use as they are usually not insulated to the point where they allow winter camping.
However, I have used the Naturehike sleeping pads down to around 30F (0C) without any problems!
FAQs
Are Big Agnes sleeping pads noisy?
While some sleeping pads from Big Agnes like the Big Agnes Air Core Pads are known to be noisy in use, there are definitely more quiet options from Big Agnes!
For example the Big Agnes Insulated Q that is made from a much softer fabric than its predecessors and contains an insulation material that does not make crunchy noises.
It seems like many of the earlier pads had a nylon fabric as their shell material making them give off crunchy noises when rubbing against the tent floor or a sleeping bag. Especially the uninsulated versions will be noisy, but even the Air Core insulated version also seems to give off some noise.
Some people report that a sheet or liner helps to reduce the noise of Big Agnes pads or that simply putting it in the sleeping bag helps.
Are Klymit sleeping pads noisy?
Whereas Klymit pads are not known to be super noisy, some of the warmer ones insulated with metallic film and without a core fiber material are known to give off squeaky noises when one turns and moves around on them.
However, klymit also have pads like the Klymit Insulated Static V that are made with a fibrous core material and a softer surface that is much quieter compared to earlier versions and the original uninsulated Static V pad.
Are any Thermarest sleeping pad noisy?
Yes! All Therm-a-Rest pads of the NeoAir series are known to be among the most noisy sleeping pads around!
They are super light and comfortable and warm (I use one myself!) but they do not go about it quietly.
If you are not familier with the NeoAir series and their noisy nature, check out the video below:
However, just because the NeoAir is super noisy, this does not mean that Therm-a-rest do not make quiet sleeping pads!
As mentioned above, they actually make some really good and much more silent pads like the Therm-a-rest Trail Pro or the Therm-a-rest ProLite.