The AKSOUL RUNACC inflatable foot-pump sleeping pad, a portable and convenient sleeping pad, is one of the first products to be launched by a relatively new hiking gear company AKSOUL.
This sleeping mat is camping luxury! It features a sturdy, yet lightweight design that is more comfortable than most inflatable mats out there. With a 4" (10 cm) thickness, a 77" (196cm) length and a built in large pillow, this very affordable mat will fit the needs (and bodies!) of even tallest and heaviest hikers out there.
It also comes with small metal buttons along each side, which gives you the option of attaching multiple (or just two) sleeping pads together.
This will avoid that cold and annoying gab that often appears between two people in a tent!
Very comfortable 4″ (10cm) thickness.
Large size that will fit even larger adults.
Option to connect multiple pads together.
Built-in large pillow.
Very affordable price tag. 
Stuff sack and patches included.
Durable 40D nylon and TPU composite materials.
Innovative stomp-to-inflate pump for hygienic inflation.
Finally, my favourite feature of this sleeping pad is the built-in pump feature! This hand or foot operated pump frees you from having to use your breath to inflate the pad, which there are numerous good reasons to avoid!
Size and Materials
So as I mentioned in the introduction, this is actually quite a large sleeping pad compared to many other pads on the market.
This version of the AKSOUL sleeping pad measures 79"x27"x4" (196cm×69cm×10cm) and weighs 29 oz (830 g) with straps, stuff sack and patches.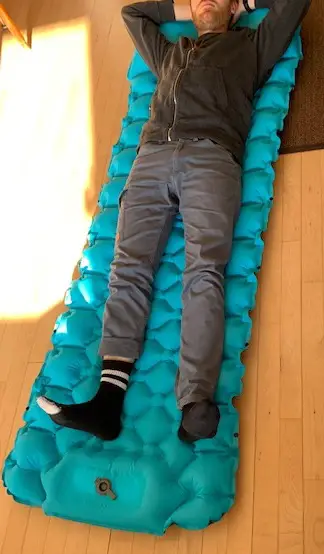 It does also come in other sizes such as 198cm×65cm×12cm or 200cm×56cm×8cm, the latter being longer and narrower for the tallest and skinniest of users and weighs somewhat less at 23oz (650g).
The thickness is great for even the coldest days and it allows you to sleep on your side without touching the ground. Furthermore, AKSOUL promises that it can support people weighing up to 440 pounds (200Kg)!
Weighing 29 oz (830g) with everything and 28 oz (800g) for the sleeping pad alone, this is in the higher end for people wanting an ultra light option, but considering the built in pump, it will save you the extra weight of e.g. an electric or external hand held pump.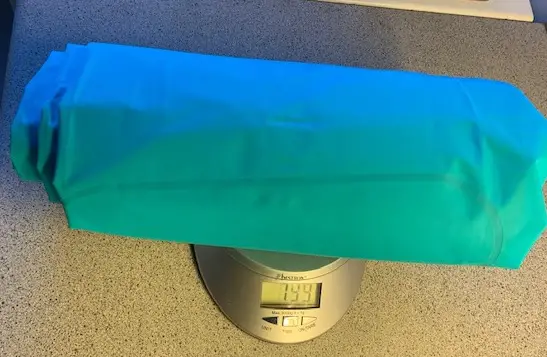 The shape of the sleeping is the classical rectangular form with sharp corners that allow for good movement space.
The square bubble pattern of the air pockets is a well tested format that allowed me to turn around and even stick my elbows in without feeling the ground. 
A fairly large build in pillow in the one end allows you to sleep with a slight elevation (a few inches higher than the actual mat) of your head that will definitely keep your head warm at night.
Strong double layer 40D nylon material
Sleeping pads, tents and backpacks are often made from either nylon or polyester. These two materials each have their benefits, but nylon is usually preferred, although more expensive than polyester.
This sleeping pad is made from a very durable double layer of ripstop 40D nylon material, which is fairly thick nylon but still lightweight material.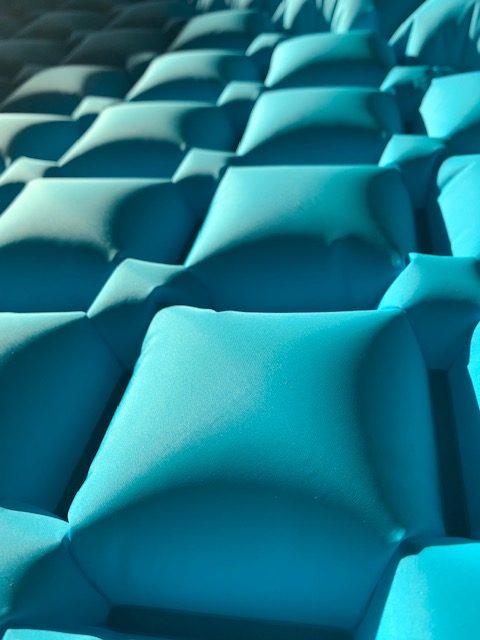 AKSOUL also include a few sticky patches to repair holes with their mat in case it punctures. So no need for glue, but they are simply stuck on there as a sticker!
For those of you familiar with tent and hiking materials, this is the same material used for the groundsheet of many tents!
Compared to polyester, which many other pads are made of, nylon is lighter for the same strength and the TPU coating makes it entirely waterproof.
I did a test to see how fast the pad would dry after being subjected to water when put at room temperature.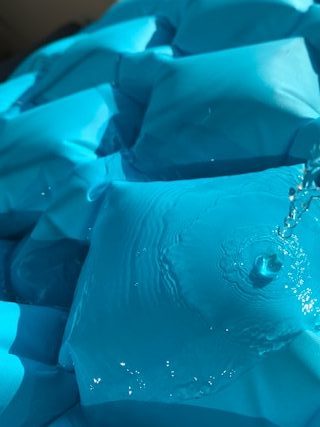 It took around 45 minutes for the water to be undetectable on the surface of the mat, which is better than most other mats of this price range.
Special features of the AKSOUL sleeping mat
An interesting feature of this sleeping mat is the ability to button it together with other similar mats. 
While I do own two-person inflatable sleeping mats, this mat gives you the option to bring it individually or together with another identical mat to create a two-person mat.
This allows you to avoid the annoying gab that will otherwise persist between two individual mats and thus prevent the cold awakening that may result from the sudden experience of unwillingly touching the tent floor at night!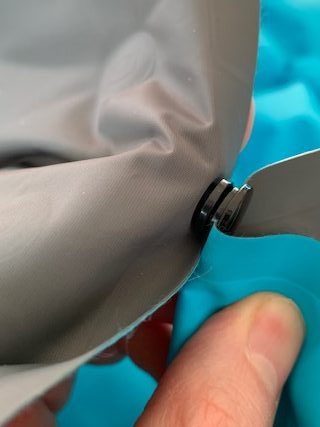 Although I do not own two of these mats and therefore cannot test this double functionally on a hiking trip with my partner, I can tell you that the buttons attach very strongly and they will not fall apart during the night no matter what activities are performed!
Build in foot/hand pump
You may also choose to inflate your sleeping pad by mouth to save weight, but as I have previously written about, inflating a sleeping pad by mouth is not ideal and will encourage microbial contamination that can ruin your pad!
As I have never tried a sleeping pad with a manual hand pump before, I was very excited to try this one out!
It is basically a piece of soft lightweight foam encapsulated in a thin nylon layer inside the mat.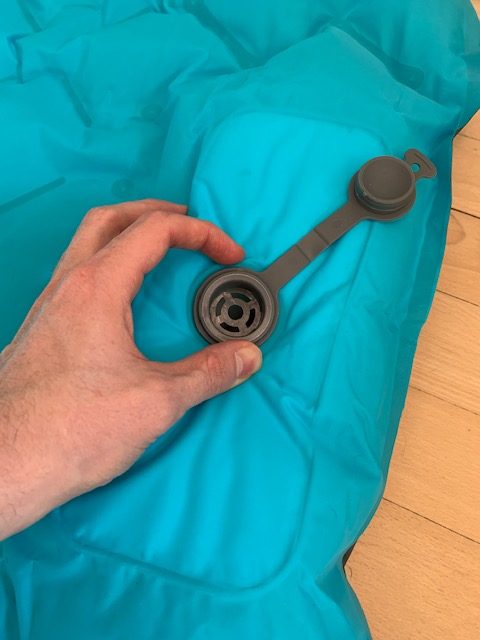 This airtight system then has a valve inside and an entry hole on top that allows air to get into the pump that is then pressed out into the pad.
I had feared that the manual pumping process of a pad like this would be very tedious but it actually took around the same time as with a small electric pump.
I used my foot, which is the most comfortable way to inflate it and it took approximately 1 minute for it to be fully inflated! 
This is surprisingly fast considering the large size of this pad!
When fully inflated, it was harder than my electric pump can attain and there was no need to top up using my lungs.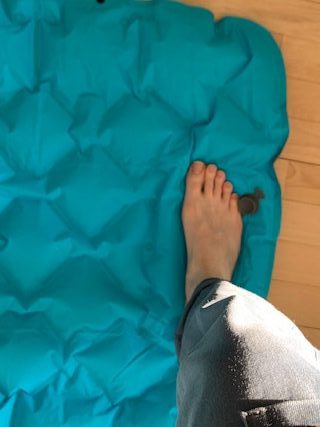 Having a build in pump in a sleeping pad is super convenient as you will never forget it and because it is much more hygienic than using your breath!
Compared to an electric pump, a manual pump also does not run out of battery and actually weighs less.
The downside is that a build-in pump cannot be used for multiple sleeping pads and will not fit other items e.g. pillows that needs inflation.
I feared that the pump would be somewhat in the way when sleeping or folding the mat. But because it is thinner than the thickness of the inflated mat and can be compressed to less than 1" (2cm) when deflated, it was not a problem at all.
Conclusion
I have used the AKSOUL sleeping mat for several nights now, and I must say that I really had some comfortable nights of sleep!
While this mat is not the lightest one out there, it has a very generous and comfortable size and it is made with the same materials as more expensive pads. And most importantly – it comes at a very competitive price!
Most of all I love the built-in pump functionality that is the most hygienic way of inflating a pad without the use of electricity.