Getting started with outdoor activities such as camping, birdwatching or hiking can be difficult, especially if you're on a budget.
But it doesn't have to be expensive if you know where to look! There are many great products out there that will get you started without breaking the bank – you just need where to look!
For those of you who love hiking or just being outdoors, here's my list of some great camping/hiking/backpacking gear that I can personally recommend.
The list of items below is my absolute favorite complete list of solid hiking gear that does not break the bank!
In the table below I have listed the gear I use for short and long backpacking trips.
The full list comes at a price of less than 500$ and a base weight of just 7lbs (3 kgs)!
These are not "cheap" quality items though, and I carefully choose them based on quality and price. For my absolute most budget-friendly item list, scroll on to the second table in this post.
My absolute favorite list of affordable ultralight gear for a great hiking experience!
These are all fairly unknown brands fra Asia, but this does not mean that the quality is bad!
In fact, most of the items are made from exactly the same materials (and often by the same people in the same factories!) as much more famous well-known western brands.
Scroll down further, to see my list of absolute budget options, bringing the price for the full gear list down to just around 220$!
The only extra thing you need for a complete hiking trip is some dehydrated food, a gas canister, and a good pair of boots, shoes, or sandals.
I did not include these items in the list as boots and food vary a lot from person to person, and the amount of gas depends on the food and length of the trip.
I am sure that they will also work as gift ideas, especially if you want to bring your teenage son or daughter out hiking for the first time.
If you are mainly interested in buying a new tent or want a tent that fits 2, 3, or 4 people, I have also written a much more elaborate article on 20 budget hiking tents with explanations and comparisons of the different budget brands that few people know of (yet)!
If you are interested in the absolute cheapest solution but are willing to compromise a bit on the weight of your hiking gear, I have made another list of the absolute cheapest options for good hiking gear on AliExpress:
My recommended gear if you are not too obsessed with the weight of your wallet than the weight of your gear!
Of course, you don't have to go for the full list, but you can mix and match as it suits you.
For example, you might not care too much about the weight of certain items, or you want to have rain pants instead of a kilt (although a rain kilt works really well actually!).
I have already written several posts on some of the bargain items from Aliexpress, like the down sleeping bag, the ultralight cheap tents, lightweight cheap backpacks, and my list of sleeping pads that don't make noise, but I will mention a few others in the text below. Including alternatives to the items from the lists above.
The 3F UL GEAR Qi Dian Pro  – An ultralight 46+ Liters hiking backpack!
Apart from good hiking boots and a great water bottle, a proper backpack is perhaps the most important piece of equipment when starting out hiking.
The 3F UL GEAR QiDian Pro UL Backpack is the ideal beginner backpack for new hikers on a budget. It is made from ultralight and waterproof materials and holds more than 46L of gear.
The 3F Ultralight Adjustable Cinch Strap design allows you to adjust the bag to meet your needs, whether you are carrying a few items or an entire day's worth of gear. It is made by the same company that makes the very popular ultralight Lanshan tents (see my more in my post on ultralight hiking tents).
We love this bag for its spacious storage capacity and adjustable straps and ultralight materials. If you want to give the perfect gift for a new or experienced hiker, the 3F UL GEAR Qi Dian Pro will not compromise on performance and style despite its low price!
Whereas most hiking packs are made from nylon or polyester, 3F UL Gear have made their backpack from the extremely strong and durable Dyneema material that is also used for climbing rope and harnesses! Dyneema is >15 times stronger than steel and 1.5 times stronger than kevlar!
When you need to pack light but still pack a lot, the 3f UL gear pack is a perfect choice – check out the current price from the cheapest seller I could find here. It often goes for just around 100$ delivered.
---
An ultralight foam sleeping mat that folds!
Sleeping well outdoors on the ground (even if separated by the thin tent floor) can be a challenge if you're new to camping. I have tried so many sleeping mats in my time, and the worst nights I have had have been when my inflatable sleeping mat punctured or started leaking air.
In addition, inflatable sleeping pads may also accumulate mold, which reduces their lifetime significantly, especially if inflated by mouth!
With a foam mat, this is not a problem, but foam mats are often bulky, not as comfortable as inflatable ones, or simple to heavy.
However, these drawbacks are pretty much solved with some of the newer folding egg-crate sleeping mats.
Naturehike Ultralight Portable Folding Mat:
If you are looking for a compact, ultralight sleeping mat that is easy to pack and simple to set up, then a folding foam pad is for you!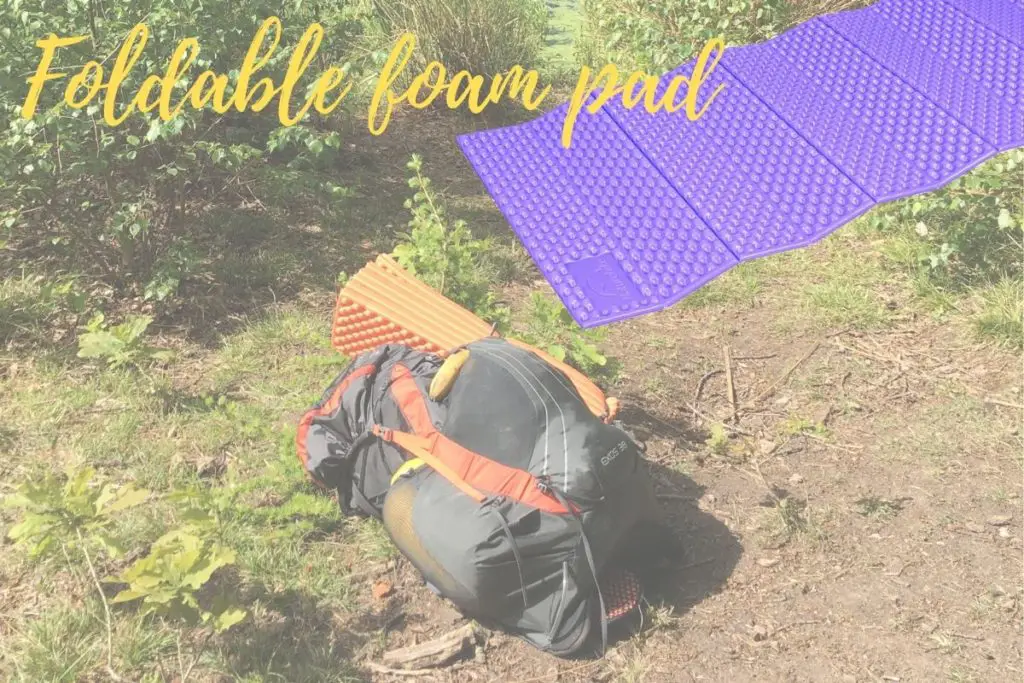 This lightweight foam pad weighs only 420 g (0.93 Lb), which makes it perfect for camping or backpacking trips.
The dimensions of the pad are 56x185x1.8 cm (22×72.8×0.7 in), which is big enough for most adults and is relatively broad for an ultralight sleeping pad.
It measures only 0.7 inches thick but offers incredible comfort and insulation. It can be folded up in less than 10 seconds, which makes it easy to carry with you when traveling.
Personally, I have used this camping mat for a little over three years now, and I am still very pleased with it!
I love having a superlight sleeping pad that takes no time to fold out and use. It takes no time to throw it on the ground when stopping to enjoy the view or a snack.
But the best part about it is that it does not need to be inflated and there is absolutely no risk of puncture and it does not make any noise when you lie on it!
Naturehike is perhaps the most reputable of the non-western camping brands out there, and I have only had good experiences with them so far.
The Naturehike foam mat costs around 30$ including shipping, but go and check out the latest price here.
Also available from Amazon.
While I own the Naturehike mat because it seems like the perfect quality vs price option, there are cheaper and better quality options out there.
Cheaper Alternative:
Another similar option, that is slightly cheaper is the Widesea foldable foam pad.
The Widesea version has exactly the same dimensions as the Naturehike model but weighs slightly more at 490g (17.28 oz). Check out the price on Aliexpress here.
More advanced option:
The 3F UL GEAR Ultralight Foam Foldable Sleeping Pad is a better option if you are not too concerned with the price.
The main benefit of the 3F UL Gear version of the folding foam mat is that it comes in a version that has metal foil on both sides. This double-foiling makes increases the insulation, durability and moisture repellent properties of the pad.
It is around 10$ more expensive compared to the Naturehike pad, but check it regularly as Aliexpress often have campaigns where you can be lucky to get it for the same price as the single-foiled versions mentioned above.
If you are more interested in inflatable sleeping pads, check out my post on how to inflate them properly without causing mold or mildew growth.
Another way to avoid the humidity of your breath inside your mat, is to buy a mat with built-in pump like the one I have reviewed here.
Very comfortable 4″ (10cm) thickness.
Large size that will fit even larger adults.
Option to connect multiple pads together.
Built-in large pillow.
Very affordable price tag. 
Stuff sack and patches included.
Durable 40D nylon and TPU composite materials.
Innovative stomp-to-inflate pump for hygienic inflation.
---
The Naturehike CW300 Ultralight Sleeping Bag
I proper sleeping bag is a must-have on any hiking or outdoor trip where an overnight stay is included. Whether you are planning to stay in a tent or in a hut, a soft and warm sleeping bag is essential to keep you warm at night.
There are many cheap sleeping bags out there, but most of the cheapest ones are made with synthetic filling that is both heavy and poorly performing when it comes to keeping you warm all night.
I am not going to get too detailed here, as I already wrote a thorough review of the Naturehike CW300 sleeping bag.
I used the CW300 for my recent trip to Iceland where it was close to 0°C  (32°F) and I slept just fine. This is the realistic size of the sleeping bag if you don't strap it too tight.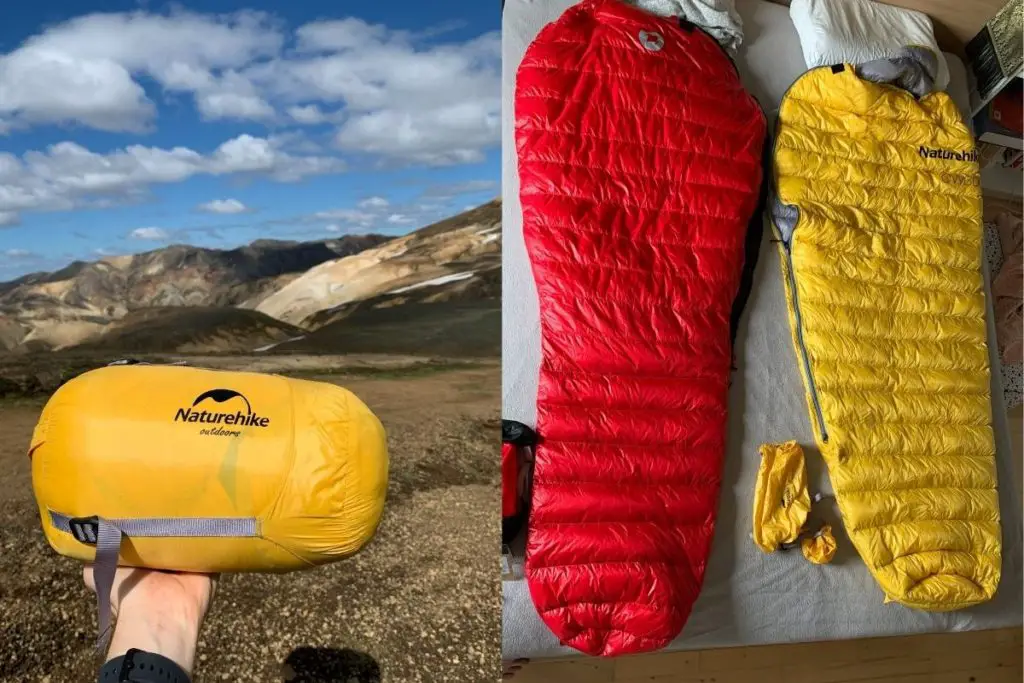 Check out the latest price for the CW300 sleeping bag on Aliexpress here or on Amazon here.
Another quality budget sleeping bag that I own and can highly recommend is the AEGISMAX nano. It weighs and feels almost the same as the Naturehike CW300, but comes in a wider variety of colors and lengths.

The Aegismax is a slightly cheaper version of the nano sleeping bag that can be found on Amazon here.
You may also want to consider a sleeping bag liner, which will also give you a few extra degrees and keep your sleeping bag clean! I personally use this one.
Naturehike Cloud Up Ultralight Tent 
When the basic wearables and necessities are secured, the next step is to find a portable home for your hiking adventures.
I have previously written about the Cloud Up series in my post dedicated to ultralight budget tents here, so check it out if you want a more in-depth look at this one and other good lightweight tents.
The Cloud Up tents resemble other tents from major hiking brands such as the Terra Nova Solar Photon 2 or the Terra Nova Quasar, but sells at a fraction of the price.
It comes in something for any taste of color and has several options for price, materials, and weight. It also comes with a free footprint.
For example, it comes in a cheaper 210T polyester version as well as a model made from the slightly more expensive, and more lightweight, 20D Nylon.
Check the Cloud Up out on Amazon here.
If you are in doubt of what the pros and cons of nylon and polyester are, or in doubt of what to choose, go have a look at my thorough explanation of the difference between these materials here.
I have also written a much more elaborate article about budget lightweight hiking tents (below 200$) with explanations and comparisons of the different budget brands!
If you don't have time to read my other post on the ultralight cheap tents linked to above, I have just reveal my favourite here!
However, there are many different types (I included >20 different tents!) so take a look to find the exact right match for you!
Cheap Lightweight Foldable Camping Chair
Here's our favorite budget chair for people new to camping who want some comfort and are not crazy about weight.
Camping chairs are great for camping trips, outdoor concerts, and sporting events. While there are plenty of camping chairs to choose from, this one has particularly
Camping chairs are an inexpensive way to add some comfort when you're new to hiking, or just have a tendency towards sore legs or back pain when traveling.
A sturdy and packable camping chair is also great for families with small children who want to enjoy time outside but don't want to stand or sit on the ground.
If you've been looking for a gift for someone who loves camping or sports, this camping chair is a perfect choice! It has a fairly large backrest, which is great if you want proper back support or spend some time reading without straining your neck.
3F UL Gear also has a version of an even ligher and more minimalistic camping/hiking chair: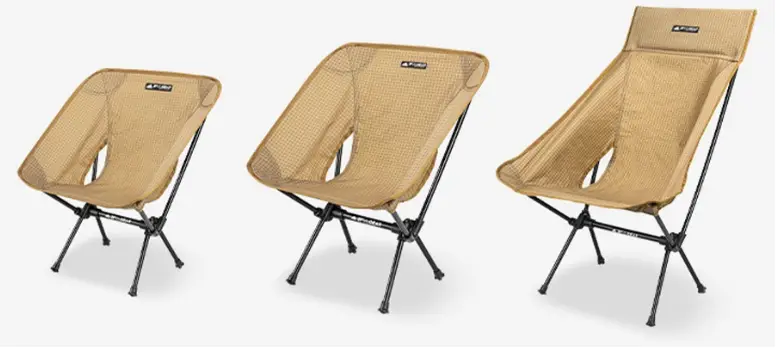 This chair is interesting because it is made from the extremely strong and durable Dyneema material.
Whereas most sheets of camping chairs are made from nylon or polyester, 3F UL Gear have made their chair with the Dyneema material that is also used for climbing rope and harnesses! Dyneema is >15 times stronger than steel and 1.5 times stronger than kevlar that will certainly last and carry whomever sits in it!
A 30$ Ultralight down jacket from Aliexpress
So here is my favorite packable down jacket that is insanely cheap for such a light and packable jacket with real down filling!
A down jacket serves as the ideal middle layer to keep you warm in the colder months.
However, most ultralight packable down jackets are quite expensive due to the presence of a small brand name logo. But why pay so much more for a brand when they are all made in China anyway?
This jacket is made from polyester and filled with real down rather than synthetic fibers, which is quite unique in this price range. And the lining material is water resistant polyester and nylon!
They call the brand "NewBang" which sounds somewhat silly, but well, its not displayed anywhere on the jacket so no one will notice.
The jacket has a fair amount of loft, although the baffles don't feel as full as on some branded, and much more expensive, versions e.g. the Patagonia UL Down Hoody.
But for a tenth of the price of the Patagonia version, it is amazing value. Check out the current price on AliExpress here.
It also comes in a west version for 10$ less, which may be nice for slightly warmer areas and if weight is one of your main concerns.
The Fire Maple X2 Outdoor Gas Stove
The Fire Maple fixed star FMS X2 includes everything you need to cook when hiking. Wether you just want water for tea, coffee or freeze-dried camping meals, or you want to boil vegetables etc. for full blown cooking, this lightweight insulated gas stove is ideal as a beginner cook set.
Apart from the actual gas burner, the cookset includes a large 1 liter (4 cups) cooking pot with fuel-saving heat exchanger fins, built-in windshields, sturdy folding handles, and insulation sleeves made from neoprene.
It all packs neatly into the pot that also fits the gas canister nicely.
And at just around 600g (1.3 lbs) and less than 1 kg (2.2 lbs) packed with the gas canister, It is one of the lightest cooksets you can get.
It comes in different colors, and there is also a newer X3 and an older X1 version. All of which are also available from Amazon.
The X1 version is slightly cheaper but does not include the stand for the canister or the lid. The X3 version is lighter, but also boils less having a smaller pot of 0.8 L (3.4 cups).
They are all compatible with different types of cookware some of which are mentioned next.
A proper pot and pan set
A cookset can be many different things. Depending on your needs you will want more or less items such as pots and pans or a kettle.
So, this time I am going to include a few options, as there are many.
As mentioned above, Fire Maple has a few good options made from hard anodized aluminum – meaning enforced aluminum that is harder to scratch and bend.
These will last you a long time and they also contain heat sinks that are compatible with many different gas burners out there. So you don't necessarily need to use the Fire Maple burners with it.
There are options like the one shown above with to types of pots, on deep and a shallow one that can also be used as a pan.
But they also come with a kettle, which is most efficient if you just need to boil water for drinking or preparing dehydrated food.
Finally, you can also get the kettle only if you're only – check it out on AliExpress here.
Titanium cook sets
Personally, I love the sturdiness and light weight of titanium. The material is perfect for camping because it will last a lifetime and it can stand higher temperatures than aluminum. So in case you need to cook directly in a bonfire, titanium would be the lightest material able to withstand such heat challenge.
There are many available, but only a few good bargains out there.
For this, I use the boundless voyage titanium cookset with a shallow and deep pot. The shallow pot doubles as a lid and also works fine as a frying pan. I use it with the BRS mini titanium gas stove.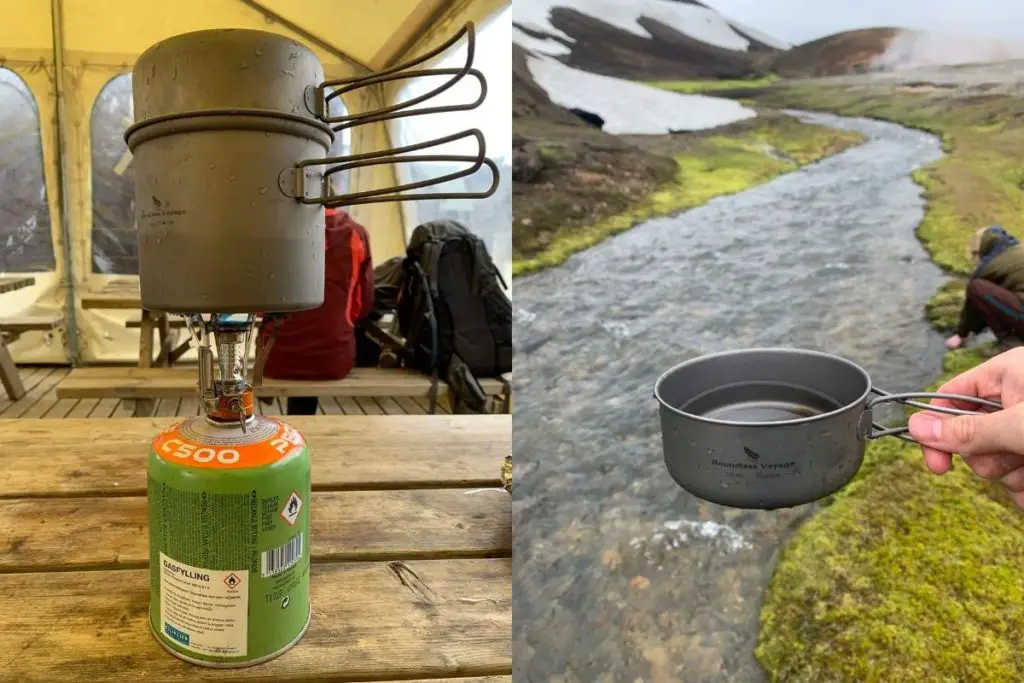 The only downside is that there is no heatsink to better catch and distribute the heat, so it does take more gas to boil the same amount of water compared to e.g. the FMS X2 stove.
Another brand, Widesea, offers a similar option to the Boundless Voage set, and they also offer a combined set of a titanium pot with an alcohol stove and a foldable titanium spoon: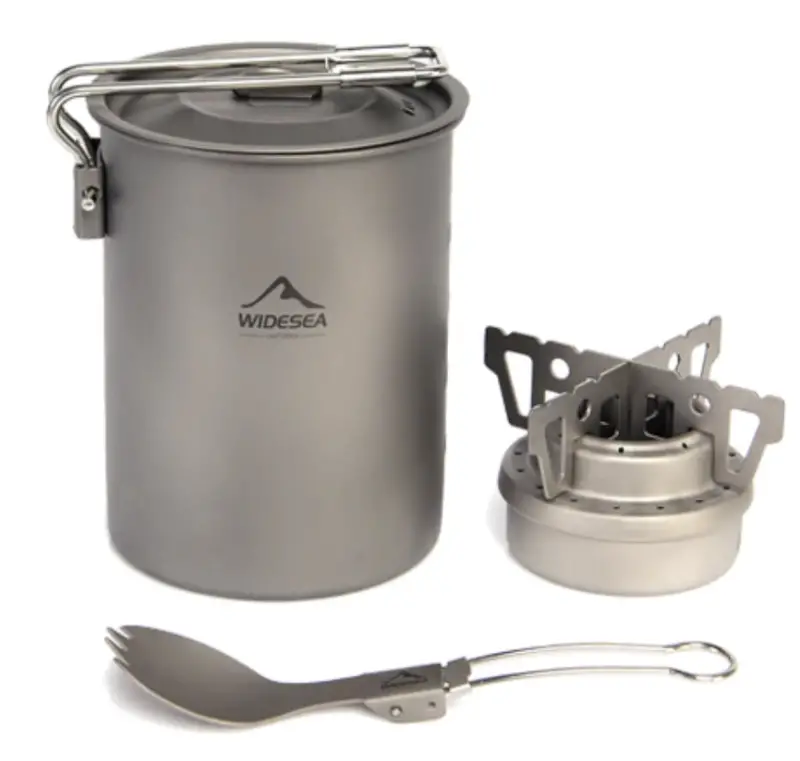 Another good alternative is the Toaks titanium cook set available here.
Portable lightweight Gas Heater 
This one is an interesting one for winter camping.
There are really not too many options for keeping yourself warm when outside in the winter. If you bring a gas stove, this can be used to heat a tent on a cold night, but the flame and the tent fabric is NOT a good combination.
Therefore, I have been looking for other options on how to increase the temperature in a tent and this one seems to be a good one.
It is basically a gas stove with a more shielded and controlled flame. The great thing is that it is compatible with the gas canister you have already brought along.
Another option is to get a shielded flame that works more light a torch and will provide light as well as heat, although at less intensity.
Supfire HL16 Motion Sensor Powerful Headlight
A headlamp is a great gift option if you are just started hiking.
There is not too much to say, this one has an infrared sensor that allows you to control the light with your hand. See the video demonstration and current pricing on Aliexpress here.
I like the fact that it has red lights on the sides. The warmer light does not disrupt your night vision or sleep pattern, so this is perfect for the late afternoons before going to sleep in your tent or when getting up at night.
There are also cheaper options out there if you just need a sturdy light and not too much fuzz.