When it comes to bikepacking, there is a strong focus on minimalism. This means finding gear that can do multiple things and taking only what is needed. This philosophy extends to tents and bivis.
The main benefit of using a tent over a bivouac (bivy) shelter is that tents are generally larger and have more advanced features. Tents usually have an inner tent as well as the ability to store luggage and cook in a vestibule when it rains. The downside of tents is that they are generally take up more space in your bag, are more expensive, and heavier than bivies.
Whereas there are many things to consider when reducing your weight when bikepacking, such as the material of your bike or the type of tires, the shelter is usually among the heavier after the bike itself.
In this article, we are going to discuss both the pros and cons of the bivy and a traditional lightweight tent, so you can make an informed decision about which one is right for your next bikepacking trip.
What is a bivy and why use it?
A bivy sack is a waterproof covering that is made from nylon and polyester which you use over your sleeping bag or quilt to keep yourself dry and bugs away.
They were originally designed for climbers who needed a lightweight and compact shelter to utilize for weather protection on multi-day ascents.
Bivies are becoming increasingly popular among bicycle tourists, bikepackers, hikers, and other outdoor adventurers these days.
They're also used by militaries throughout the world. Bivies may be utilized as a single shelter or teamed with a tarp for further protection.
Bivy Pack Pros
They are lightweight: Most bivy sacks weigh between 10-12 ounces. That is incredibly light for a waterproof and breathable shelter!
They are small: When packed away, bivies are incredibly small. This means more space in your bags for other things!
Wild camping is easy: Because bivies are so small and light, they make it easy to set up camp pretty much anywhere. This is great for those who want to wild camp or are looking for a more adventurous trip.
Setting up and packing away is fast: Bivies can be set up and packed away quickly, meaning less time spent fiddling with gear and more time enjoying the outdoors.
Legal in more places: Since bivies are small and unobtrusive, they are often allowed, or not discovered, in places where tents are not. This is great news for those who want to stealth camp or camp in more remote areas.
Cheaper: Bivies generally cost less than tents, making them a great option for those on a budget.
Not as fragile: Unlike tents, bivies can often withstand more abuse and are less likely to tear.
No groundsheet required: Because bivies are so small, there is no need for a groundsheet. This saves weight and space.
Bivy Pack Cons
Condensation: Because bivies do not have a fly and are small, they can suffer from condensation issues. This means that your sleeping bag or quilt can end up wet from the inside out.
Not much room to do anything: Bivies are really just a shell. There is not much room to move around so you can't do things like get changed, organize your gear, or plan what you're going to do tomorrow while protected from the elements.
You'll need a tarp: If you want to use a bivy sack, you're going to need to team it up with a tarp for protection from the rain.
Sleep alone: Bivies are not big enough to fit more than one person, so if you're looking for a shelter to share, this is not the option for you.
No privacy:  Because bivies are so small, there is no real privacy when using one. If you're looking to get away from it all, this might not be the right option for you.
Can't bring your gear inside:  You'll have to keep all your gear outside the bivy, which means it's more likely to get wet or stolen.
Is a Tent Better than a Bivy for Bikepacking?
Tents are probably the most commonly used shelter. Tents come in many shapes, sizes, materials, weights, and prices.
The benefit of using a tent over a bivy is its larger size and more advanced features. Including an inner tent and the ability to store luggage and cook in a vestibule when it rains. The downside is the larger size, higher price and weight.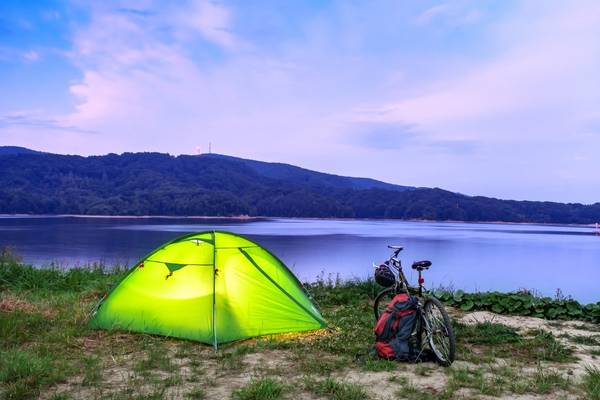 They are typically made out of nylon or polyester. A tent's material is its most important property as it determines its strength, waterproofness, heat retention, weight, and price.
Tents usually have a rain fly and/or inner tent but the inner tent is not always included. The rain fly is attached to a tent with tent poles and guy lines keep it in place.
Tents come in different shapes, such as pyramid, tunnel, dome, and multicabin forms.
A tent's shape usually determines the amount of space it needs and flexibility to allow you to sit up and move about. Some tents are free-standing, meaning they need no guy lines or stakes to stand, but these are often heavier and cost the most.
A tent's size is usually shown as the number of people it can sleep and floor space needed.
The rain fly is usually made of waterproof nylon or polyester. The rain fly is the part that is in contact with your tent.
The inner tent of a tent is made of nylon or polyester. The inner tent is inside or underneath the rain fly.
The inner tent is what you sleep in. It helps keep bugs, leaves, and rain out of your sleeping area. It also keeps you dry and warm because it dampens wind and lessens condensation. Vents allow air to come through and out of your tent. Vents are made to keep your tent cool on hot days and warm on cold nights.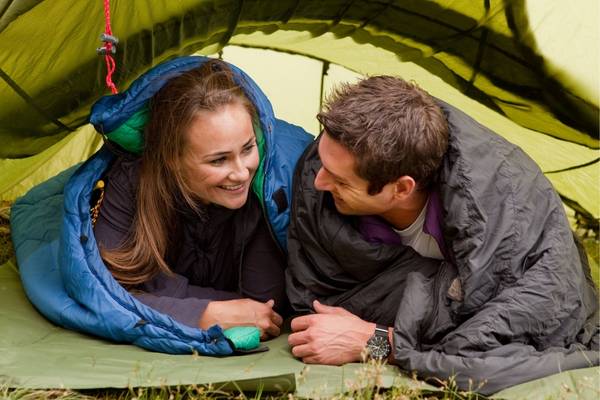 Tents come with many different equipment pieces, such as poles, stakes, pockets, protectors, guy lines, repair kits, and vents.
Tent Pros
Can move around: Tents are roomier than bivies, so you can move around inside them. This means you can get changed, organize your gear, and plan what you're going to do tomorrow without having to leave the shelter.
Bring your gear inside: Since tents are roomier, you can bring your gear inside with you. This protects it from the elements and also makes it less likely to get stolen.
More privacy: Tents provide more privacy than bivies since they have walls. This is great if you're looking to get away from it all.
Better protection: If you're looking for better protection from the elements, a tent is the way to go. With a bivy, you're essentially just sleeping under a tarp, so you won't be as protected from wind and rain.
Easier to get in and out: A tent has an open entrance that you can step in and out of easily, while a bivy can be more difficult to get in and out of since you have to crawl in and out.
Can be as lightweight as a bivy: An ultralight tent that weighs only a few ounces more than a bivy.
Tent Cons
Take up more space: Tents are bigger than bivies, so they take up more space. This can be an issue if you're trying to save space in your bags.
More expensive:  Tents generally cost more than bivies
Heavier: Tents are also heavier than bivies, so if you're looking to save weight, this might not be the right option for you.
Fragile: Tents can be more fragile than bivies and are more likely to tear.
Wild camping can be difficult: In some places, it can be difficult to find a spot to set up a tent since they are so big. This is especially an issue in areas with a lot of people or in places where you need to be stealthy.
Slow setting up and taking down: Tents can be much more time-consuming to set up and take down than bivies.
Tents are legal in fewer places: In some places, tents are not allowed since they have the potential to damage the environment. This is especially an issue in sensitive areas like national parks.
There are more parts: Tents have more parts than bivies, so there is more to keep track of such as carbon and aluminum rods
In you are considering a tent for your next bikepacking trip, take a look at my list of 20+ lightweight tents suitable for hiking and bikepacking.
Lightweight tents are often smaller and will fit more easily in your backpack, are easier on your back and, as you will see – they can also be easy on your wallet!
My three top picks for around or less than 150$ are:
Lanshan Ultralight Tent at AliExpress
Or
Equivalent at Amazon
The Opalus tent (AliExpress)
Or
HWLY version at Amazon
Other options for shelter when bikepacking?
Tents and bivies are not the only good options for shelter when bikepacking. Some other options include hammocks, tarps, huts, and stationary shelters.
Some, like the hammock and tarp can be combined for a more "dry" and less windy experience.
Hammocks
There are many benefits to using a hammock for camping. Hammocks are very comfortable, more lightweight than a tent and a bivy and they are very portable and cheap.
The only downside is that they do not allow you to camp in places where there are no trees or other objects to support it. And you can mostly just fit one person.
Hammocks also keep you off the ground, which can be important in areas where there are dangerous animals or insects.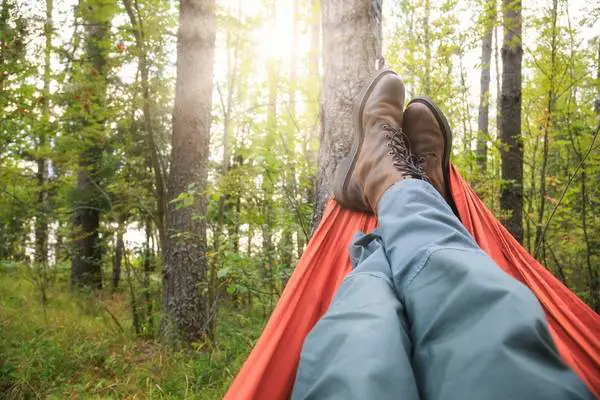 However, a tent still wins in many aspects because there are a few benefits to using a tent over a hammock for camping. One is that tents provide more protection from the elements than hammocks do.
Hammocks are also more likely to be damaged by wind and rain than tents are. Another benefit of using a tent is that it is easier to keep your belongings dry and protected from animals in a tent than it is in a hammock.
Finally, tents typically provide more privacy than hammocks do since they can be completely enclosed and they are much more practical if you travel as a couple.
Tarps
A tarp is a large, flat sheet of waterproof (nylon or polyester) fabric that can be used for a variety of purposes.
When camping, tarps can be used as groundsheets to protect against moisture and dirt when sleeping under open sky, or they can be strung up as makeshift shelters.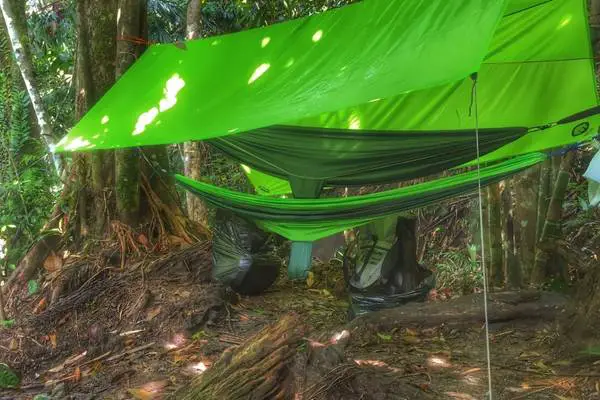 There are both pros and cons to using a tarp for camping. Some of the pros include that tarps are extremely lightweight and easy to carry, they can be used as a shelter from the sun or rain but do not always protect you from the wind.
They can be easily set up or taken down. Some of the cons include that tarps don't provide much insulation so it can be cold at night, they don't offer much privacy, and animals can easily get under them.
I would generally not recommend tarp camping for bikepacking as weight is not that big a deal, but if the weather forecast looks calm and sunny, why not give it a go for a few days!
Stationary shelters
Staying at a hut, hotel or other stationary shelters can be beneficial in terms of comfort and safety but does involve a lot of planning and takes away some of the freedom associated with bikepacking.
There are pros and cons to both staying at a hut and bringing a tent, bivy, or hammock for overnight stays.
Staying at a hut can be more expensive, but it also means that you will have a solid roof over your head in case of bad weather.
Bringing a tent means that you will have to set up and take down your own shelter every night, but it also gives you more flexibility in terms of where you can camp.
And in my opinion, nothing beats the freedom a tent gives you when traveling!
Conclusion
There are a few key benefits to using a tent over a bivy when camping. First, tents provide more protection from the elements than bivys. This is especially important in bad weather conditions, when you need to be able to stay dry and warm.
Second, tents also offer more space but less privacy than bivys. If you're camping with someone else, it can be nice to have your own space to sleep in, but if it is your close friend or partner you can be cosy and save space with a two-person tent.
Third, tents are generally more comfortable than bivys. They're roomier and have plenty of ventilation, so you don't have to worry about feeling claustrophobic or getting too hot.
However, if you are bikepacking alone and weight and stealth camping is your priorities, definitely go for the bivy!