A small transportable water bottle is essential for fast-paced outdoor activities, whether hiking in the warmth of summer or skiing down the mountain slopes in winter.
In this article, I take a look at a set of budget foldable water bottles. Common to them is that they are all made from the same BPA-free and durable TPU material. If you have read some of my other gear articles, you will know that I am pretty obsessed with materials and build quality and I would never recommend cheap products made from inferior materials.
The Best Foldable Filter Bottles for Hiking?
There are a few to choose from, but I have only gone through the ones I use or have friends who use. These are among the most popular either way.
With filters:
The Lixada filter bottle. (see end of post)
Moci filtered bottle.
600ml foldable TPU bottle.
Without filter:
Naturehike foldable water bottle. (Se review and buying options below)
I go through each of them at the end of this post.
While my favorite of these for everyday use is the folding bottle from Naturehike that I will jump into first, feel free to use the table of contents below to skip this bottle and jump directly into my list of filtered bottles for less than 15$ below.
However, if you want the best of the best when it comes to filtering bottles, I would still go for the Katadyn BeFree foldable bottle.
Interestingly, you can actually use the Katadyn BeFree filter on the HydraPack bottles, if you like those bottles better.
For such activities, it is important that you can pack the bottle to a minimal size so that it does not take up unnecessary space in your pack. Especially when skiing, you don't want to carry a big bulky bottle that presses against your bag.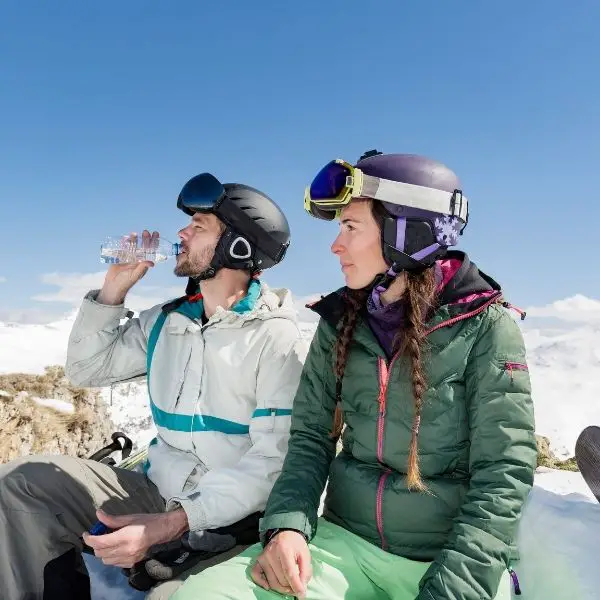 The beautiful thing about soft foldable water bottles is that they shape themselves according to the amount of water (or snow!) contained in them as well as easily fitting into cramped and irregularly shaped backpacks.
And if you choose a bottle with a filter option, you can scoop up snow directly into the bottle and let it melt in your backpack when skiing down the slope. Or maybe under your woolen shirt or in your down sleeping bag.
Good cheap alternatives to the popular Katadyn or Hydrapack folding bottles
Several more expensive alternatives to the bottles are presented here. These bottles such as the Hydrapack and Katadyn folding bottles are made of the same TPU BPA-free material and use the same types of filters, so I would expect very similar performance.
Pro Tip: The Katadyn filter fits perfectly on the Hydrapack bottles, which cost less than the Katadyn.
I wrote this post because I see that most people out on the trail are using the Katadyn folding filter bottle. While there is absolutely nothing wrong with this very popular water bottle (I own it myself…), there are several very similar alternatives that come with a much lower price tag if you know where to look!
The Naturehike Foldable Water bottle
I'm going to get a bit more into the cheaper more unknown foldable bottles here because there are already plenty of reviews on the Katadyn and Hydrapacks out there (for good reason), and whereas you do not find better bottles out there, you can definitely find equal quality to these more pricey brands for less money!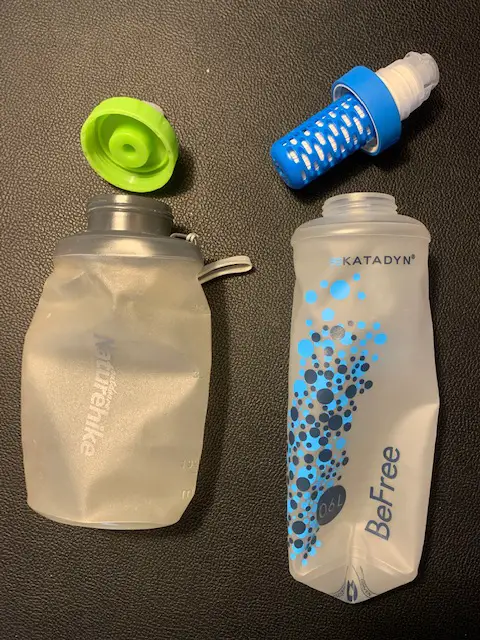 The Naturehike ultralight and flexible water bottle might be perfect for your outdoor adventures! And it is cheap…
Even though it does not come with a filter, it is definitely the best foldable option I have tried for the price!
No matter if you want to go on a short day hike or a multi-day adventure, a good drinking bottle is essential. The Naturehike folding bottle comes in 500ml and 700ml versions at a bargain price compared to more popular brands.
Pros
Lightweight 
BPA free (food grade TPU material)
Seems durable so far
No leakage valve and one hand/mouth opening 
Squeezable for increased water flow! 
Cons 
Slight plastic taste in the first few uses (rinse with hot water!).
A larger, perhaps 1L version would be nice. 
For hiking as well as everyday use
I bought this water bottle because I wanted something light and packable that would not take up much space in my backpack when empty. 
I have used it for a little over a year now, and I really enjoy the compact design and the ability to squeeze the water quickly down my thirsty stomach! I have used it for my workouts, work, and one hiking trip to Iceland, where it served me especially well.
The design of the Naturehike folding bottle is bulletproof. No leakage even at high pressure. I have kept it among heavy stuff in my backpack, squeezed it hard, stepped on it, and nothing lets water out unless you open the valve. 
Durable and versatile mouth piece
It has a two-step opening system, where the first barrier is released by pulling up the mouthpiece e.g. by mouth, and the second by squeezing the mouthpiece with your teeth.
It is so tight that even air won't escape the first barrier unless you also squeeze the mouthpiece open ( I have used it with carbonated water, which did not get flat!). 
Apart from the 500ml versions, both the Hydrapack and Katadyn come in slightly larger sizes of 1 liter and up, so that would appeal more to thru-hikers, etc., that cannot refill regularly.
Verdict – Is the Naturehike folding bottle worth it?
I was curious to see if a water bottle at less than one-third the price of the popular brands would seem cheap or break easily.
I have put the Naturehike folding bottle to rough testing in the last few months and it has definitely overperformed my expectations.
I have also tested other Naturehike products such as tents and sleeping bags, so don't miss out if you're interested in cheap hiking gear.
Next, let's dive into some of the best cheap foldable bottles with built-in filters.
6 Cheap Collapsible Water Bottles with Hollow Fiber Filters!
On Amazon and AliExpress there are several other TPU water bottles at roughly the same price (10-20$), some of which come with a water filter as well.
These are great budget alternatives to the much more expensive Katadyn BeFree Collapsible Water bottle that comes at around 40$ and boasts the same type of hollow fiber filter.
What is a hollow fiber filter and what does it filter out?
A hollow fiber filter is basically a porous fiber thread that is folded to create the largest possible surface in the least amount of space.
The hollow fiber is full of small holes (which is why it's sort of "hollow"), and these holes are typically 0.1–1 µm in size. Because most microorganisms are bigger than this, they will be caught in the dense matrix before flowing through into your mouth. And because the surface area is so big, the flow rate is usually higher than traditional fiber types.
While hollow fiber filters remove larger impurities and most parasites such as giardia, bacteria such as E. coli and Salmonella, they do not remove toxic chemicals.
Therefore there are also combined filter systems that contain a component with activated charcoal – a filter type that reacts chemically with most toxins to remove them from the water.
The Lixada is a super alternative to the Naturehike or Katadyn bottle, as it comes with an advanced filter system and it takes up less space when folded.
The LIXADA water bottle comes with a hollow fiber water filter but this filter also contains an activated carbon filter component. So in addition to bacterial contaminants, the activated carbon can also remove different chemical toxins such as pesticides, chlorine, and heavy metals.
You can also buy it from Amazon but without the filter. And the filter can be bought separately.
Comes with the same filter as the LIXADA folding bottle. The bottle looks a lot like the Naturehike bottle.
This bottle comes with a slightly bigger hollow fiber filter that will allow for faster flow rates and a longer lifetime.
You can get a very similar/identical version under the name of "Joypur" on Amazon as well.
Perhaps the cheapest bottle at less than 10$. It features the same hollow fiber filter with a carbon component as the Lixada bottle.
Also a sub 10$ bottle with a sleek design and a hollow fiber filter.
A similar type can be bought from Amazon.
I put this one last because it is somewhat more expensive, but it is actually one of the more attractive ones with a big high-capacity hollow fiber filter. It is worth checking out.
There is even a version with a larger/longer filter, which allows for a capacity of 1000L (264 gallons) before its needs to be replaced. See the current price on Amazon here.
The same brand also offers a 2L hanging-bag option using the same filter, which is convenient if you're filtering larger volumes for cooking etc.