A good affordable ultralight tent is can make all the difference for a good hiking trip!
One of the best decisions I made for my hiking experience was to buy an ultralight tent – it is simply much more motivating to get out the door.
When your tent does not weigh more than a large water bottle and does not take up a lot of space in your pack, there is really nothing holding you back!
While having a lightweight tent is most important when hiking multiple days, carrying a big and heavy tent is also not ideal for other weight and space-critical activities such as bikepacking or even when camping by car.
Lightweight tents are often smaller and will fit more easily in your backpack, are easier on your back and, as you will see – quality ultralight backpacking tents can also be easy on your wallet!
My three top picks for 2023 are (The high-tech, the best overall, and my personal favorite!):
I will mainly cover the best budget 2-person tents here, but almost half of the models included here also have 1-person options, and a few can be bought as 3 or 4-person tents.
However, if you are looking for more spacious tents for a car camping trip, you might want to look at these tents that are large enough for you can stand up inside, instead!
Below I have gone through my absolute favorite budget ultralight tents that should fit in most backpacks (or bike bags) and budgets!
20 Best Cheap Ultralight Tents Listed
Here is a list of my favorite picks of ultralight tents that also come at really good prices. Not all of them are available on Amazon, but some have to be bought off of AliExpress, which I have never had any problems with.
These tents are budget friendly (most are below 200$ and some below 100$!) because they are not widely sold in physical stores, but must be bought online from lesser-known brands and retailers.
I try to keep everything updated, but please tell me if any of the links don't work anymore or you have any other good tents to add! Thanks.
However, as you will see, this is how you save a lot of money on your gear, without compromising on quality!
I will go through some of the most popular options as well as my favorites in the rest of this article!
The Naturehike Opalus tent – my personal favorite.
Wow, I can't say enough good things about the Naturehike Opalus Tent! I've just returned from a two-week hike, and this tent was an absolute game-changer for me.
The weatherproof design kept me dry and comfortable through some pretty intense rain and wind, and I was blown away by the quality of the materials – it's hard to believe that this tent is available at such an affordable price.
What really impressed me about the Opalus Tent, though, was the size. The capacious and comfortable interior was a welcome respite after a long day of hiking, and the oversized lobby provided plenty of extra space for gear storage, cooking, and hanging out.
Speaking of cooking, the lobby also doubled as a mobile kitchen on rainy days – I was able to cook up some delicious meals and enjoy a hot cup of coffee while staying dry and cozy inside the tent.
The double door and multi-window design was a huge plus as well, promoting excellent airflow throughout the tent and keeping me comfortable in both hot and cold weather. And with the 30-day money-back guarantee and lifetime warranty, I felt confident in my purchase from the get-go.
The NatureHike brand has been around for a few years now, but its name is not well-known.
It's a Chinese company, but it is gaining a reputation among western hikers for high quality and especially for the very competitive prices offered.
The brand has been making tents since 2002, but it's only recently begun to enter the western outdoor gear market.
Maybe my favorite tent from Naturehike is of the classic tunnel format. The Opalus tent is very similar to other tunnel tents on the market but markedly cheaper!
About 15 years ago I bought my Exped Andromeda II Plus Extreme, a 3.5kg two-person tent for about 1000$, which I have used for many hikes so far.
I cant help comparing it to the Opalus tent, as it seems ridiculously similar at a fraction of the price!
At only 2kg (4.4 lbs) for the two-person version, the Naturehike Opalus tent offers very similar features at a much lower price and weight!
I'll mention materials such as nylon and polyester with designations "D" and "T" (referring to the thickness) throughout this post. If this terminology is unfamiliar to you, I have written a complete article about the topic here.
What are the benefits of tunnel tents like the Opalus?
I mention this tent first, because I love tunnel tents! Their form factor is great for all kinds of weather due to their wind-resistant form factor (remember to pitch the narrow side towards the wind!).
In addition, they have a vestibule (entrance part of the tent) that can be used for storage of your backpacks, allows for cooking, drying of wet clothes etc., and might even store your bike (especially if you use a foldable one)!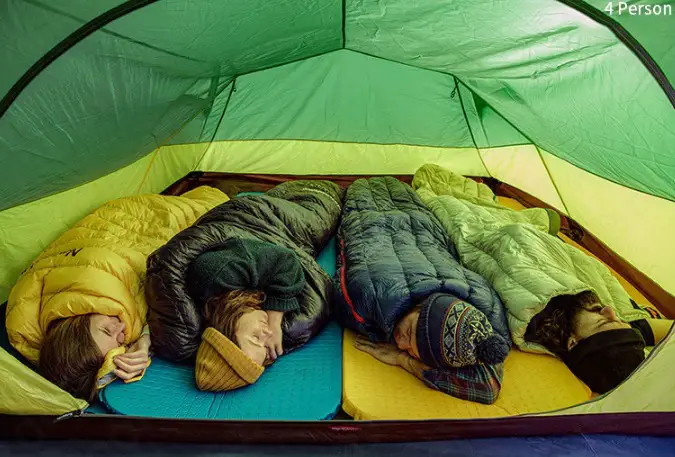 This tent will give you slightly more space but at the cost of a few hundred grams compared to the Cloud Up and the VIK Series.  
Weight: 2-3.9kg (4.4-8.5lbs)
Price: 144-288$Size: 1-3(4) peopleWater resistance: 3000-4000mm
Click to see current pricing and full list of features 
As for the Naturehike Cloud Up Series Ultralight tent, the Opalus comes in two fly sheet materials: 20D and 210T (check my post on the difference between these two materials here).
Again the 20D version, green in this case, is lighter and slightly more expensive compared to the (orange) 210T version. 
Pros: 
Lightweight 2-3.9kg (4.4-8.5lbs) for 2-4 person tents.
Tunnel design is a tried-out classic.
Quality materials (15D/20D) on par with expensive brands
Comes with a nice footprint!
Double layer for better breathability and less condensation.
Cons: 
There are lighter, although more expensive, tunnel tents of the same size out there.
2023 update:
Naturehike now also offers an even lighter 15D version of the Opalus tent. This tent weighs slightly less at 1.8 kg (3.9 lbs) which is quite impressive for a tent of this size!
There is also a version of the Opalus tent without the large cabin/vestibule area in the front if you want to save some money.
---
---
Naturehike Cloud Up (Best Naturehike tent?)
The Naturehike Cloud Up Series Ultralight tent series is another cheap series of tents, which come in many different sizes, not quite as light as the VIK series mentioned above, but is more durable at roughly the same price point. 
The Cloud Up tent is perhaps the most popular of all Naturehikes tents, not least because of the many options within the Cloud-Up series.
Many hikers consider it the best Naturehike 2 person tent.
There is a fairly large selection of tents in the Cloud Up series and they differ mainly by their size and the materials used. 
This lightweight, double-layer tent is perfect for backpacking and camping in all seasons (although only rated for 3).
It is available in 1 person, 2 person, and 3 person sizes, and comes in green and orange. Made of 20D Rip-Stop Nylon or 210T polyester, it is water-resistant with a PU 4000mm coating and features UV 50+ sun protection. The poles are made of 7001 aluminum, making the tent sturdy and durable. It also comes with a snow skirt for winter camping!
Pros: 
Lightweight 1500-2405g (3-5lbs)
Easy setupFree standing (pegs not strictly needed)
Quality materials (20D) on par with expensive brands
Comes with a footprint
Possibility of snow skirt for winter use
Double layer for better breathability and less condensation
Cons:  
There are lighter tents of the same size if weight is your top priority
Small vestibule compared to Opalus 
Officially only 3 season
If you are looking for a tent similar to the Cloud up, but with a side entrance instead of the front entrance, as well as a sturdier design that also comes with a snow skirt and allows winter (4 seasons) use as well, the Naturehike Star River might be a better option than the Cloud Up for you!
Whereas most modern tents are made from either nylon or polyester, most of the lightweight tents presented here are made from one of the thinner nylon types. The heavier ones are often made from polyester.
2023 Update on the cloud up tent:
Recently a newer, much lighter version of the Cloud Up has been introduced by Naturehike. The flysheet is now made with 10D nylon (which is pretty much the lightest/thinnest you can make – read more about the thin nylon materials used for tents).
The two-person version now weighs only 2lbs, which makes it half the weight of the 20D Nylon Cloud up!
Furthermore, they claim to have updated their general design also to be more weather resistant. The image above leads to Amazon but it can usually be found cheaper at Aliexpress here.
Some of the other new model variations of Naturehike tents that I have not tried yet are:
---
Naturehike VIK Series 970g Ultralight Tent
One of my favorite cheap hiking brands is Naturehike, and this is no different when it comes to tents. The VIK series is their lightest series and is perfect if you are looking for a simple one or two-person tent. 
Weight: 970g (2lbs)
Price: 140$Size: 1-2 person Water resistance: 2000-3000mm
Click to see current pricing and full list of features 
Pros: 
Lightweight (< 1kg or around 2lbs!)
Easy setup
Free standing (pegs not strictly needed)
Quality materials (15D nylon) on par with expensive brands
Comes with a footprint 
Possibility of snow skirt for winter use
Cons: 
Single layered, so may cause condensation if not ventilated properly 
There are lighter, but more expensive, tents out there
---
Interested in more cheap hiking gear?
I just made a list of some of my favourite budget hiking gear including everything you need for a good night's sleep in a tent – check it out here!

I also wrote a review of my Naturehike CW300 sleeping bag, not yet discovered by mainstream hikers. Maybe the best value for money down sleeping bag out there!
---
The Naturehike Cloud Peak 2 tent
The Naturehike Cloud Peak 2 is a great cheap and lightweight 4 season hiking tent. Unlike some of the other tents I've gone through, the Cloud Peak is a true 4 season tent that will also work in winter.
The round shape and many fastening options allow set up on almost any surface while keeping a high resistance towards wind from any direction!
It only weighs around 5lbs, so it's easy to carry with you on your hikes. It can hold up to two people, and it has a waterproof rating of 4000mm, which will keep you dry in even the worst of rainstorms.
It has two vestibules that allow for a good amount of storage space and in case the weather is bad you can also cook there.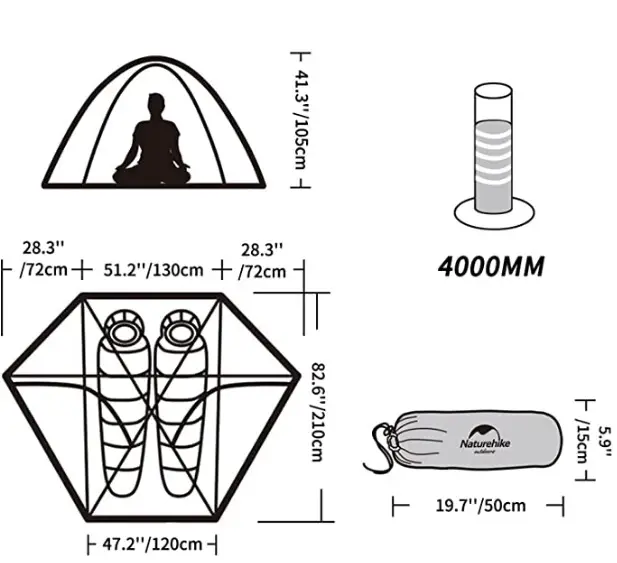 The only downside is that the tent doesn't come with a footprint, so you'll have to buy one separately if you want extra protection from the ground. But overall, the Naturehike Cloud Peak 2 is a great cheap and lightweight hiking tent!
Pros
True 4 season tent (also good for winter use)
Lightweight materials.
Sturdy and wind-resistant form factor.
Comes in a 15D ultralight version as well.
Cons
Slightly heavier than others in the category
The footprint is optional (not included).
Two other tents that are very similar to the Naturehike Cloud Peak are the Naturehike Star River and Mongar (see below!).
---
Naturehike Mongar 2 tent
The Naturehike Mongar 2 Person Backpacking Tent is another ultralight and cheap option that can be used by just about anyone looking for a solid hiking or backpacking tent.
It's easy to set up, waterproof, and affordable-all of the necessary criteria that make a good backpacking tent!
Compared to the Naturehike Cloud Peak, the sleeping cabin is slightly bigger, but the storage space is a few inches smaller on each side.
Read my full review of the Naturehike Mongar Tent here!
The 20D nylon version weighs only 4.6lbs, which is similar to the weight of the 15D version of the Cloud Peak tent (but much cheaper!).
If you're willing to order from Aliexpress, you can also get a 15D version of the Mongar, which is even lighter (<4lbs) still!
The downside of the Mongar compared to the Cloud Peak tent, and the reason that it is only rated as a 3 season rather than a 4 season tent, is that it is less sturdy in the wind compared to the Cloud Peak tent.
However, unless you camp on maintain tops, in monsoon season, or in heavy snow, the Mongar tent will be fine.
It has an ingenious design that makes it easy to set up without any assistance (with clear installation instructions).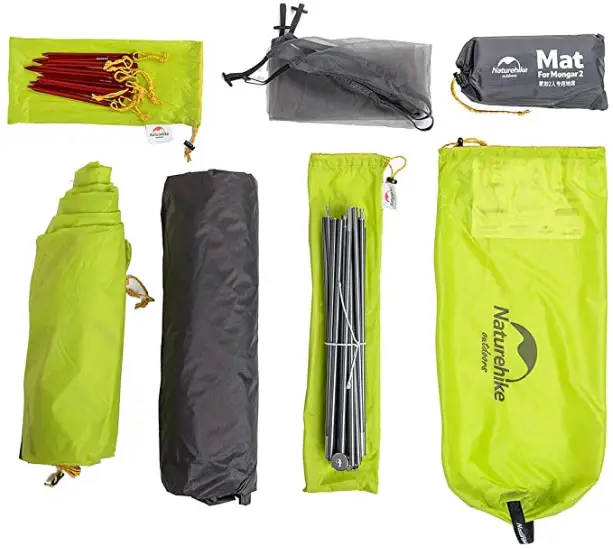 It is waterproof like all tents I've included in this post, and there is plenty of ventilation for warm days so you do not feel like you're suffocating in your sleep.
The front canopy offers extra space for storing gear which is just a benefit because if it's raining out you can maintain your belongings until the storm passes!
Oh, and last but not least, it actually comes at a great price of around 150$!
Pros
Roomy for two people.
Lightweight and sturdy.
Comes with a footprint included.
Cons
Not a 4 season tent.
Not the lightest option here.
If you want a tent very similar to the Mongar, but in a more sturdy 4 season version, you should take a look at the Naturehike Star River tent.
And just before we dive into the 3F UL gear tents, I will mention that they also have a tent series very similar to the Star River and Mongar tents from Naturehike! It is called 3F UL GEAR Cloud 2 Camping Tent.
---
---
The Lanshan tent (FLAME'S CREED)
3 UL Gear is a lesser-known Chinese brand that does not have the same traction as the larger brands e.g. Naturehike and Aegismax.
They make the Lanshan tents, which are sleek and lightweight with a classical triangular design.
Check out my detailed review of the Lanshan 1 tent comparing it to the Lunar Solo tent.
This original Lanshan tent comes in "1" and "2" versions – designating the number of people it is designed for.
Weight: 910g-1220g (1.9l-2.7bs)
Price: 113-140$Size: 1-2 people
Water resistance: 2000mm
Click to see current pricing and full list of features
The Lanshan 2 comes in a one-person or a 2-person version and unlike the Pro version, it has an inner tent, which is nice to avoid condensation and can be used on its own if it does not rain.
Another nice thing about this version compared to the pro, is that you do not need to seal the seams yourself.
The only downside of these tents is you need to bring at least one trekking pole to pitch the tent. However, this might also be a good thing if you are planning on bringing hiking poles anyways. 
Pros: 
Lightweight – only 845g for the 1 person tent (690g for the Pro version)!
Very fast setup
Compact pack size
Super light quality materials (15D) on par with expensive brands
Double layered (better aeration)
Cons:  
The inner size 270*110*125cm for the 1 person pre-2021 tent might be too small for some
A hiking pole is needed for pitching 
---
3F UL Lanshan pro
Perhaps the most popular tent from 3F UL gear is the Lanshan 3F pro version.
This is a slightly more lightweight and a little more expensive tent, that has many of the same features as the FLAMES CREED version. 
Weight: 690g-915g (1.5-2lbs) for 1 and 2 person tents respectively.
Price: 160-190$
Size: 1 and 2 person(s)
Water resistance: 2000mm
Click to see current pricing and a full list of features 2 person version
Very similar versions are also available on Amazon.
Pros: 
Ultra lightweight – only 845g for the 1 person tent! 
Very fast setup.
Compact pack sizeQuality materials (15D nylon) on par with expensive brands.
Double layered.
Cons:
The inner size 230*110*125cm for the 1 pro might be too small for some people.
Some seams might need sealing to be fully waterproof.
Hiking poles needed for pitching.
Lanshan 2 vs. Lanshan 2 pro (2023 update!)
The pros and cons are quite similar to Lanshan's original (Flame's Creed) version but differ mostly in terms of price and weight. 
There is an updated version of the Lanshan series, which was known as the XL version, which is the same as the original Lanshan (flames creed described above) but somewhat bigger. However, now it seems that they have renamed it to Lanshan 2021 version.
First, the Lanchan XL/2021 is 20cm (8″) longer than the older standard model and the Lanshan 2021 is almost 35$ cheaper than the pro – which is already worth buying it for!
Second, Lanshan pro is single skin, which makes for more condensation and less versatility e.g. options to change inner tents, which can be done with the Lanshan 2021 version or the Lanshan XL.
I also believe that the ventilation is better with a double skin tent with the single skin Lanshan pro there's a mesh going all the way around the edge which is going to restrict the airflow a little bit on the outer sea.
It also comes with a J-zip door on the inside but I prefer a T-zip inner and having a separate inner tent gives you an extra barrier that stops drips from getting onto your sleeping gear.
The outer tent of the 2021 version weighs 425 grams so 225 grams less than the Lanchan pro. Also, the Lanshan 2021 has pre-taped seams, which is nice. For the Pro, you have to seal them yourself…
The inner tent of the Lanshan 2021 can be switched between a 3 season inner and a 4 season mesh inner tent so it's got the versatility to swap between seasons.
With the Lanshan XL/2021 you can separate the inner and outer mesh, which can be a benefit if you want to dry the tent faster.
Tents similar to Lanshan availible on Amazon
Although I often prefer ordering directly from China/Aliexpress to save money, I do understand that this is a factor of uncertainty for many (although shipping is slow, it always arrives, eventually…).
But, don't despair – many of these tents are indeed available from American warehouses through Amazon!
Whereas many of the original Lanshan tents are only available from China, there are very similar tents available that can be ordered directly from Amazon.
Click each image below to read more.
---
The Naturehike Taga tent
The Naturehike Taga 2 Person Lightweight Backpacking Tent is the perfect choice for anyone looking for a lightweight and durable tent.
It comes in both a 1 person and a 2 person version and weighs just 2.3lb(1 person) or 2.7lb(2-person), although the 1 person version is hard to find anywhere!
This 2-person tent from Naturehike is perfect for backpacking and camping trips. Made from lightweight 20D rip-stop nylon, it's easy to carry and sets up quickly.
The double-layer construction provides extra warmth and protection from the elements, while the 7001 aluminum poles ensure a sturdy structure.
And with a waterproof PU coating of 4000mm, you'll stay dry even in bad weather. UV protection of 50+ ensures that you can enjoy your trip outdoors without worrying about the sun.
---
The Six Moon Designs Lunar Solo Tent
The Six Moon Designs Lunar Solo Tent is a popular shelter option for solo backpackers who are looking for a lightweight and affordable option.
I will list the pros and cons of the Lunar Solo Tent based on my previous review of the tent.
Pros of the Lunar Solo:
Lightweight: The Lunar Solo Tent weighs only 26 oz, which is a significant advantage for backpackers who prioritize weight savings.
Affordable: At an MSRP of $200-$230, the Lunar Solo Tent is a reasonably priced option for backpackers on a budget.
Easy to Set Up: The tent's design is simple and easy to set up, making it an ideal option for solo backpackers who may not want to spend too much time setting up camp.
Spacious: Despite its lightweight design, the Lunar Solo Tent provides ample space with 26 square feet of floor space and a peak height of 48 inches.
Good Ventilation: The tent's design includes a mesh area for ventilation, which is crucial for preventing condensation and maintaining a comfortable living space.
Cons of the Lunar Solo:
Single Entry: The Lunar Solo Tent only has one entry point, which can be inconvenient for solo backpackers who may need to climb over their gear to exit the tent.
Limited Storage Space: The tent's design does not include a vestibule or much interior storage space, which can be inconvenient for storing gear and other equipment. Similar to the Lanshan Pro but more than the original Lanshan 1.
Durability: The tent's lightweight design may make it susceptible to damage from harsh weather conditions, such as high winds or heavy rain.
Guy Lines: Some users have reported that the guy lines on the tent may need to be replaced with higher quality options for increased stability in windy conditions.
In conclusion, the Six Moon Designs Lunar Solo Tent is a lightweight and affordable shelter option that offers ample living space and good ventilation.
However, it does have some drawbacks, including limited storage space, single entry, and concerns about durability in harsh weather conditions.
As with any gear purchase, it is essential to carefully consider the pros and cons before making a final decision.
---
The Wandelen Appalachian Tent
The Appalachian Tent from Wandelen is another interesting 2 person budget tent from top grade materials at a reasonable price!
The Wandelen Appalachian Lightweight Backpacking Tent is a lightweight backpacking tent, seemingly designed for use on the Appalachian Trail, although they state that it is designed for short to medium trips.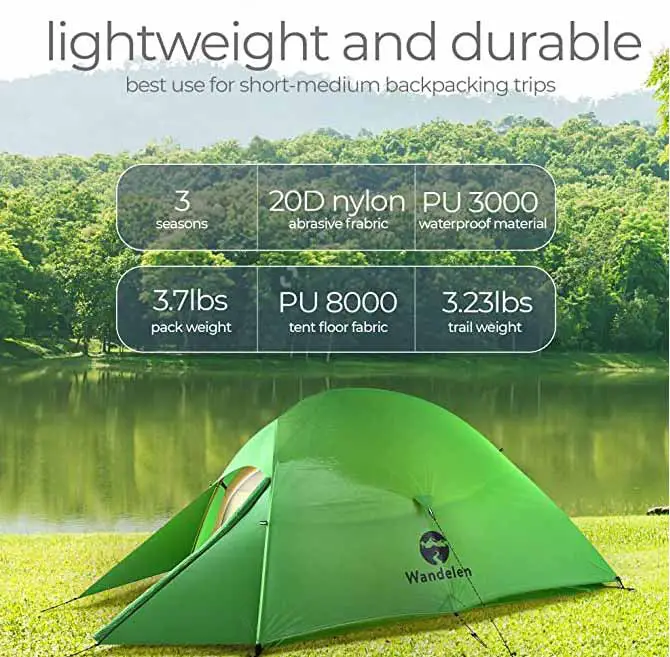 Personally, I would think that this tent would work quite well for even longer hikes, even through hikes, as it is made from the same high grade materials as other way more expensive tents. But as most tents out there, it is not sufficient for the heaviest of winds and snowstorms.
It is constructed with a single split aluminium pole design, which is very lightweight and extremely easy to set up.
The tent has a 20D nylon fly sheet that completely covers the interior cabin of the tent, with a semi-covered door at the end.
The Wandelen Appalachian tent is very similar to the the Naturehike Cloud Up 2, but the Cloud Up offers more material (nylon or polyester) and size options than the Wandelen tent. Wandelen on the other hand, actually offer a cheaper price for their 20D version compared to Naturehike.
The Wandelen tent claims to be more waterproof than the Cloud Up, but given the very similar materials and coatings, they should be almost the same.
---
When you have found a good cheap tent for you (or your loved ones!) take a look at my favourite sleeping bags or check out my recommended inflatable sleeping pads that is not noisy to sleep on?
---
Best cheap ultralight 1 person tents
Most of the models mentioned above also come in one-person versions, and especially the Lanshan tents are very popular for solo travelers. But I will go through a couple of dedicated options below.
Personally, I use a small two-person tent when camping alone, because I love the extra space for my gear. However, for longer hikes, it is quite some extra weight to carry around and space filled in your pack.
If you're traveling alone and want the most out of your small backpack or just don't want to carry more than necessary, you should consider a single-person tent like the ones below.
Best Naturehike single person tent?
This Naturehike Backpacking Tent for 1 Person is the perfect choice for anyone looking for a lightweight and highly rainproof tent. It does not really have a name for some reason but is their only dedicated 1 person tent.
Weighing in at 3.63lbs for the 20D nylon version (3.85lbs with skirt version) and 3.96lbs for the 210T polyester version.
If you're in doubt about what the differences between these materials are and what is best for you, I've got you covered.
This tent is not the lightest on the market, but with a fairly spacious and sturdy construction that ensures that you stay comfortable and dry even in the heaviest downpours.
Compared to the other one-person tents such as the one from Lanshan, this Naturehike version is roomier at the cost of added weight.
The spacious interior can comfortably accommodate one person, making it the perfect choice for solo adventurers. And with its affordable price tag, this tent is a great value for anyone looking for an entry-level backpacking tent.
It is targeted primarily at backpackers and bikepackers, which makes sense given its size and weight.
Pros
Cheap!
Fairly small pack size
Good amount of sleeping spce and some storage space
Cons
Somewhat heavy for a 1-person tent
JYMCW bivi tent 
This is perhaps the most minimalist covered setup you can find and it is extremely cheap considering the durable materials and fairly lightweight. 
Weight: 990g (2lbs)
Price: 38$Size: 1 person.
Water resistance: 2000-3000mm
Pros: 
Lightweight – 990g 
Small footprint
Compact pack size
Rough materials (210D nylon)  
Cons:  
Small
Single layer might lead to condensation
Somewhat heavy for the size
If you are primarily camping in the dry season and or don't mind bringing your own tarp or rain sheet – this even cheaper and lighter version might be perfect for you! It's insanely light (less than 10 oz!).
FLAME'S CREED 260g minimalist single person tent
---
Marvquester Ultralight
In my search through the deepest layers of the internet, another very cheap tent popped up. Although this tent is a true off-brand tent, it actually looks quite good. It has more storage space and you can sit upright in the cabin. 
Weight: 1.4kg (3.2lbs)
Price: 60$
Size: 1 person
Water resistance: 2000-3000mm
Pros: 
Lightweight – 1.4kg 
Fairly large for a 1 person tent: 270X160X125cm
Compact pack size
Super cheap for the size!
Carbon fibre stick is included for pitching. 
Cons:  
Not the best materials
Somewhat heavy for the size
---
Other awesome tent options!
So, while the price does matter a lot for many people, sometimes the value of a specific tent, its material, technologies, design etc. justifies a slightly higher price than that those tents I have gone through so far.
One example are those tents made from the extremely durable and waterproof (>15000mm!) tent sheet material called Dyneema (or cuben fiber). You can read more about Dyneema in my recent post!
KAILAS tents
Kailas is another hiking gear company originally founded in China, but have recently spread its products to the western audience. They make everything from climbing boots to sleeping pads but they do have quite a nice selection of cheap tents as well.
One tent that does stand out from the crowd, however, is their Dyneema/Cuben fiber tent that weighs only 0.7kgs and is waterproof to at least 10000mm and fits 2 (smaller) persons!
The only downside of this tent is the relatively higher price (approximatly 500$) compared to the others mentioned here.
Normally Dyneema tents come at a much higher price compared to nylon, but there are more budget friendly options out there where you can still get a decent cuben fiber tent from Naturehike for just around 200$: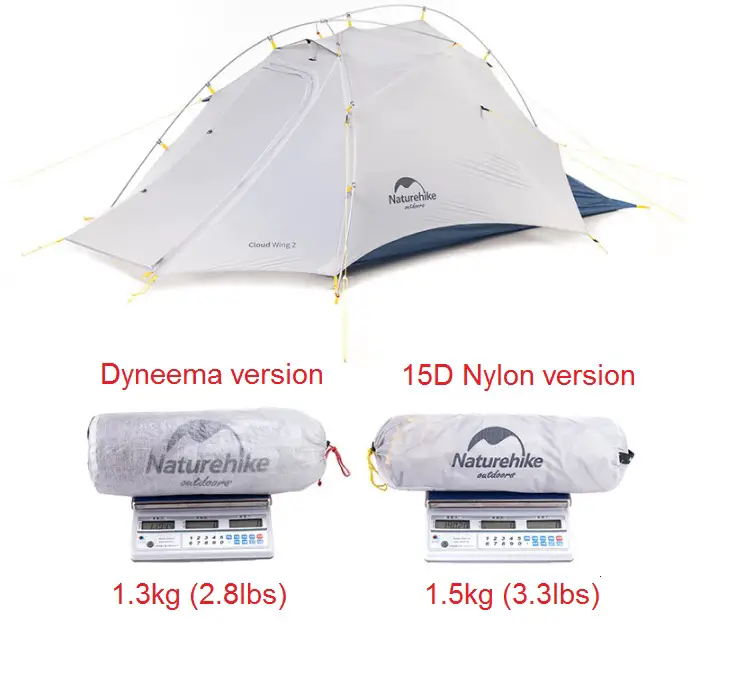 The naturehike Cloud Wing is a good example of an affordable cuben fiber tent and is one of the few examples where they make both a nylon and cuben fiber version, so you can tell the difference.
---
Conclusions
As I started hiking, I was convinced that a good quality tent would cost me at least 300$.
However, finding a cheap ultralight tent is not that difficult if you know where to look. I hope this post has given you some good options to choose from for your own ultralight cheap hiking adventures! 
If you need a sleeping bag, sleeping pad, or cook set – see my recommended list here.