A proper sleeping bag is a must-have on any hiking or outdoor trip where an overnight stay is included. Whether you are planning to stay in a tent or in a hut, a soft and warm sleeping bag is essential to keep you warm at night.
Sleeping bags come in a variety of styles, materials, and temperature ratings, so you will need to think about what is most important for your needs.
For me, the quality of the materials, the weight, and the compressed size of the sleeping bag, and of course the value for money, were the most important factors in my decision to buy this bag from Naturehike.
I wrote this review because I could not find much first-hand information on the Naturehike CW300 out there, so hopefully, this review will fill that void.
The Naturehike CW300 weighs just about 1.35 lbs (617g) and can be packed to the size of a large mango fruit. It fluffs up nicely even after extended periods of compression, and it is wider than most other ultralight sleeping bags (80cm on the widest part).
It is made from many of the same materials, such as water-resistant 20D (400T) nylon, 90% high fill power goose down rather than polyester, and a sturdy YKK zipper. Just as would be expected for much more expensive sleeping bags.
The Naturehike CW300 sleeping bag has been around for a while now, and it is really standing the test of the hiking community. I have had mine for just about 3 years now, and it has not disappointed me (yet).
Here are some things I asked myself before buying the Naturehike CW300 sleeping bag:
Do I need a hooded sleeping bag (The cw300 does not have a hood)?
What is my budget (it goes for around 100$; see the current price at Amazon or AliExpress)?
Do I need extreme warmth (It does not work for sub 0C/32F)?
Some people will find the lack of hoodie that most mummy sleeping bags have for problematic as they like to close it in to heat their face. However, I like the smaller pack volume that the lack of a hood adds, and there are plenty of ways to keep your nose warm while camping anyways.
One much better option in my option if you feel like you need the extra warmth of a hood, is to buy a separate down hood, because this will follow the movements of your head, rather than suddenly restricting your breathing when turning your nose against the fabric.
Another good solution is simply to wear a simple hat (preferentially woolen) during cold nights.
Personally, I bought the CW300 sleeping bag because I had it recommended by a friend and I wanted a lightweight and compact down sleeping back for longer hiking trips where pack size and weight is of high priority.
Check out the latest price for the CW300 sleeping bag on Aliexpress here or on Amazon here.
There are many cheap sleeping bags out there, but most of the cheapest ones are made with a synthetic filling that is both heavy and poorly performing when it comes to keeping you warm all night.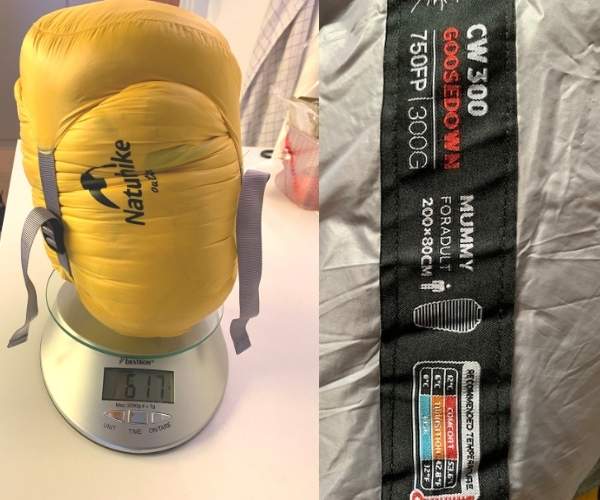 The CW300 is named so after its 300 grams of down content, 90% of which comes from geese. This is half of the total weight of the sleeping bag that, surprisingly, weighs less than the 630g that is stated in official descriptions on my scale.
But even some cheap down sleeping bags are not very good at retaining their volume after being compressed, but the "fluffiness" of the down in CW300 seems to do very well.
The photo below shows my CW300 sleeping bag just 15 minutes after unpacking it from its compression sack after a trip. I extracted some individual downs shown at the top of the image and while they do vary in size, they are very fluffy and seem to be of good quality.
The Naturehike CW300 sleeping bag is a 3 season bag, meaning that it can be used all year round if winters are mild, and for spring, summer, and winter in most climates.
Measuring 200×80 cm (78×31.5 inch) it is long enough to contain even the tallest adults out there. And with a weight of just around 600g (1.3 Lbs), it is very durable to carry on even longer multi-day hikes.
Naturehike claims that it will keep you warm to around 0°C  (32°F), which I can confirm is possible, but I did wear a good set of woolen underwear in my Naturehike Cloudup tent to keep me extra warm.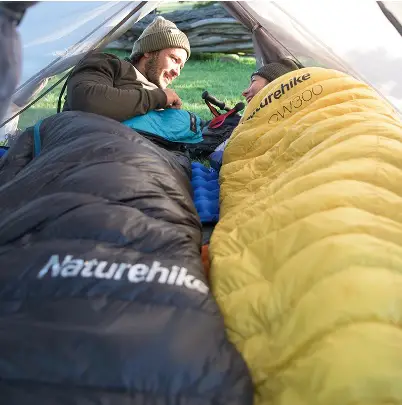 It is also relatively wide compared to most other sleeping bags, which allows you to easily turn around inside the bag without disrupting your (and your tent mate's) sleep.
The sleeping back is made with 90% goose down that has been treated to keep their volume even when moist.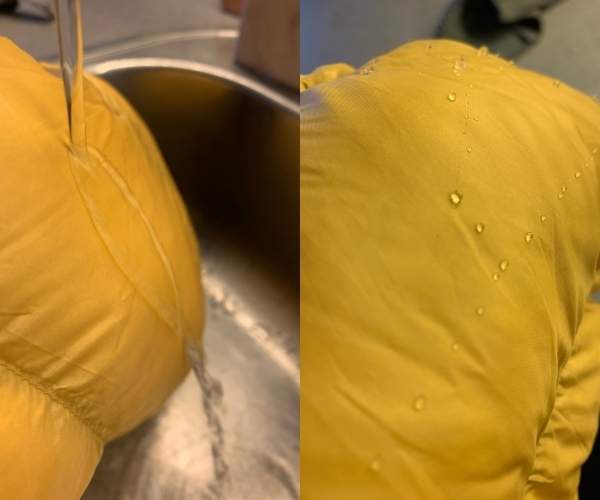 The outer fabric is also treated with a water-repellant to ensure that water does not penetrate into the down so that they collapse and lose their insulating abilities.
Alternatives to the Naturehike CW300?
I also looked a lot into the sleeping bags from Aegismax, but they did not seem to offer the same level of quality as the Naturehike bags.
Initially, I look at the original spacy green Aegismax bag, which had gained popularity in the online hiker community for being a super cheap lightweight option.
The green Aegismax bag is a slightly cheaper version of the nano sleeping bag, so if your budget is really tight, check it out on Amazon here.
While this is still the cheapest option for an ultralight-down bag out there, I do believe you get significantly better quality from the CW300.
However, I later discovered that AEGISMAX makes a higher tier of sleeping bags called the "Nano" series, which seemed to be very similar in quality to the CW300.
I ended up ordering both bags, and the AEGISMAX nano and Naturehike CW300 are in fact very similar in material build quality, warmth, and weight.
One drawback of the Nano is that it is fairly hard to get hold of and the only option is the get it from AliExpress at the moment. However, the even warmer successor (supports down to -8F), the Nano 2 can be bought from Amazon.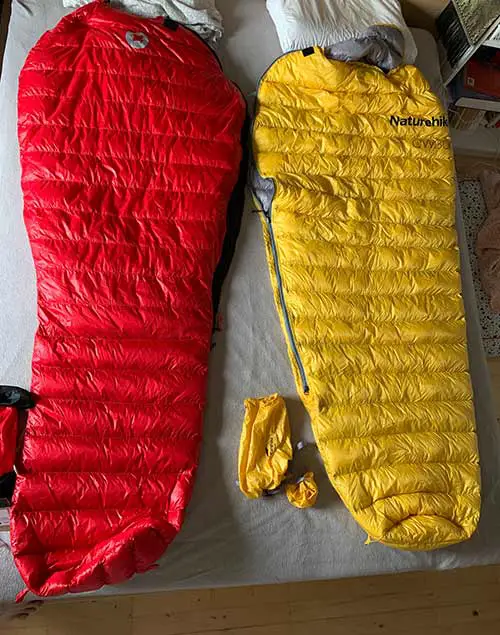 I have now used the CW300 sleeping bag for more than 3 years, and it really keeps surprising me how much you get for less than 150$!
I recently used the CW300 for my recent trip to Iceland where it was close to 0°C  (32°F) and I slept just fine. This is the realistic size of the sleeping bag if you don't strap it too tight.
The mummy-shaped layout without a hood makes it even more compatible, as you can stick out a bit without needing to fit the hood. I always use a pillow and a hat anyways, sometimes a down head envelope in extreme cold.
You may also want to consider a sleeping bag liner, which will also give you a few extra degrees and keep your sleeping bag clean so that it will last longer without the need for washing! I personally use this one.
If you eventually need to wash your sleeping bag, follow the same instructions as for a down puffer jacket given here to keep the loft of the down inside!
Verdict
The Naturehike CW300 is a great, lightweight sleeping bag for outdoor enthusiasts seeking a simple down bag without breaking the bank.
I own many more expensive down bags, and it really surprises me how much value you get for your money here and there is no "cheap feel" to the CW300.
The AEGISMAX Nano is another quality budget sleeping bag that I own and can highly recommend. It weighs and feels almost the same as the Naturehike CW300, but comes in a wider variety of colors and lengths.
If you think any of these sleeping bags are for you, check out the latest price of the CW300 or the AEGISMAX sleeping bag.
Finally, I am not sure how ethically sourced the downs are, so don't expect the best animal welfare from these brands. If you want to be sure the down lives up to such standards, a down bag from RAB or Therm-a-Rest is a better, but much more pricy, option.
If you are prone to freezing in your sleeping bag or just want to add a few extra degrees to your comfort temperature, I can recommend using a down puffer jacket (as used for skiing) when sleeping!
If you're interested in cheap outdoor gear, have 20 budget lightweight tent suggestions for you and I also reviewed the Naturehike foldable water bottle and a lot of other cheap foldable bottles with water filters for hiking.
Or if you are annoyed by a noisy sleeping pad at night, I have got the solution to noisy pads here!