There can be a lot of brands to choose from when it comes to your outdoor needs and equipment. However, these two brands stand out from the crowd when it comes to producing quality outdoor gear and everyday apparel.
Fjällräven is a Swedish brand company that focuses on creating and developing the right outdoor needs, especially in backpacks and outerwear.
Whereas Fjällräven has their focus primarily on making timeless, sustainable, and durable outdoor products for uncompromised outdoor enthusiasts, the North Face is more aligned to the current fashion trends and appeal to the broader audience at lower prices. 
The word "Fjällräven" means Arctic Fox in the brand's home country of Sweden and this is also the animal portrayed in their recognizable logo.
Some of their first and most well-known products are the Greenland jacket and Kanken backpacks that were both made of a G-1000 material making them extremely durable and water-resistant.
Now, Fjällräven's products have become more popularized not just in their home of Scandinavia, but also in the US and worldwide. Some of their most bought products are jackets, trousers, and the extremely popular Kanken backpacks.
North Face was founded in the 1960s at around the same time as Fjällräven and their initial focus was on climbing gear.
But just like Fjällräven, the North Face also produces wide-ranging outdoor equipment such as clothing, footwear, and other outdoor-related gear.
Whereas the North Face was originally made for individuals who climb and are actively participating in any outdoor activities, they now offer products for almost any budget and activity level.
Especially The North Face is making really nice puffer down jackets for skiing these days!
As time went by, their products also extend to different categories, and now, they also cater to the broader streetwear segment.
However, the North Face has become a popular brand mostly because of their jackets and winter coats, but also their backpacks and boots.  
Another famous American outdoor brand to consider is Osprey, which I compare to Fjällräven in this post.
Fjällräven or North Face Jackets?
In my experience, Fjällrävens jackets are extremely durable and functional and will usually last you longer than a jacket from North Face. However, the North Face jackets tend to be more comfortable to wear, and they accommodate gloves better, with softer materials and a larger selection.  
Investing in a good jacket is a must for most outdoor activities in colder climates. In this part, we will be discussing the different varieties of Fjällräven and North Face jackets and how they differ.
Generally, Fjällräven offers more classic designs made from durable and time-tested materials. Some of their jackets have almost looked the same for the last 50 years, simply because the original design works!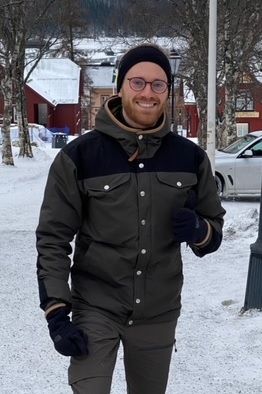 As a company with a long history of durable apparel for climbers, the North Face also knows its way around warm jackets but offers a somewhat more contemporary selection of styles.
Fjällräven Men's Greenland No. 1 vs North Face McMurdo
As we have mentioned in the introduction, one of the famous designs of the Fjällräven jacket is Greenland.
This Greenland jacket belongs to what is considered their classic selection. However, the Greenland design has recently been updated with leather features, sustainable down filling, and the eco version of their most durable fabric – G-1000.
It comes in two versions: one with down filling and one without any extra insulation. The down-insulated version compares well with the North Face McMurdo, but is shorter in length.
I prefer the shorter length of the Greenland jacket for outdoor activities because it does not restrict your leg movement, whereas the McMurdo is good in less high-paced situations. 
I have owned the Greenland No. 1 Down Jacket for 5 years now, and I love it! I always wear it for winter activities.
The Greenland down jacket comes with a silky soft lining that separates the down filling from your skin and the down feathers are so fine (having a high "cuin" value or "fill power" – read more here) that they never poke through to cause itching.
Fjällräven Yupik Parka vs North Face McMurdo Jacket
The Fjällräven Yupik Parka (also known as Fjällräven Nuuk) comes in a variety of colors and with the classical fur-lined removable hood.
The Fjällräven Yupik Parka is a jacket suited for the lowest temperatures; this jacket is a pretty much waterproof, storm-resistant, and warm winter jacket keeping you warm down to around -13°F.
It has different pockets and is versatile when it comes to outdoor activities.
On the other hand, is the North Face McMurdo jacket is somewhat longer in its design and quite a lot cheaper. Just like the Fjällräven, it is also water repellant and windproof, although not as waterproof as the Fjällräven Yupik jacket.
However, the McMurdo is actually warmer than the Fjällräven jacket in real-life use, which may be due to the lesser breathability of the jacket.
Are Fjällräven Jackets worth it?
Owning several jackets from Fjällräven myself, I have always felt that other brands would be a compromise on quality. However, needing that extra quality in a sleek minimalistic design is not what everyone needs for the following reasons:
Fjällrävens fit is not like most american brands, and may feel tighter than you are used to.
Fjällrävens materials, while durable, are not as soft as some people would like.
The jackets from Fjällräven are mostly for winter use (exept e.g. the High Coast jacket)
Their products, although cheeper in the US than in Sweden, are somewhat expensive.
There are definitely times when these are fine reasons not to buy a jacket. However, being fairly unique in their design and approach to outdoor gear, I think that you will need to try it before you can really tell.
Fjällräven vs North Face Backpacks
Are you planning to buy a sustainable backpack that can fit all your things and belongings? Maybe this part of the article might help you in your decision-making.
Fjällräven manufactured their classic backpacks in the year 1978 to avoid the common back problems in Swedish students.
The most classical and well know of them all is the Kanken (actually spelled Kånken – meaning "to carry in Swedish) backpack, with its classical time-tested design.
All of Fjällräven's backpacks are made from tightly woven (reused) polyester material, sometimes mixed with cotton to form their extremely strong G 1000 fabric. This makes some of their backpacks natively waterproof, but for others, you will have to add a DWR agent or their Greenland Wax which is intended for the purpose.
Fjällräven Kanken vs North Face Borealis
Whereas the Borealis is obviously newer, larger, and more modern in many ways, so if you are mostly after comfort, then go for the Borealis, but in my opinion – nothing really beats the robust and classical design of the Kanken backpack! 
As we have discussed above, the Fjällräven's Kanken is most suitable for school loads like books, notebooks, and a laptop. Kanken also has a wide selection of colors suited for your personality.
However, as flexible it is, Kanken can also be used in hiking, trekking, and traveling.
Now let's go to the North Face Borealis.
The North Face Borealis is a more padded and more comfortable backpack for everyday and ideal for the more active user, e.g. for daily commuting, light hiking, and other outdoor activities.
North Face Borealis (28L) is bigger than Kanken (16L) and can store all your things and belongings and if you want to bring extra items in your travel.
This backpack is claimed to be comfortable when used and supportive in terms of storing your goods. It has large compartments inside, a protective laptop space, and straps that can secure the bag in your body.
Fjällräven Kanken vs North Face Jester
You can also go for the North Face Jester if you are undecided on what to buy for a backpack.
Just like the North Face Vault and Borealis, the Jester also has a large and spacious compartment that can cater to all your things needed in your travel. It can also be used as a school bag as it includes a protective laptop space inside.
The bag can stand on its own making it easier for you to pack and unpack your things and belongings.
Conversely, to give you another alternative to the Kanken backpack, the North Face can offer you their sleek Vault Backpack.
North Face's Vault backpack can be used as a school backpack as it has different compartments for your books and other school supplies inside and it also has a protective laptop space.
The material used in the North Face Vault Backpack is recycled nylon and polyester (similar to the Vinolyn F used for Kanken) and the North Face makes sure that the Vault backpack is highly water repellant. You can also opt for the North Face Griffin which has a wide selection of designs.
Now that you have some North Face alternatives to Fjällräven's Kanken backpack, have you already made your choice?
If you want to learn more about the different materials that the backpacks mentioned here are made of, take a look at my post on Fjälrävens fabrics and the one on nylon and polyester materials most often used for tents and backpacks.
Now, let's look more into their bigger backpacks for hiking!
Fjällräven and North face backpacks for hiking.
While Fjällräven backpacks were initially made for people who carried heavy loads to school, over time, their backpacks also become popular among hikers, trekkers, and travelers.
The Fjällräven Kajka 65L backpack is perhaps Fjällräven's most popular backpack and it is made from their durable and waterproof Vinylon F fabric material – a material suitable for light rain and any dirt and damp activities. During heavy rain, however, the build-in rain cover should be used.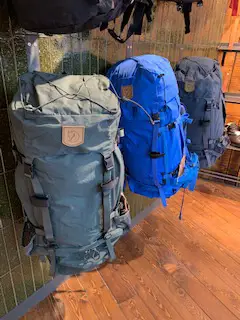 Their classic backpack also has a spacious area inside to make your packing and unpacking more easily. In case of misplacing your bag, the Fjällräven backpack has an address label inside the bag.
One of the reasons I chose the Kajka backpack is that it has two zippers going all along the length of the backpack allowing you to open the main storage pocket as on a suitcase. So no need to stick your arm in from the top to fiddle around in the dark with no overview of your stuff!
Pros and cons of Fjällräven Kajka
Pros
Great support for heavy loads
Contains plenty of pockets for easy gear storage
Super durable and water resistant material
Cons
Not the lightest option in the market
Might not work for all body shapes, but comes in male/female versions.
More expensive compared to other backpacks
While these backpacks are really good quality, the prices are high! I would recommend these high-quality, yet price-friendly, hiking backpacks if you can do with something more minimalistic.
The North Face Terra 65L Backpack or Fjällräven Kajka?
The closest competitor to the Kajka backpack from the North Face, would be their Terra 65L Backpack.
This backpack has the same 65L capacity as the Kajka, is lighter and cheaper. It is made from fully synthetic plastics such as nylon and polyester, the body being 210D nylon and the tougher parts being 600D polyester (see my post on definitions of "D" and "T" for these materials).
This type of material is fairly water-resistant, to begin with, but will not be fully waterproof and as the North Face Terra backpack does not come with a rain cover, I would recommend buying one separately.
In my opinion, Fjällräven Kajka is clearly the superior choice, and I have used mine for years now without any obvious wear and tear showing. If you have the budget and don't mind the extra grams of weight, it will reward you with a much more comfortable carrying system and a build that will last you a lifetime!
Check out the current price of North Face Terra 65L Backpack and the Fjällräven Kajka backpack.
Fjällräven or North Face Boots
Did you know that Fjällräven does not only offers backpacks but producing high-quality hiking boots?
Well, I also found out just recently… But Fjällräven actually owns the German high-end boot manufacturer Hanwag!    
Anyone wants to wear something comfortable especially when traveling, hikers climb different mountains and they need hiking boots suitable for their activity.
That is why Fjällräven created hiking boots for the hikers out there through their sister company HANWAG Footwear.
Take a look at some of Hanwag's most popular boots on Amazon here.
I can highly recommend their Yukon boots that are full nubuck leather with great ankle support.
The North Face also produces outdoor boots that can be used for activities like hiking, trekking, but also if you just want to follow the latest fashion in streetwear.
As mentioned above, North Face has embraced street fashion somewhat more than hardcore hiking and many iconic rappers use their brand.
This makes North Face boots comfortable to wear and fashionable at the same time, but not always the best choice for long hiking trips.
So to sum up, the North Face may offer you a wide selection and more contemporary designs, however, Fjällräven's hiking boots, sold under the Hanwang brand, are definitely more functional for outdoor activities but at a higher price tag with a limited selection in the general fashion space.
Conclusion
There are many good quality brands out there, but these two are among my favorites. I use a fjällräven puffer jacket myself, and also their backpacks, so I can only recommend them fully.
These days though, there are many other good down jackets to choose from when going hiking or skiing in winter.
If you need some lighter super cheap backpacks, check my list out here.
If you're more interested in the materials used by Fjallraven, check out my post on the waterproof attributes of these materials. The materials used by The North Face are usually ripstop nylon or polyester and down or synthetic insulation.