Fjällräven (or sometimes spelled "Fjallraven") is an iconic and very popular brand in Scandinavia where I live.
While most of Fjällräven's backpacks are exceptionally durable, they are not always fully waterproof. However, many are water resistant in their natural form and can be made fully waterproofed if a specific wax material termed "Greenland Wax" is applied.
I basically grew up with Fjälräven clothing, backpacks, and tents and have always seen the curled-up fox sticker as a sign of good quality products that last.
Fjällräven is known as an eco-friendly outdoors brand, that put an effort into rethinking their materials.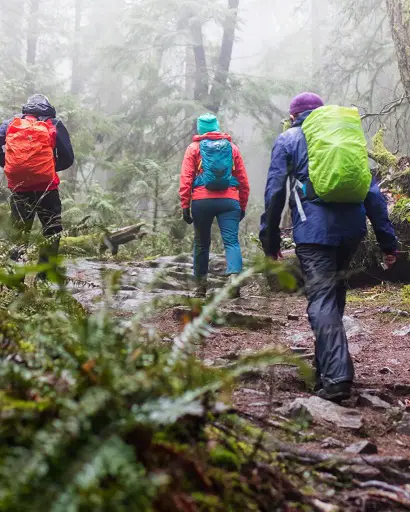 I personally wear my Fjällräven pants and often times my Fjällräven or Osprey backpack when hiking.
I do not always use wax to make my clothes more waterproof, but the natural water-resistance of the material always allows me a few minutes to put on my rain trousers when the rain sets in.
What are Fjällräven's Backpacks Made of?
Fjällräven are known for their high-quality materials that span from their cornerstone G-1000 fabric to fully synthetic fusion materials used to make the most popular, pants, jackets and backpacks.
Whereas most backpacks are made from 600D polyester or similar (210D or 190T for lightweight backpacks)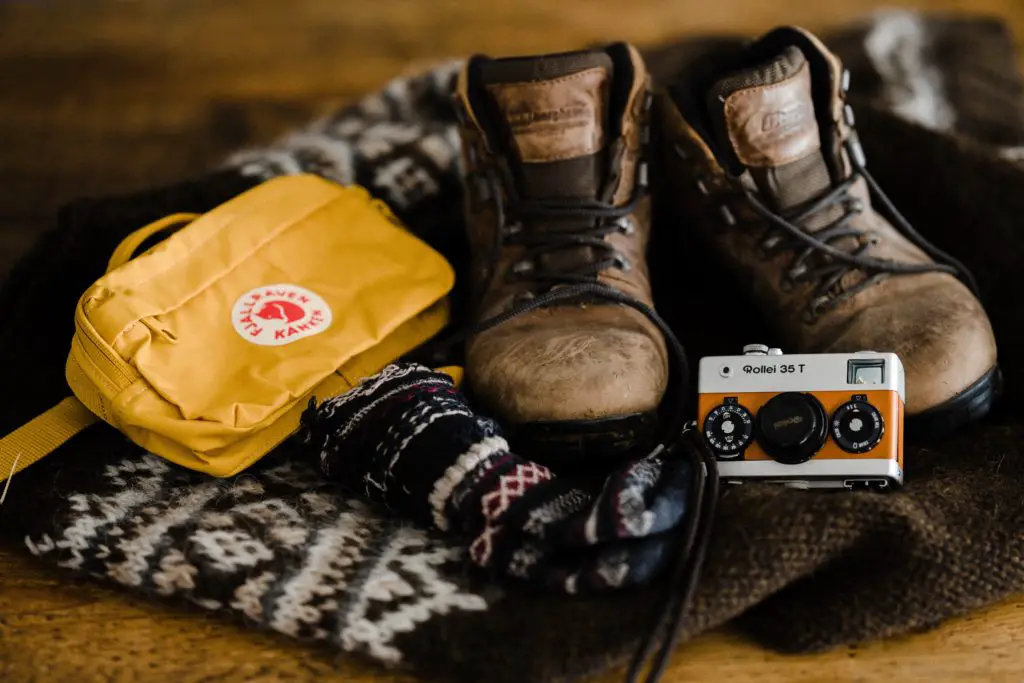 Similar to other outdoor brands (I compare them to The North Face here), Fjällräven offers a wide selection of clothing, backpacks, and even hiking boots.
All Fjällräven backpacks, trousers, and jackets used to be made in Sweden, but are now (ethically) outsourced to China and Vietnam.
While most of Fjällrävens backpacks are not fully waterproof, the G-1000 of the Kanken No. 2 pack can be made fully waterproof by applying the Greenland Wax and the Kanken backpack made from Vinolyn F can be almost fully waterproofed when DWR spray is applied.
Check out my other post if you want more tips and tricks on how to make your backpack more waterproof!
What is G1000 and is it waterproof?
Fjällräven materials are often characterized by a mix of sturdy traditional materials combined with a touch of modern innovation. While G1000 is not fully waterproof out of the box, it can be treated with a wax called Greenland Wax to make it fully waterproof.
The original G-1000 fabric was invented shortly after the brand was founded in 1960 and has since been the cornerstone of their brand.
G-1000 is a mix between 65% polyester and 35% cotton (organic and recycled if you chose the eco models), which gives it the nice mix between durability and softness that many of their products are known for. If you are interested in the pros and cons of polyester – take a look at my blog post about this topic here.
Polyester in itself is highly breathable while still fairly warm, and can be made waterproof with the right surface treatment.
Whereas the original G-1000 is the most prominent material in Fjällräven's products, they have now developed several variants of the G-1000 fabric:
G-1000 Heavy-Duty – A thicker version of the original G-1000 fabric. Here durability is top priority, although it comes at the expense of breathability. Often used in their winter hiking pants

G-1000 LITE – A thinner version of the original G-1000. Although it is thinner and more breathable, it comes with added rip-stop threading to retain its high strength.

G-1000 Air – The most breathable and thinnest version of G-1000. It is made for the warm summer evenings and weighs less than the other variants.

G-1000 Silent – As the name suggests it is a softer version of G-1000 that makes less noise when rubbed against itself.
Although there are many variants of G-1000, they all have their core features in common.
I have summaries the main functionalities of Fjällräven's G-1000 fabric series in the table below:
| | |
| --- | --- |
|   |  It is extremely durable, which makes it ideal for most outdoor activities. The G-1000 Heavy-duty is especially durable. |
| | Due to the way the fabric is woven, it provides good breathability, especially for the lighter variants e.g. G-1000 Air or G-1000 LITE. However, if treated with Greenland Wax, the breathability decreases. |
| |  G-1000 is so tightly woven that wind cannot get through, so this makes it great for a hike in the mountains or on colder days. The thicker versions such as the G-1000 Heavy-duty are more windproof and warmer than the thinner and lighter G-1000 original or G-1000 LITE. |
| |  Most of the G-1000 products are impermeable to insect bites, including mosquitoes, due to the closely woven fibers. |
| | Contrary to pure cotton, G-1000 dries much quicker due to its synthetic content. |
|   | Although some G-1000 products come pre-waxed or DWR treated from the factory, they are not fully waterproof. The thicker G-1000 fabrics can be made fully waterproof by applying a layer of Greenland Wax. |
The main characteristics of the Fjällräven G-1000 fabric
I have owned and worn several jacket made from G-1000 and they have all lasted for well over 5 years now!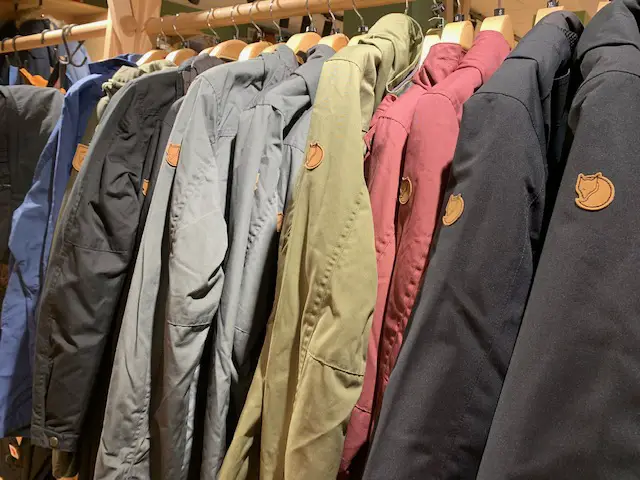 G-1000 vs Gore-Tex
Gore-Tex is substantially different from the G-1000 fabric because Gore-Tex is a multilayer membrane fabric and G-1000 is a single layer, albiet multicomponent, fabric.
Gore-Tex is based on a porous fluorocarbon membrane that have so small pores that it allows air to escape while keeping the larger water drops out.
Because the Gore Tex membrane is prone to clogging by skin particles and dirt, the membrane is often encapsulated in a layer of nylon to protect it.
While G-1000 can be treated with wax or DWR to become fully waterproof, it does come at the cost of its breathability.
However, if not treated, G-1000 has superior breathability to Gore-Tex. Gore-Tex is in between these two extremes is generally a fully waterproof fabric with medium breathability.
Therefore, G-1000 will never have the simultaneous breathability and waterproof properties of Gore-Tex, but it is a rougher fabric that will last longer regardless of treatment.
Because the mechanism that makes G-1000 water-resistant is inherent to its surface DWR or wax treatment, the water repellent properties of G-1000 fabric come at the cost of breathability and will deteriorate with time if the treatments are not reapplied.
Gore-Tex membranes, on the other hand, do not require as frequent DWR treatments, but may get clogged by accumulating dirt and will need frequent washing to keep its waterproof and breathable functionalities.
What other materials are Fjällräven's backpacks made of?
Apart from the different versions of the G-1000 fabric, several other materials are widely used in Fjällräven's outdoor products. Their most used materials are:
G-1000 and its derivatives. (see table above!)

ECO-SHELL – A polyester based material shell material (Similar to Gore-Tex) used in their waterproof jackets.

Hydratic – a synthetic material (most likely Nylon and polyester) which is waterproof and somewhat breathable.

Wool – used for Fjallravens mittens, shirts and even their backpacks!

Down – mostly used in winter jackets and sleeping bags.

Corylon – used to reinforce exposed areas. Made from 94% recycled polyamide and 6% aramid.

BERGSHELL – A strong and waterproof product containing 400D nylon with TPU laminate.

Vinylon F – a synthetic fabric used in many of Fjällräven's most popular backpacks.
Most of what applies to the water resistance of the synthetic fabrics mentioned here will also apply to common nylon backpacks and other brands like JanSport backpacks are made predominantly from polyester fabrics but mostly use the thick 600D polyester.
Vinylon F vs. G-1000
There is a great deal of debate about whether a backpack made of G-1000 or Vinylon F is the best and whether these fabrics are waterproof or not.
Vinolyn F is basically a type of nylon that is somewhat cheaper to produce, but is very durable and has some interesting properties such as becoming more waterproof as it gets wet.
Obviously, there are pros and cons to both fabrics, but they also share many features.
The main difference between the two is that Vinolyn F is a fully synthetic material, whereas G-1000 also contains 35% cotton.
This makes the G-1000 fabric the most durable of the two materials, and it is heat resistant enough to be made waterproof using Greenland wax.
Therefore, the main difference is that while Vinolyn F is more waterproof in its native form, it is not 100% waterproof and you cannot apply Greenlandwax to make it as waterproof as can with G-1000. However, you can still apply a DWR spray to waterproof Vinolyn F almost completely.
Is Fjällräven Kanken Waterproof?
While the majority of their outdoor trousers, jackets, and backpacks are made of G-1000, their most popular Kanken backpack is made of the fully synthetic Vinylon F material that is very similar in its water resistant abilities to nylon fabrics.
Although the Kanken backpack is not entirely waterproof, the synthetic fibers of the Vinylon material swell and contract when wet. There are treatment options that will make it virtually waterproof though.
This makes it somewhat more waterproof than most other backpacks that are usually made from polyester (with implications for how to wash the pack as well!) such as those from Jansport, Osprey backpacks or The North Face packs.
This makes the fabric tighter and therefore less permeable to water the wetter it gets – but it is not likely to withstand a full day in the rain!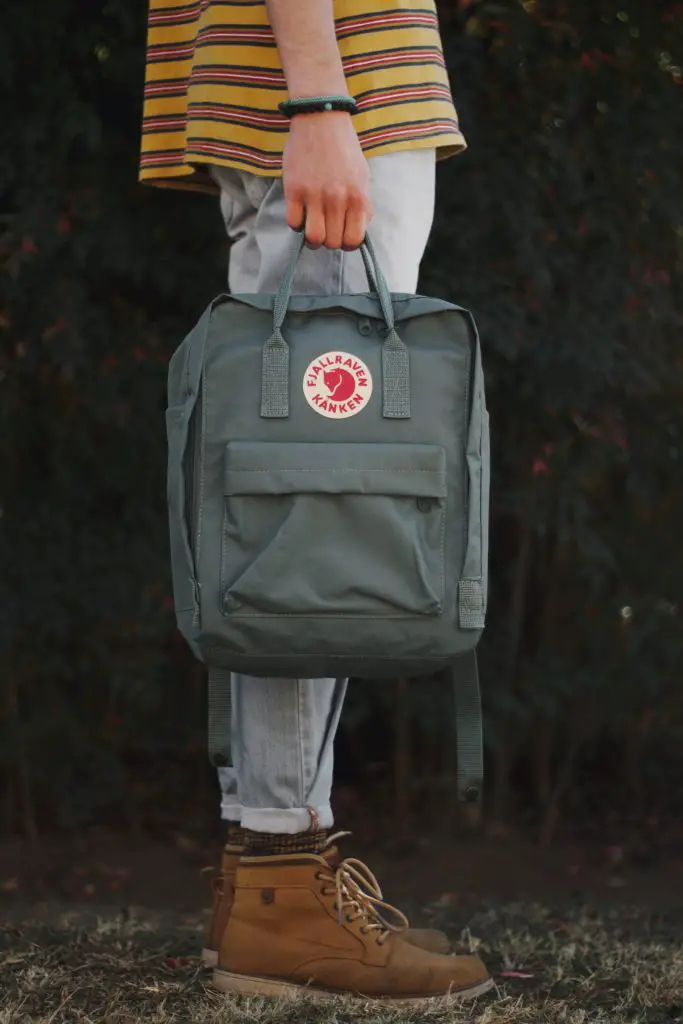 Similarly, many of Fjällräven's backpacks are intended for hiking and backpacking, for example, the Kajka rucksack (that I own myself and can warmly recommend) are also made from their Vinylon F material, which is essentially thick polyester.
In my experience with the Kajka backpack, it can easily withstand the first couple of minutes after the onset of heavy rain, however, for prolonged durations, you will need a proper rain cover.
Luckily most of Fjällräven's hiking backpacks come with a rain cover to protect against full rain.
Fjällrävens backpacks are somewhat more waterproof compared to other backpack brands like JanSport, that tend to use polyester without PU on most of their packs.
How can you make your Fjällräven backpack waterproof?
There are three main ways to ensure that your backpack does not get soaking wet upon an unexpected rain shower.
If the backpack is made of a suitable material (E.g. the thicker G-1000 variants) you can apply Greenland Wax to seal it from the rain.

Use a rain cover! A rain cover takes up little space in your backpack, , comes in all different sizes, and cost almost nothing if bought online.

If you don't want to apply wax or the material of the backpack does not support it (if it is made from a synthetic material) you can spray on a DWR product to seal the fabric. This can also be applied during machine washing with the same product used for hard shell gore-tex rain jackets. Note that DWR is not going to be as strong as a thick layer of wax or a rain cover.
See more about how to protect your synthetic backpack from the rain in my other post.
If you don't want to treat your backpack with a waterproofing product or you don't like the look of a rain cover, you should consider one of Fjällräven's backpacks that are made totally waterproof from birth!
Fjällräven offers several fully waterproof backpacks made from their BERGSHELL fabric. BERGSHELL means mountain shell and is a strong and waterproof fabric containing 400D nylon fused with TPU to make it fully waterproof.
Examples of fully waterproof backpacks from Fjällräven are the Bergtagen and Keb rucksack for hiking and the Ulvö for every day (school and work) activities.
The Ulvö rolltop variant of the Ulvö backpack has a closing mechanism similar to waterproof stuff sacks that makes it even harder for water to enter. If you are looking for a completely waterproof alternative to the Kankan rucksack, the Ulvö pack may be a perfect choice.
Conclusion
In summary, if you are looking for some great durable gear for outdoor or everyday use, Fjällräven is a great option.
Whereas most backpacks these days are made from polyester or nylon fabric, that is not fully waterproof on its own, fjälräven boasts an impressive range of materials that vary in the water resistance.
While other brands use mostly polyester, Fjällräven uses numerous fabrics made from a wide range of materials, which, by the way, also have implications for washing your Fjallraven backpack!
However, not all of their fabrics are completely waterproof but many of them can be made so by applying their designated Greenland Wax or other waterproofing agents.
Fjällräven does make fully waterproof backpacks and these are made with the BERGSHELL fabric.
If you're curious about how backpacks from other popular outdoor brands compare, check out my posts comparing The North Face and Osprey backpacks to Fjällräven.
And finally. if you're interested in much lighter and cheaper backpacks or other cool hiking gear that does not blow the budget, check out my top 10 list here! or my favorite budget-friendly down sleeping bag or my list of lightweight but cheap tents.