If you are looking for the best Snowboard Down Jackets, you have come to the right place! We'll take a look at some of the best options on the market and help you decide what's right for you.
Down jackets come in many sizes and shapes, but the ones that are especially good for snowboarding are lightweight and warm enough for the slopes, while still allowing movement. Modern down jackets are ideal as they offer the highest level of warmth and can be worn alone or with a jacket Jacket on top.
I selected the down jackets based on their warmth, weight, look and reviews given by hundreds of users online.
Here is my verdict!
For snowboarding, the same principles as for other winter activities apply. But because you are not moving your arms out in extreme positions as much as you do when skiing with skiing poles, you may want to go for the slightly warmer, thicker jacket.
It of course depends highly on the climate you are snowboarding in, but the jackets selected here will cover the -4F to 30F range just fine.
You can read more about the pros and cons of the different down jackets in this article, but to save you time, I've listed my top picks in the table below:
Image
Product
Features
Price
Rab Men's Zero G

The ultimate winter down jacket.
4.5 oz of 1000 FP down filling for sub 0°F temperature weather.
Ultralight and packable. 

Price At Amazon
Mountain Hardwear Standard Ghost Whisperer/2

Ultra Puffy 800 fill goose down is perfect for snowboarding.
Ultralight and packable at only 6.9 oz.
Durable and water-resistant. Use in any weather. 

Award-winning athletic fit.

Price At Amazon
MARMOT Zeus Jacket

800 FP goose down for warmth in winter conditions.
Windproof, lightweight, and packable. 
Ultralight down-proof water-resistant fabric.

Price At Amazon
MARMOT Stockholm Jacket

Super warm thick 700 FP down winter jacket.
One of the warmest jackets for the price.
Stays warm when wet due to the "down defender" technology.

Price At Amazon
Rab Microlight Alpine Jacket

Super high warmth-to-weight ratio and ultra-packable.
700 FP hydrophobic down does not collapse when wet. 
Highly water- and wind-resistant outer material perfect for snowboarding!
Zoned micro and nano baffles.

Price At Amazon
Cotopaxi Fuego Hooded Jacket

800 FP responsibly sourced, water-resistant goose down.
Fashionable color patterns – get noticed on the slopes! 
Water repellant and windproof. 

Price At Amazon
Black Diamond Vision Down Parka

800 FP goose down in large pockets

making it the warmest choice for snowboarding listed here!
Ultra-tear resistant thanks to its liquid crystal polymer ripstop construction.

Price At Amazon
Spyder Pelmo Down Jacket

Warmest budget down snowboarding jacket. 
Used by professional US skiers. 
550 FP down insulator- its tiny fibers are lightweight and compressible.
Two side zipper pockets, full zip closure, and elastic handcuffs.

Price At Amazon
Fjallraven Expedition Down Jacket

Padded with 3.9 oz of 800 FP high-quality ethically sourced goose down.
Reinforced with synthetic padding over the shoulders.
Ultra high-quality Swedish Fjällräven snowboarding brand.  

Price At Amazon
Arc'teryx Cerium LT Jacket

Highest warmth-to-weight ratios among the jackets listed here. 
850 FP super compressible down.  
Weighs less than 10 oz for the medium version. 
Perfect for minimalist winter sports and cross-country snowboarding. 

Price At Amazon
The North Face Summit Down Hoodie

Slim fit 800 FP down retains its loft in wet conditions.
Offers superior warmth and compression.
Perfect for snowboarding. 

Price At Amazon
Columbia Powder Lite Winter Jacket

Patented heat reflective garment perfect for snowboarding. 

Water-resistant comfortable fabric.
Best budget (Sub 100$) choice.

Price At Amazon
For example, The North Face Summit Series Down Hoodie or the Cotopaxi Fuego Jacket are both cool colourful jackets that will get you noticed on the slopes while having good thick insulation pads filled with high-quality down.
Generally, The North Face and Fjällräven jackets are really good choices for snowboarding and you can read more about these two brands here.
The Marmot Stockholm down jacket is another good option, with a regular fit and a large hood that will fit over some helmets if needed.
If you want extreme freedom on the slopes, e.g. when going off-piste or doing aerials, sliding and jumps, you may want to consider the tighter more athletic jackets such as the Mountain Hardwear Ghost Whisperer 2 or the Rab Microlight Alpine.
But as with all outdoor gear, it is important to try on different jackets and see what works for you in terms of fit, style and functionality.
Should you wear a puffer down jacket when snowboarding?
Yes, modern down jackets are ideal for snowboarding due to their high insulation capacity and low weight.
Especially puffer down jackets are incredibly lightweight and attractive, but they used to lack waterproofing and breathability, which have given them a reputation as bad for snowboarding.
Therefore professional snowboarders went for other types of jackets, including those with synthetic insulation, different types of wool layers, and gore-tex shells.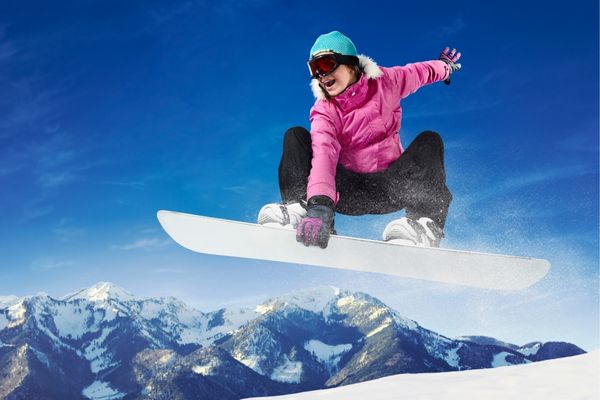 However, recent innovations in down and puffer jacket technology mean that they have been drastically improved in recent years to be more waterproof and breathable, making them a very good option for snowboarding – alone or in combination with a waterproof shell jacket on top.
Puffer jackets are filled with either synthetic polyester fibers or down feathers as a form of insulation. Down puffer jackets are incredibly lightweight and attractive, but they used to lack waterproofing and breathability, which have given them a reputation as bad for snowboarding.
Due to the tendency of down to absorb water (and sweat!) the down in older jackets used to clump together and the insulating capacity would rapidly decline. And although there are methods to regain the fluff of down jackets after rain, it could permanently ruin older jackets.
Therefore the previous generations of down jackets were not ideal for high-paced sports activities or winter activities where heavy snow or rain would occur.
This is luckily no longer the case, as modern down jackets have been improved massively since!
These improvements in mainly due to the treatment of the feathers and outer nylon or polyester materials with so-called DWR water-repellent chemicals that allow the down and outer layers to efficiently repel water.
Because water cannot enter and the down will not absorb water and clump, the newer models listed in this article all handle wet conditions and high-paced sports activities much better than the older generation of down jackets!
Why are Modern Down Jackets Great for Snowboarding?
New innovations in down technology have made the best puffer jackets for snowboarding many times better than their ancestors.
Puffer jackets used to be made with rough down feathers and later on with polyester fibers, which made them cheap and widely available to the masses.
The feathers would bunch up and lose their insulating properties when wet, and the polyester would be chunky, heavy, and lacked the breathability and ability to pack down small that modern down possesses.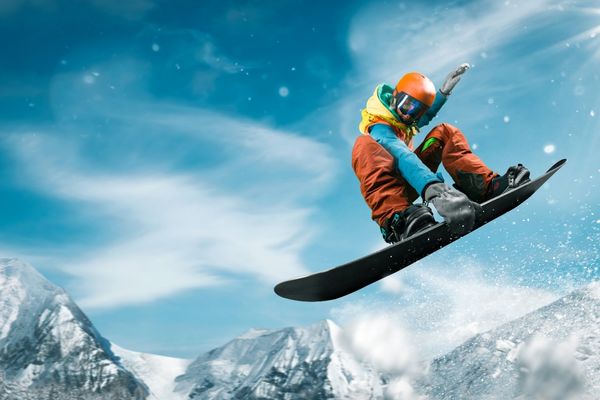 Recent developments in down technology have greatly improved the insulating properties of down by peeling off the bulkier parts of the down, leaving only the fluffy parts that contribute to insulation.
In general, high-quality down jackets  contain a minimum of 90% down plumules (giving high fill power) and maximum 10% pin feather content that are the most resistant to compression (lowering fill power).
In essence: the better the soft parts of the feathers are separated, the higher fill power (FP) and the higher insulation ability of the down.
Also, modern high-end jackets, including the ones mentioned here, are all made with goose down rather than duck down. Goose down is more fluffy and light by nature, so it makes the process of creating high-loft down easier.
What do the Fill Power (FP) numbers like 500, 800, 900 etc, mean in down jackets?
Fill power – the higher the number, the better the down jacket is insulated. All fill power ratings are rounded up, and the best values down jackets are jackets that have a rating of at least 700.
Let me first define fill power:
The fill power is the number of cubic inches one ounce of the down takes up (how fluffy it is!). So an 800 FP down jacket contains down that takes up twice as much as a 400 FP jacket and therefore needs twice the mass of down for the same insulation effect!
In essence, the higher the fill power, the better the down insulation is, and the better value is per weight unit.
You can find some jackets with up to 1000 FP, but these are usually extremely expensive.
The more expensive 1000+ FP jackets are the warmest jackets available for their weight, but they are very pricy. This is because the down is more expensive to source and produce.
In the 700-800 FP range, you typically get a good balance between insulation, value and weight.
The fill power rating is usually written on the tag of the jacket near the neck. The rating also contains information on the comfort weight of the down.
Goose down naturally has a better fill power (ratio of down volume to weight) than duck down, making it lighter, warmer and with better insulating properties.
Back in the day, it was hard to get above an FP of 500, but now many high-end consumer jackets have an FP of 800+.
This improvement in pre-treatment of the down means that puffer jackets have greatly improved over time. For example, the Mountain Hardwear Ghost Whisperer 2 jacket is now filled with 3 oz of 800 lofting, water-resistant down that will not collapse even when wet!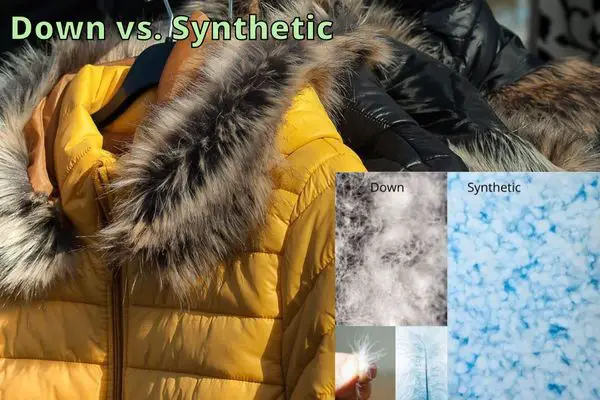 The Arc'teryx Cerium LT, one of the best puffer jackets for snowboarding, is also one of the best-performing pieces of outerwear ever made. It was developed with the use of 850 FP down and contains 3.6 oz in a medium-sized jacket weighing a total of 10 oz.
Even more extreme is the Arc'teryx Cerium SL jacket which weighs only 7.6 oz and fill weight of 1.7 oz.
Whereas the Arc'teryx Cerium SL jacket is the lightest down jacket for its insulation ability, it is perhaps a tad too cold for the coldest winters, but perfect for mild winters or high-paced cross-country snowboarding.
Are down jackets good for snow and rain?
Modern down jackets are excellent for colder snowy conditions, but not ideal for heavy rain.
Because snow is much easier to repel from the surface of a down jacket than rain is, winter down jackets work best if the temperatures are below 32°F (0°C) – the freezing point of water.
Modern down puffer jackets, however, are designed to withstand quite some rain before it breaks through the outer nylon or polyester layer into the down.
For example, the DWR treated 30D nylon outer layer of the Rab Microlight Alpine Jacket can tolerate light to medium rain for up to 30 minutes before it breaks through.
With a somewhat thinner 10D outer nylon layer, the much lighter Arc'teryx Cerium LT Jacket is not as water resistant and will likely only last 5-15 minutes in the rain.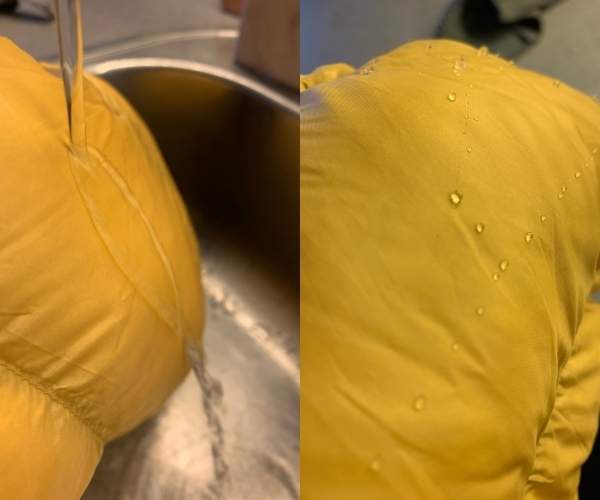 Most of the jackets in this article lie somewhere in between these two jackets, for example the Mountain Hardwear Ghost Whisperer 2, is
However, if used for snowboarding or other winter activities, the superior insulating properties of down puffer jackets prevents the falling snow from melting on the surface, resulting in a much higher resistance to snow compared to water.
This makes down jackets, even if not completely waterproof, ideal for winter sport activities such as alpine snowboarding, snowboarding and longer cross country expeditions.
0 FP filling that will keep you warm far below 0°F when doing moderate exercise!
What is the warmest down puffer jacket available?
The warmest down jackets are those with a high fill power (FP) and a lot of down. This means that these jackets are usually not the lightest down jackets around, but that is the trade-off you will have to accept.
The best down jackets for extreme cold are:
1. The Rab Zero G (warmest for the weight)
The Rab Zero G down jacket is an excellent choice for extremely cold winter conditions. It is made with high-quality materials and is filled with 1000 FP goose down, which makes it extremely warm.
It is the warmest jacket for its weight as the down is so lofty that it needs less of it to keep the same insulation capacity as down of lower fill power.
Additionally, the jacket has a water-resistant outer shell, which will protect you from the elements and prevents water from clumping together the delicate down feathers.
2. Rab Men's Neutrino Pro (Best value)
The Neutrino Pro from Rab is a great winter down jacket. The jacket is filled with 800 FP goose down which provides excellent levels of insulation but is not as the warmest as the Rab Zero G jacket filled with 1000 FP down.
However, the Neutrino Pro can be coupled with a fleece softshell as a second layer, and that makes it the perfect combination of extreme cold and Arctic conditions.
The baffles of the jacket have a thick, lofty fill and the parka has a hood that provides great protection and warmth.
Additionally, the jacket has a water-resistant outer fabric, which really makes a difference in rainy conditions, as water does not penetrate into the inner fill.
The jacket is ethically made and has Down With Nikwax Hydrophobic treatment, which means that it will keep you warm for longer in wet conditions.
3. Mountain Equipment Kryos Jacket (good for below -10°F)
The Mountain Equipment Kryos Jacket is made from 70D ripstop nylon and Gore-Tex which, unlike the other jackets included here, makes it almost completely waterproof and very abrasion resistant.
It is filled with 250 grams of 800 FP goose down and weighs just about 500g in total, and it is exceptionally warm, which makes it great for extremely cold conditions.
Whereas the jacket is fairly light for its warmth it is not as light as the Rab Zero G, but significantly warmer!
4. Feathered Friends Khumbu (Super warm but expensive)
The Feathered Friends Khumbu Jacket is a great choice for extremely cold winter conditions. It has a water-resistant shell and will protect you from the elements.
Inside, the Khumbu is filled with 900 FP goose down, which will keep the warmth in extremely cold conditions.
It is rated at an astonishing -17°F (-28°C), which is on par with the Black Diamond Vision Jacket, which is the warmest overall.
Because the down is extremely lofty, it will keep the warmth more easily and therefore less is required, so the jacket is also fairly light for this class of insulation.
However, this jacket is also very expensive, and you will get better value for your money in the next two jackets.
5. BLACK DIAMOND VISION DOWN PARKA (warmest affordable jacket)
Another down jacket that is great in extremely cold temperatures. The Vision Down Parka from Black Diamond has a water-resistant 20D nylon outer shell and is filled with 209  grams (7.3 oz) of 800 FP goose down, making it extremely warm for its price of less than 500$.
While the down filling may be on the low side, it has thick down baffles and a hood, which is essential if you want to stay warm in extremely cold conditions.
6. Outdoor Research Coldfront Down Jacket
The Outdoor Research Coldfront Down Jacket is an excellent choice for extremely cold winter conditions. This jacket is lightweight at 14 oz despite its thick baffles that are filled with 700+ FP down.
It has a lot of features that make it a great jacket for extremely cold temperatures. Its high collar will keep you warm, and it has a water-resistant shell on the outside.
What are the most lightweight down jackets for winter use?
Puffer down jackets are designed to maximize the warmth-to-weight ratio, so the insulation per weight ratio for the best down puffer jackets out there are indeed the highest for any jackets available.
In the previous section, we looked at some super warm jackets, but these can also be quite heavy. If weight is a priority, the jackets listed below may be the ultimate solution for your winter adventures!
The lightest winter down jackets included here are:
The Rab Zero G is one of the lightest (10 oz) and most compressible down jackets out there.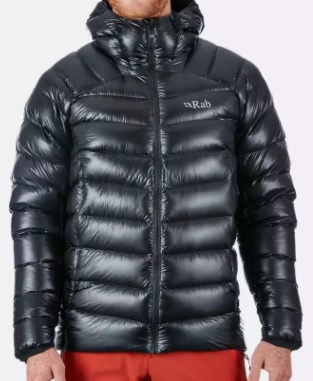 It contains 1000 FP goose down, and the down is so lofty that it needs less of it to keep the insulation capacity down with a lower fill power.
The Arc'teryx Cerium SL Hoody is even lighter at 7.6 oz and is one of the most compressible jackets out there.
It contains 800 FP goose down, so it is not as warm as the Rab Zero G, but still very warm for its weight!
The Mountain Hardware Ghost Whisperer 2 is the lightest (6.6 oz) of the jackets included here and perhaps the most compressible jacket out there.
It contains 800 FP goose down making it warm enough for most winter conditions and it is also very breathable and water resistant. This one is also not as warm as the Rab Zero G, but it is significantly lighter and good for milder winter conditions.
And even though these jackets are not the warmest jackets around, they are an excellent choice for extremely cold conditions.
What is the best warm men's down jacket for the money
Depending on your needs, I would go for the Rab Microlight Alpine or the Men's Ghost Whisperer/2 Jacket as they offer superb value for the money. For just around 200$, and even less on sale, they you get a really light and technical puffer jacket!  
If you do not need the extra warmth and want to save money, the Mountain Hardwear Men's Ghost Whisperer 2 also comes as a vest (without the arms) at a lower cost.
If you are on a tighter budget, I would go for the Spyder Pelmo Down Jacket as it offers a lot of value for the money (around 100$) as well.
What is the best warm women's down jacket for the money
For a woman, I would go for the Women's Ghost Whisperer/2 Jacket or the Fjällräven Expedition Jacket.
These two jackets have a good fit, are light and comfortable, and come in versions specifically designed for women.
The Ghost Whisperer 2 is especially good as it has a really low weight and is compressible, making it easy to take with you on long hikes, camping trips or even just as an everyday winter jacket.
They are also very warm for their weight while still being stylish and not too expensive.
Conclusion
There are a lot of different down jackets on the market, and it can be difficult to decide which one is right for you.
However, in general, down jackets have come a long way in recent years and are now much more waterproof and breathable than they used to be.
This makes them a great option for snowboarding, skiing, and other winter activities.
If you need guidance on how to take proper care of your new (or old!) down jacket (or sleeping bag!) to avoid clumping, check out my article on how to wash a down jacket and restore its fluff and my post on how to store down sleeping bags (same as for jackets!) here.