When it comes to sleeping bags, there are several different materials involved and many to choose from.
The shell of a sleeping bag is the outer fabric, while the lining is the inner layer. These can be made from different materials, but most sleeping bag shells and linings are made from polyester or nylon. The filling is made from either polyester or down.
Some materials are more durable than others and some insulate more. For instance, nylon is a good choice if you want a light sleeping bag but polyester is cheaper and more waterproof. Others, like taffeta, are softer but delicate and prone to tear and wear.
Nylon has the advantage of being more lightweight, stretchy and tear resistant compared to polyester. This is an advantage in a sleeping bag if you are into long-distance ultralight and functional hiking gear. However, for the occasional weekend trip or hut camping, where weight is not critical, a polyester sleeping bag is a perfectly fine option.
Both fabrics have their advantages and disadvantages. Although polyester may be a bit heavier and less comfortable as lining, it is better at repelling water and sunlight. This means that it's a better option for winter camping.
If you are looking for a sleeping bag, it's important to know whether its shell is made of polyester or nylon as this will determine how waterproof, breathable and durable it is.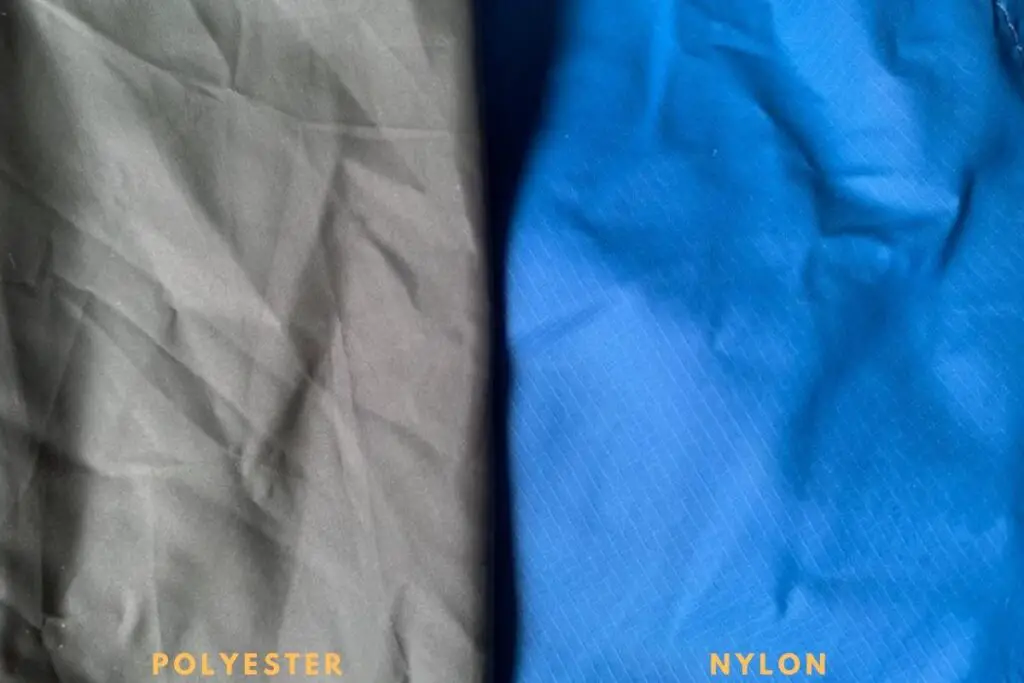 Sleeping bags are made of many different materials, but here I am only going to talk/write about the outer sheet material.
I already wrote about the insulation (inside material) of sleeping bags in another article.
Are nylon or polyester sleeping bags better?
Nylon and polyester are both good synthetic materials that can be used to make sleeping bags. But which one should you choose?
What many people don't realize is that there are several variants of both nylon and polyester, each of which perform better in some situations than others.
The main differences between the two materials are:
Polyester is less expensive
Nylon is more breathable
Nylon has a higher tensile strength
Polyester has more abrasion resistance
This leads me to conclude that buying a nylon sleeping bag may be a better investment as it's generally lighter, stronger, and less likely to wrinkle.
There are also a few disadvantages with nylon sleeping bags, but these vary depending on the exact type and thickness itself.
For example, polyester bags are heavier than most nylon ones while nylon bags tend to be more expensive than polyester models.
Regardless of which material you decide on, figure out which style best suits your needs — down versus synthetic filled; mummy-style versus rectangular; light versus heavy, and nylon vs. polyester!
If you're camping, make sure to keep your sleeping bag away from the ground. Although nylon and polyester are somewhat waterproof, conifer pitch and sharp sticks can still cause damage to the fabrics.
Why are most sleeping bags made of nylon?
For the surface of a sleeping bag, the most common materials are nylon or polyester.
These fabrics have advantages and disadvantages depending on the level of protection you want in the sleeping bag.
The most popular surface material of sleeping bags is nylon because it is very lightweight, tear-resistant, and breathable, while polyester is stronger in some situations but also heavier and more "bulky" and does not let sweat escape as easily.
If you only use your sleeping bag indoors or not planning on carrying it far, you might prefer polyester.
But it also depends on if the material has implemented ripstop threads to enhance the strength or not.
But if you go camping frequently and weight is a concern, you might want to consider nylon as the lightest but also a more expensive option.
Are nylon sleeping bags waterproof?
Nylon is not waterproof per se, but it can indeed be made very water-resistant with the right surface treatment such as silicon or DWR.
This is a benefit for especially down sleeping bags as most down will clump together and lose insulation power if the water penetrates the outer nylon shell of the sleeping bag.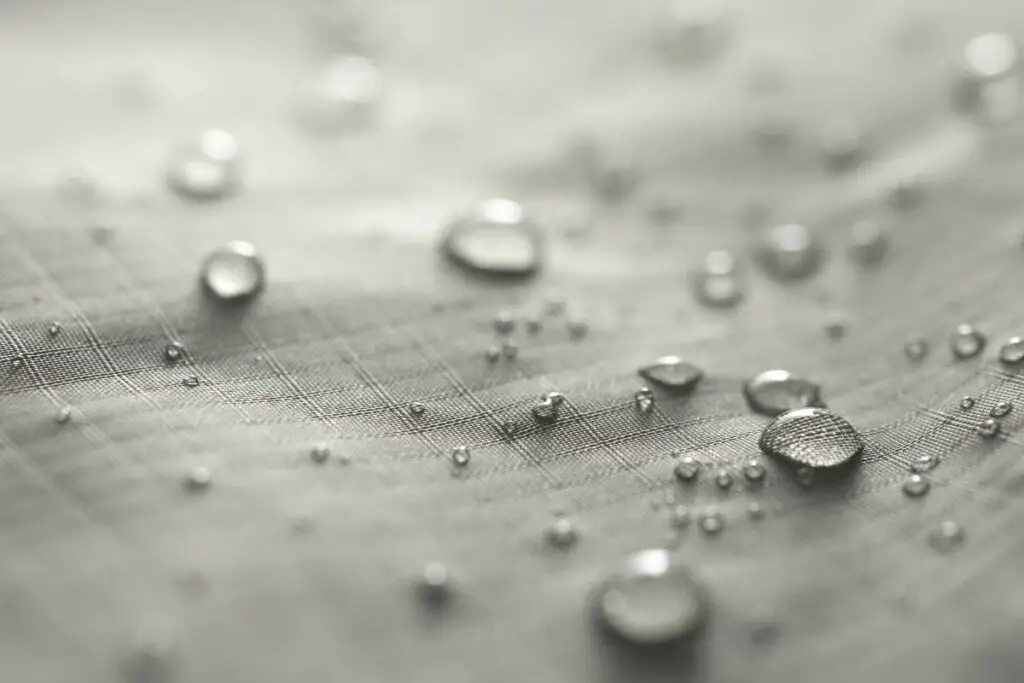 There are several options for nylon sleeping bags. Some are waterproof, some aren't. In most cases, it depends on the denier (thickness) of the fabric, as well as the type of surface treatment of the sleeping bag you're buying.
Most waterproof bags have an outer shell that's coated to repel water, rather than a high-density and thick fabric as this compromises the weight of the bag.  
A good sleeping bag should be breathable but waterproof enough to keep your body warm and dry even when a bit of rain or tent condensation drips on it.
It should also be breathable because this allows it to dry faster and not get wet due to sweating in hot climates.
Some really water-resistant bags also have sealed seams to prevent moisture from seeping into the interior.
This can be done with a special coating, tape, or spray. It's not necessary for all bags, though.
Another option is having water-resistant down that can get wet without losing insulation power.
Water repellent down has been treated at a molecular level to repel water, which prevents them from collapsing when wet!
Even some cheaper down bags, like my Naturehike CW300 and Aegismax sleeping bags, have this technology implemented.
Two good examples of down sleeping bags made with a nylon lining at around 100$.
Why and when are polyester sleeping bags good?
While nylon shell and lining is usually preferred for sleeping bags, polyester is great for bags that need extra durability at a lower price and where weight is not the highest priority.
A polyester sleeping bag is still fairly lightweight, breathable, and more durable in some situations than nylon. It can be made softer than most nylon fabrics for the inner lining of the bag!
Polyester is also less expensive and more environmentally friendly (easier to recycle!) compared to nylon.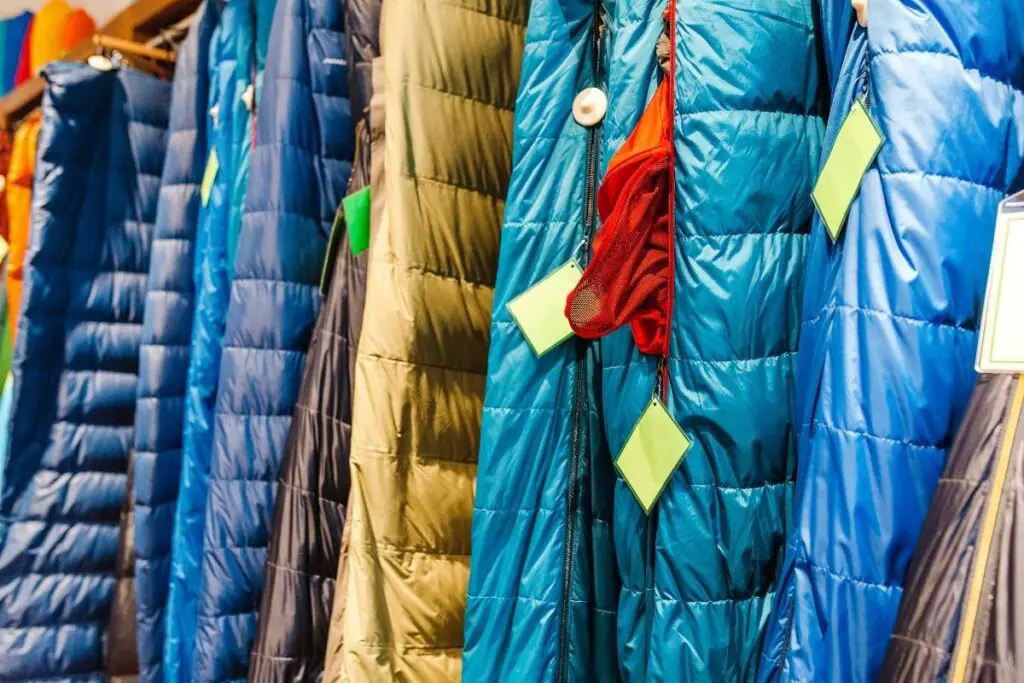 Both materials are comfortable against the skin, but they are less breathable than for example taffeta or cotton. While cotton is ideal for warm-weather camping, it is not recommended for cold-weather or ultralight camping.
Polyester, however, is more resistant to abrasion than nylon is, so if you are going camping outside a tent or directly on the ground, polyester will be the more durable choice!
When talking about polyester in sleeping bags, we would often refer to the filling rather than the lining or shell of the bag, but it is also used as shell material.
I will not go much more into how the filling affects the performance of the bag as I have written an in-depth article comparing polyester with down filling here.
In short, if you're going on a long trip, it's important to buy a sleeping bag that will keep you warm enough and this can be achieved at much lighter weights with down filling in your sleeping bag rather than polyester filling.
Most higher-end models go through standardized laboratory tests to ensure that they're warm enough, so always check the temperature ratings before buying!
Strength and Abrasion Resistance
Nylon and polyester are both very durable fabrics. Both fabrics are resistant to everyday wear and tear, abrasion, and stains.
Nylon is stronger and more elastic than polyester for the same thickness so it will not rip as easily upon getting caught in a branch or during sudden movements and extreme positions.
Polyester has a weaker fiber structure, but polyester rain gear is most often a thicker type, which will make it as strong as or stronger than nylon.
The exact strength of the material, however, does depend on the conditions! Wet nylon, for example, is much weaker than dry nylon and wet nylon will tear at less than half the effort compared to completely dry nylon!
However, wet nylon is actually more resistant to sudden impacts compared to its dry state.
When it comes to abrasion resistance, polyester is better off. This is why it is often used in rain pants that have to withstand hours of legs rubbing against each other or when sitting down on the ground.
However, polyester, just like the otherwise very strong cuben fiber or Dyneema used for ultra light weight tents, does not like to be packed and unpacked repeatedly.
This means that nylon is the better choice for thinner and packable ultralight sleeping bags.
Is nylon or polyester better for skin contact?
When it comes to skin-contacting materials, polyester is generally superior to polyester as it will feel softer and less "plasticky", but thin nylon fabrics are almost as good.
Nylon is flexible and pliable, while polyester is less stretchy and less durable. The thicker the fabric the more it feels crispy and hard on the skin.
Nylon is, however, more breathable and faster drying and somewhat more wrinkle-resistant, which makes it better for the warmer, more humid, days.
Nylon can also be made much thinner than polyester, at thread densities down to 7D, whereas polyester is usually not made thinner than 30D.
If you want to read more about the differences between nylon and polyester, here is your chance!
What are the Advantages of Nylon over polyester?
If you are considering buying a nylon sleeping bag instead of one made from polyester, there are a few reasons to do so, but polyester definitely also has its perks.
Here is a pros and cons list of buying a polyester sleeping bag instead of nylon, summarizing the sections above:
Advantages of Polyester over Nylon:
Cheaper than nylon
More abrasion resistant
Fast drying, low moisture absorbency
No sagging when wet
No loss of strength when wet
Resists chemicals and dyes
Resistant to UV light
More resistant to heat
Less static and pilling
Less prone to shrinkage and wrinkles
Disadvantages of Polyester over Nylon:
Polyester is heavier than nylon for the same strength
The tensile strength of polyester is approximately half that of nylon
Polyester is harder to wash
Harder to color and dye
Catches fire rather than melting
On the other hand, if we view things from the perspective of nylon, there are a few things to consider.
The most appealing one is the weight and feel of the nylon fabric. Nylon is generally softer and more silk-like than polyester, which can seem a bit rougher in its texture.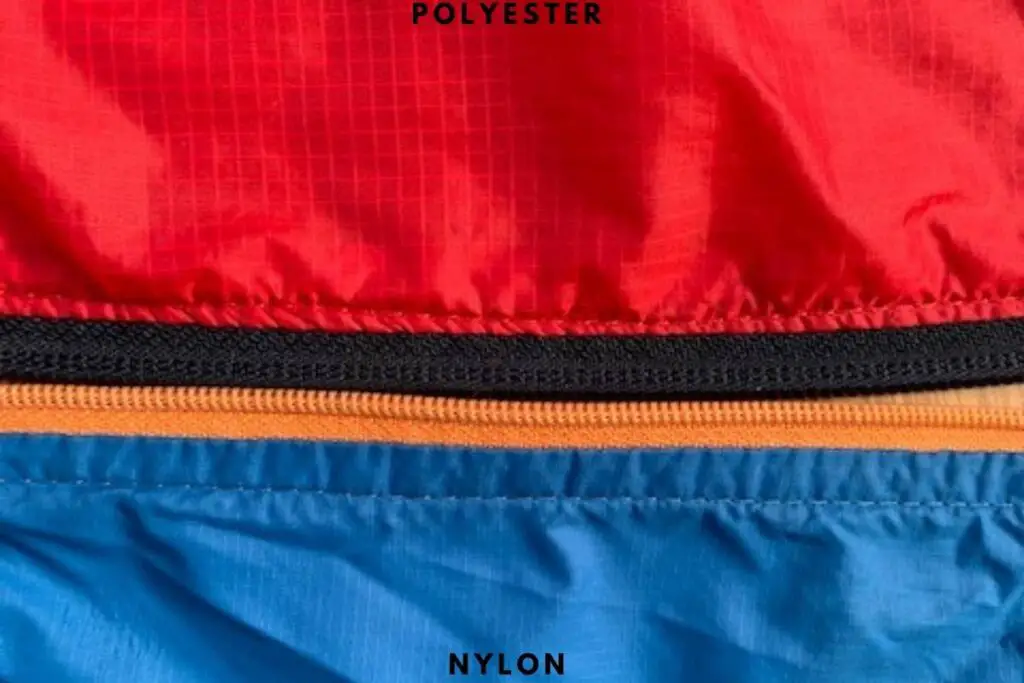 However, for the thicker version such as 600D nylon and polyester, this quality is not as pronounced as they are quite hard and sturdy and are also applied as such (and not for the soft feel…).
Advantages of Nylon over Polyester:
Nylon is almost twice as strong as polyester (when dry!)
Nylon is easier to wash (but gets dirty more easily!)
More compact and easier to pack down
Softer feel
More breathable
Can be dyed in a wide range of colors
Disadvantages of Nylon over Polyester:
Nylon is more lightweight than polyester for the same strength
More expensive than polyester
Lower abrasion resistance
More static and pilling
Melts more easily
More prone to shrinkage and wrinkles
Poor resistance to sunlight
Low absorbency
Picks up oils and dyes when washed (only good if you want to dye it!)
More heat sensitive
As you may have noticed, the list of disadvantages of nylon is actually quite long, but the advantages of nylon are also really strong and unique.
For example, if you need a light and compact fabric, nylon is the only way to go.
10D vs. 20D sleeping bags
10D is thinner and lighter than 20D. It will also fell softer on the skin. The thread used to make the 10D fabric is half the weight of the thread used to make the 20D sleeping bag fabric.
This does not mean that 20D weighs twice that of 10D but it will weigh more.
20D is pretty standard for lightweight tents and sleeping bags these days and I would not worry about the extra weight compared to the 10D version.
20D is going to add a greater lifespan to your sleeping bag and will make it more water resistant.
You can read more about the different types and deniers of thin nylon fabrics in my recent post.
Can synthetic sleeping bags get wet?
Synthetic sleeping bags made out of either nylon or polyester can get wet, but it is possible to dry them out quite quickly.
As with many other fabric materials, except for wool, synthetic sleeping bags lose some insulation ability when wet, but not all.
They usually dry out within a few hours, even if they have been exposed to rain or snow. Bags with synthetic filling are better at retaining warmth when wet, but modern down bags treated with water repellants can be just as warm in damp weather.
Synthetic sleeping bags have many advantages. They retain their insulating qualities better even when wet, which makes them an excellent choice in damp climates.
Plus, they are cheaper than down-insulated bags. You can also wash synthetic bags in the washing machine, which is a big plus!
Canvas sleeping bag vs nylon
The main difference between a canvas sleeping bag and a nylon sleeping bag is that canvas is a more durable material and is therefore stronger, but also much heavier!
Canvas is made mostly out of cotton, which is much heavier, so it is not a good choice for long-distance trips. Nylon is more resilient to weather, dries faster, and is more lightweight.
However, canvas is a natural material made from cotton and sometimes also linen, and can be repaired or reused easily.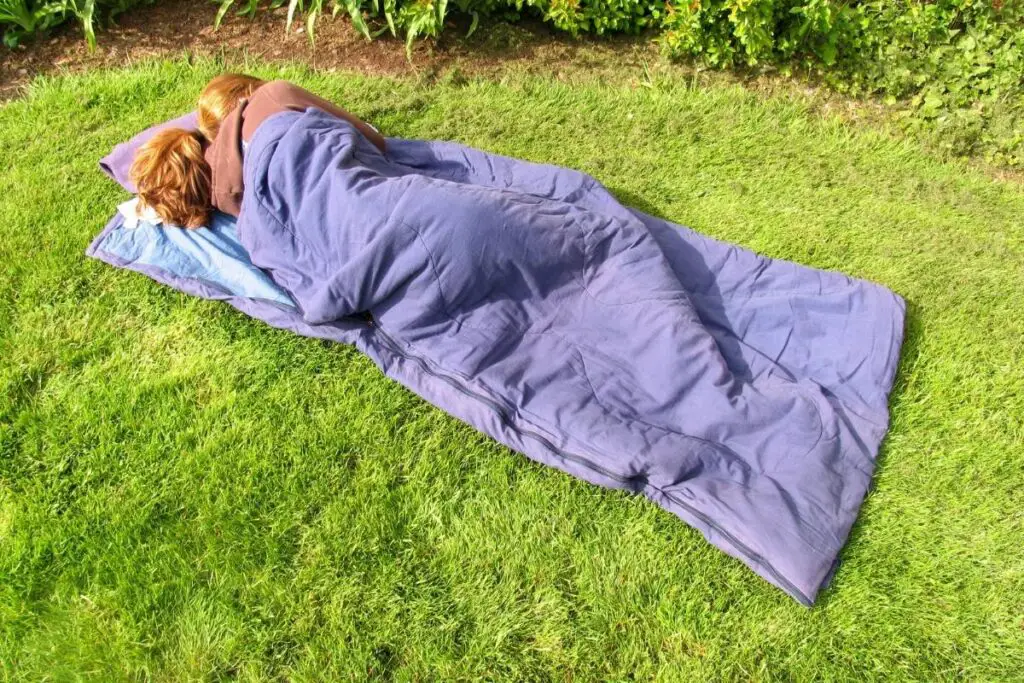 If you plan to use your gear for rough activities for years to come, it may be more important to invest in durable cotton canvas bag than in lightweight nylon.
It's better to have a more durable, older canvas sleeping bag if you're planning to sit by a campfire.
However, this choice is ultimately up to personal preference and the type of activity that you plan to perform.
Taffeta vs ripstop nylon for sleeping bags
Taffeta is a traditional material used for formal dresses, and it makes for an excellent super soft sleeping bag liner as it is (partly) made from silk.
Taffeta is similar to nylon and polyester, but is not synthetic and is generally a higher quality and softer fabric.
Taffeta is typically heavier and thicker, while ripstop nylon is thinner and lighter, making it a great choice for camping and other activities that require excellent moisture protection.
Although synthetic materials tend to be lighter in weight, they are not nearly as durable as natural ones. However, if you're looking for a cheap bag, nylon may be the best option.
Taffeta vs Canvas Sleeping Bags
Taffeta is a traditional fabric used for formal dresses and is now used as a lining in sleeping bags.
It is similar to thin polyester and nylon, but it is typically higher-quality and softer than the former.
However, it is not waterproof, making it a poor choice for those who plan on doing a lot of camping in the rain.
Taffeta sleeping bags are usually larger than canvas ones, but they are not heavier. They are typically more expensive, so you should consider how much money you're willing to spend.
The price of a sleeping bag is largely dependent on the brand and type. Canvas bags can cost as little as $50, while the more expensive luxury taffeta types can cost as much as $1000 or more.
If you're looking for the perfect sleeping bag, consider your budget and where you'll be using it.
Perhaps nylon or a soft polyester is better value for your money?