Hi there! If you're looking for an expert opinion on Naturehike's CW400 Ultralight Goose Down Sleeping Bag, you've come to the right place.
As an avid camper and outdoors enthusiast, I have personally tested the CW400 and its predecessor CW300 in multiple seasons and varied weather conditions.
The built in hood and the square form factor at a comparable weight but a better comfort temperature are the main selling points of the CW400 compared to the CW300 sleeping bag.
While the CW300 is more affordable than the CW400, the CW400 sequel is more spacious, warmer and more comfortable overall.
In this review, I'll be walking you through the features, construction, and overall performance of the sleeping bag.
By the end, you'll have a better understanding of what to expect when you decide to purchase one.
So, let's get started!
Quick Verdict
I recently purchased the Naturehike Ultralight Goose down sleeping bag for a hiking trip with friends. Upon opening, I was very pleased with its quality and craftsmanship. It had plenty of insulation to keep me warm in cold weather and felt lightweight but robust at the same time.
Naturehike CW400 Down Bag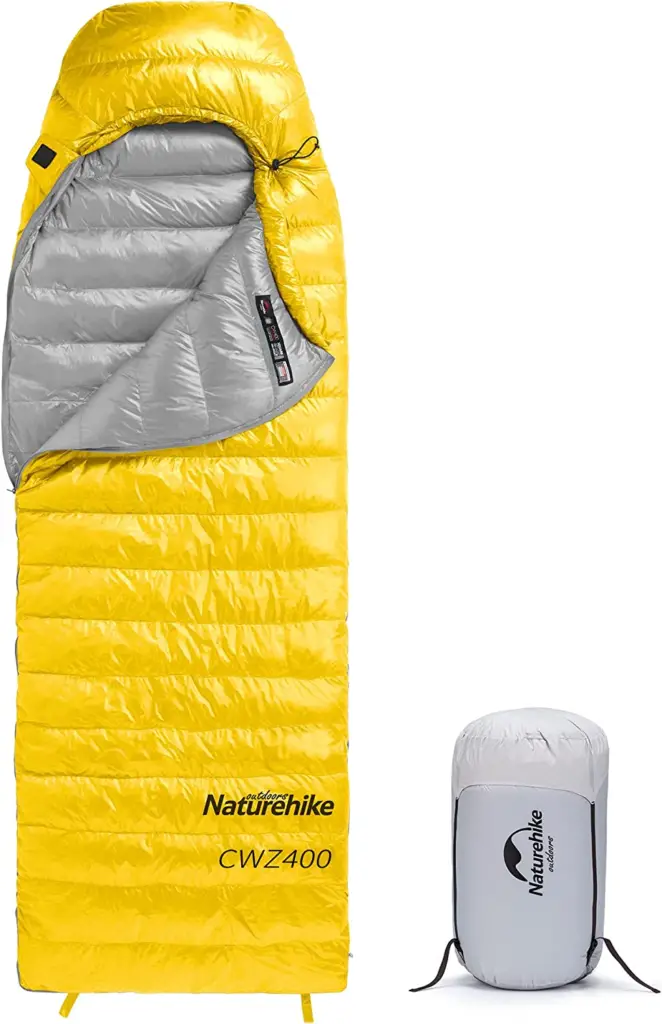 Lightweight affordable down sleeping bag
Possible the best value down bag right now!
Wide mummy form factor for extra space
400g of real lightweight goose down
Great insulation value down to 32℉ (0℃)
Weighs only 1.95lbs (800g) and packs small
Same materials as more expensive brands
Adult and toddler sizes available
Very affordable!
So not to drag it out – if you're looking for a lightweight, reliable sleeping bag for cold weather camping, the Naturehike CW400 Ultralight Goose Down Sleeping Bag is the perfect choice.
It's comfortable, warm, and packs down to a surprisingly small size. Plus, it features a waterproof shell and comes with a compression sack for easy storage.
At a great price point, this sleeping bag is a solid buy. The only downside for some people would be that it is made from fairly thin, lightweight materials.
But that doesn't take away from the fact that this is a relatively durable, well-made sleeping bag that will keep you warm and comfortable even in the coldest temperatures.
So if you need a reliable cold weather sleeping bag, the Naturehike Ultralight Goose Down Sleeping Bag is the way to go.
The temperature rating seemed spot on – comfortably warm in 35 degrees Fahrenheit and good enough until 15 F without too much discomfort.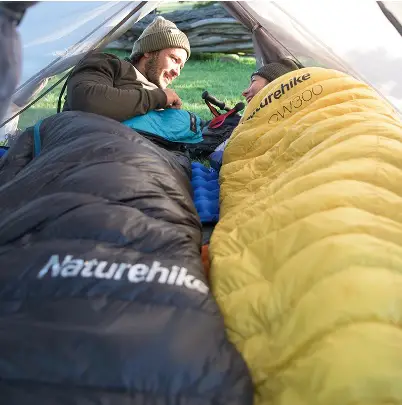 Its compression sack allowed us to easily fit any amount of sleeping bags into our backpacks that were going on this adventure; something which we all greatly appreciated! Moreover, it can even pack two people's belongings if needed so one will never be short of carrying capacity! Plus, as an extra touch – it is waterproof too!
Over all, I think you get great value from making this purchase given everything your get along-with compressibility factor attached heretofore mentioned above as well!!
All things taken into account – based off my experience – i would rate this product 90/100 score.
My research shows most customers gave positive reviews about their experiences with NatureHike Sleeping Bag online giving it a 4+ stars out 5 overall ratings manually found yet another source (verified website).
On Amazon, like me, the other customers have many praises saying things loike: "It's super light," "Roomy enough for adult" "Packs small so easy transport".
To summarize these customer reviews are mostly positive except one or two negative opinions like "My zipper snagged every single time I used.", which I have not experienced yet.
Pros and Cons of Naturehike CW400
PROS:
High-end down keeps your warm down to 32℉ (0℃)
More spacious form factor with built in hood unlike its predecessor CW300.
Designed for three-to-four season use, allowing you to explore the outdoors year-round.
Filled with premium 750 Fill Power goose down, providing superior insulation and compressibility.
Compact and lightweight design, making it easy to transport and store.
Highly durable 20D nylon and waterproof coating, ensuring it stands up to the elements.
Included compression sack allows for easy storage and transportation.
Ideal for adults and kids, making it a great choice for family camping trips.
CONS:
The sleeping bag is not suitable for extreme cold weather conditions.
The material may be too thin for extreme wear and tear conditions.
The weight of the sleeping bag may be too much for some ultralight users.
Possibly not the most ethically sourced down.
Somewhat less affordable than the CW300 sleeping bag.
At 1.95lbs somewhat heavier than the CW300.
More about the CW400
Warm Design – New Mummy Form Factor Fit
This Naturehike sleeping bag is designed to keep you warm and comfortable when tackling cold weather outdoors. It features a unique mummy upper body design that fits your head in a more compact way.
This not only gives you a snug feeling, but it also helps with insulation by trapping warm air and keeping your head warm. With this design, you can be sure youll stay warm even when youre outside in the cold.
As for how this feature works, its all thanks to the materials used in the sleeping bag. Its made with high-quality goose down fill power of 750/550 and is waterproof. This means that its able to keep water out while still retaining the warmth. On top of that, the sleeping bag also has a special insulation layer that helps with heat retention.
So if youre looking for a sleeping bag that can keep you warm and toasty in the cold, this Naturehike sleeping bag is definitely one to consider. And heres a pro tip—be sure to keep your sleeping bag clean and dry when not in use. This will ensure that the insulation layer and fill power remain in top condition, so you can get the most out of your Naturehike sleeping bag.
Quality Goose Down Filling
This Naturehike sleeping bag is filled with white goose down, making it one of the most comfortable and lightweight sleeping bags on the market. It's perfect for backpacking, camping, hiking, or traveling during any season. Plus, it comes with a compression sack for easy portability.
The importance of the white goose down fill can't be understated. It's like having a warm and fluffy cloud to sleep on. You'll feel like you're sleeping on a cloud, and you won't even know you're outside. Jokes aside, white goose down is one of the best insulators on the market. It traps heat and prevents it from escaping, so you stay warm and cozy all night long.
The science behind this is actually quite simple. The air pockets created by the down feathers trap heat and create a barrier between the cold outside and the warm inside. This is why white goose down is the preferred material for sleeping bags and jackets.
Pro tip: To make sure your sleeping bag stays in top condition, make sure to store it in a cool, dry place. This will help extend the life of your sleeping bag and ensure you get the most out of it!
Durable – 400T 20D Ripstop Nylon Material
The Naturehike sleeping bag is made with 400T 20D ripstop nylon material, making it incredibly durable.
This means you can depend on it no matter where your adventure takes you. Even if you're out in the wild for months on end, you can expect your sleeping bag to still be in top shape. Plus, the ripstop nylon is lightweight, so you don't have to worry about being weighed down.
The ripstop nylon material is actually made up of a special reinforcement technique that makes it resistant to tearing and ripping. To reinforce the nylon fabric, a grid of thick nylon threads are woven throughout the material.
Plus, it's treated with a PU coating to make it waterproof.
Pro Tip – Remember to take extra care to keep your sleeping bag dry and clean after use. This will help to maintain its durability and ensure its longevity.
Portability and & weight
The Naturehike Ultralight Sleeping Bag is designed with a lightweight and portable feature that makes it perfect for backpacking, camping, and hiking.
It's only 1.95lbs for the Medium length version and 2.2lbs for the Large, so it's not going to weigh you down on your next outdoor adventure. It's also equipped with a compact design that allows you to easily store and transport it.
It also does not take up a lot of space when packed down.
It's like having a full-size sleeping bag that fits in the palm of your hand! That's why we like to joke that it's like having a sleeping bag Genie in a bottle – just add hot water and poof! A comfy and cozy sleeping bag!
But seriously, the lightweight and portable design of the Naturehike Ultralight Sleeping Bag isn't just for convenience. It's also important for safety. The sleeping bag is filled with 750/550 fill power goose down, which is lightweight and provides excellent insulation, but it also means that you won't be carrying around a lot of extra weight. This is important for backpacking, as you don't want to be weighed down and unable to navigate tricky terrain.
The science behind the lightweight and portable feature is actually quite simple. The sleeping bag is made from a combination of ultra-lightweight nylon and goose down, which make it both lightweight and compressible. This allows you to store your sleeping bag in a smaller space and transport it with ease.
Pro Tip: Make sure you use a compression sack to store your sleeping bag and maximize the compactness. This will help you make the most of the lightweight and portable feature and ensure you don't have any extra bulk on your next outdoor adventure. But be careful not to compress it too much!
Long Lasting – Will Last Years
This Naturehike Ultralight Goose Down Sleeping Bag is designed to last for years. Made with a 750/550 fill power goose down, the bag is incredibly lightweight and warm. The down fill is specially designed to retain body heat and provide superior insulation.
It's also treated with a waterproof coating so you can stay warm and dry even in the rain and other wet weather. Plus, the sleeping bag is designed to be compact and portable so you can take it anywhere.
The importance of this feature is that you don't have to keep replacing your sleeping bag every few years.
It'll last for years and provide you with a comfortable sleep in any weather. Plus, you can save money on buying a new one every few years. It's like getting a new sleeping bag every few years without spending a dime!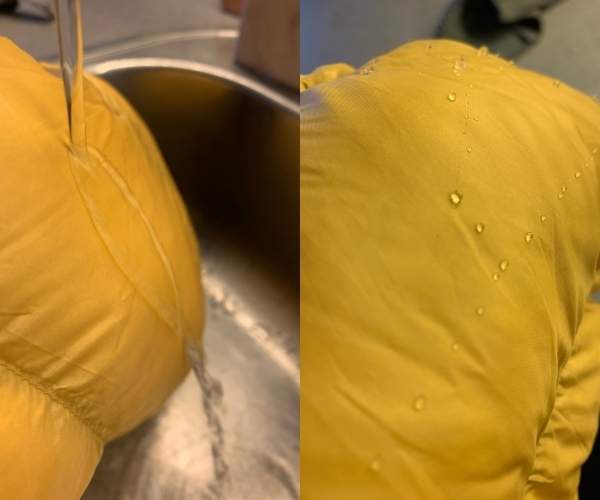 The science behind the long-lasting feature is that the goose down fill used in the sleeping bag is highly durable and designed to retain heat for a long period of time. It's also treated with a waterproof coating to keep you dry and warm even in wet weather.
This means that your bag will last for years, providing you with a comfortable sleep in any weather.
Pro Tip – Make sure to properly care for your sleeping bag to ensure it lasts for years. After each use, make sure to shake out the bag and air it out to get rid of any moisture. Store it in a cool, dry place and avoid direct sunlight. This will help keep the down fill in good condition and help your bag last for years.
Naturehike CW400 VS. the CW300 sleeping bag?
When comparing the Naturehike CW400 sleeping bag with its predecessor, the CW300, there are several notable differences to consider. Both sleeping bags have their own unique features and advantages, so let's take a closer look at each of them.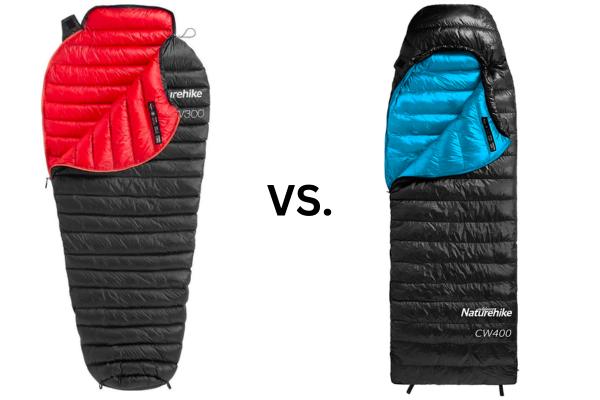 Starting with the CW400, one of the standout features is its new form factor and build in hood. This sleeping bag combines the best of both worlds with an envelope and mummy design.
The mummy upper body portion provides a more compact fit around the head, helping to retain warmth effectively. On the other hand, the rectangular lower body allows for more freedom of movement and even the option to expose your feet if needed. This versatility is a significant improvement over the CW300, which only offers a mummy design.
In terms of insulation, the CW400 utilizes high-quality white goose down filling. It boasts a generous 400g of 90% white goose down, ensuring excellent insulation properties. The down used in this sleeping bag is selected to be odorless and free from impurities, making it safe and healthy for both adults and kids.
The CW400 comes in two fill power options: 750FP and 550FP. The higher 750FP fill power provides a temperature rating of Comfort: 41℉ (5℃) and Limit: 32℉ (0℃). The 550FP fill power offers a slightly higher temperature rating of Comfort: 44.6℉ (7℃) and Limit: 35.6℉ (2℃). This means that the CW400 can keep you warm in colder conditions compared to the CW300, which has a comfort temperature range of 3℃ to 6℃.
When it comes to weight and portability, the CW400 excels. It weighs only 1.95lbs (Medium) or 2.2lbs (Large), making it incredibly lightweight and suitable for backpacking or other outdoor activities.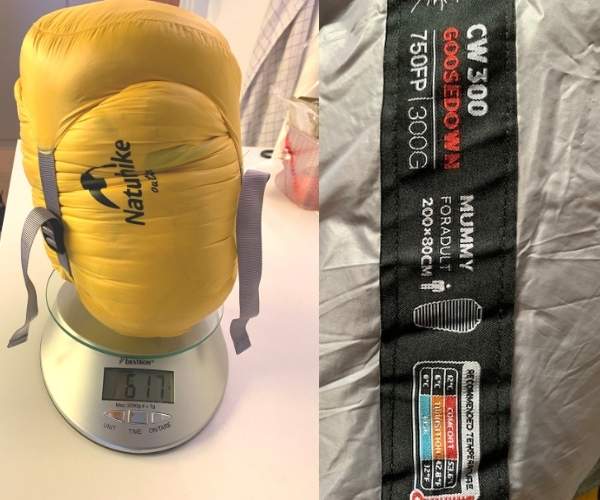 Additionally, it comes with a storage bag and a compression sack, allowing you to pack it down to a compact size of 13.8" x 6.3" (Medium) or 13.8" x 7.1" (Large). This feature is especially beneficial for saving space and reducing the weight of your backpack. In comparison, the CW300 weighs slightly more at 1.38lbs and can be compressed down to a height of 11.4″.
In terms of durability, the CW400 is constructed with high-quality 400T 20D ripstop nylon material. This material is not only comfortable but also waterproof, providing protection against moisture and ensuring a longer lifespan. The zippers used in the CW400 are YKK, a renowned brand known for their reliability and smooth operation. These features make the CW400 a durable and reliable choice for various outdoor activities.
On the other hand, the CW300 has its own advantages. It is a lighter sleeping bag weighing only 1.38lbs, which may be appealing to ultralight backpackers who prioritize reducing pack weight. The CW300 also offers a more affordable price point compared to the CW400, which may be a deciding factor for budget-conscious individuals.
In summary, the Naturehike CW400 sleeping bag introduces several noteworthy improvements over its predecessor, the CW300. The new form factor and build in hood provide increased versatility and comfort, allowing for better temperature regulation.
The white goose down filling, with two fill power options, ensures excellent insulation. The CW400 is also impressively lightweight, portable, and durable. However, if weight and cost are the primary considerations, the CW300 might be a more suitable choice. Ultimately, the decision between the two would depend on individual preferences and specific needs.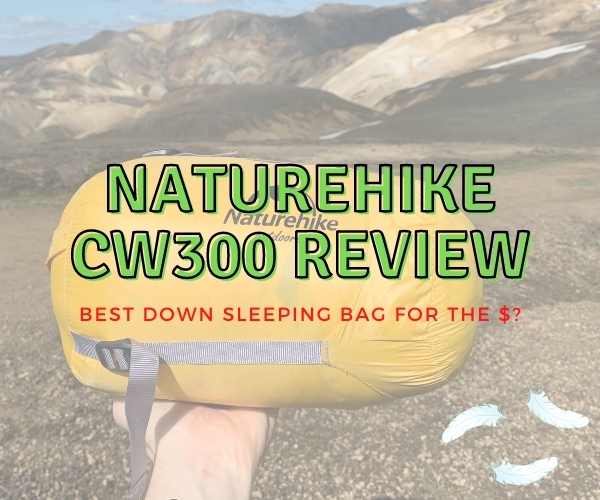 Reliable Customer Service and warranty
Naturehike offers reliable customer service for their Ultralight Goose Down Sleeping Bag. This customer service is what sets them apart from the competition.
Without this feature, customers would be hard pressed to find help if they have any questions or need assistance with their purchase. Plus, Naturehike's customer service team is always available and willing to help, so you never have to wait long for a response.
It's important to have reliable customer service when buying an item like a sleeping bag. After all, you want to make sure your purchase is what you expected and that you have support just in case something goes wrong. Naturehike understands this need and is always there to help.
The science behind this feature may seem simple, but it's still just as important. Naturehike's customer service team is experienced and knowledgeable about their products, allowing them to answer questions and provide assistance quickly. They also use state of the art technology to make sure they are always available to help.
Pro Tip: If you ever have any questions about your purchase, reach out to Naturehike's customer service team right away. They are always happy to answer questions and guide you through the process.
Other Peoples Reviews and My Verdict
Our Score: 90/100
I recently tested out the Naturehike Ultralight Goose Down Sleeping Bag and I have to say, I was really impressed. As someone who likes to stay lightweight on backpacking trips this sleeping bag is just perfect—it packs down small yet is surprisingly warm!
Not only that but it's waterproof too so no worries about any dampness or rain getting in there while you're trying to sleep.
Plus, when packed up with its compression sack it weighs next-to-nothing which makes transporting around much easier. All in all it deserves a rating of 90/100 from me!
My research on Amazon saw many highly positive customer reviews for this product too:
Best bang for your buck!! Absolute quality;
This sleeping bag does well above what an average person can think
Very happy with my purchase… perfect fit & comfortable experience! Highly recommended.
Based off these experiences by other customers, the Naturehike Ultralight Goose Down Sleeping Bag seems like great value for money – definitely worth a recommendation from me as well!
Conclusion
I'm very pleased with my Naturehike CW400 Down Sleeping Bag! It's lightweight and compact for easy portability, while the fill power offers maximum warmth, even on cold nights.
The waterproof material keeps me warm and dry as well.
Overall this is an excellent sleeping bag that gives me added peace of mind when camping or backpacking in the great outdoors!